Page 1 of 2
Eight years ago, when James and Julie Petrakis opened their first restaurant, The Ravenous Pig, in Winter Park, Fla., they were determined to become leaders in showcasing local farmers, fishermen and artisanal purveyors. They achieved notable success: revenues have reached $3.5 million, and the restaurant attracts some 94,000 customers annually.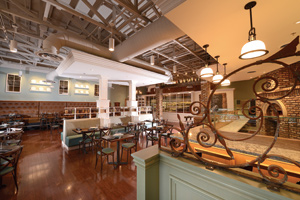 The Cask & Larder dining room provides a sense of Southern elegance with white panes of weathered oak and whitewashed shutters. Photos courtesy of Schmidt Design StudioIn September 2012, the couple, who trained at the Culinary Institute of America, embarked on their second venture, Cask & Larder, located just one mile down the street. Working with architect Nelson Blankenship, owner of Nelson Blankenship Architects, and designers Anna Schmidt, L. Grace Bade-Stevenson and Bryce Schulte of Schmidt Design Studio, the chefs/owners transformed the old Harper's Tavern, housed in a historic warehouse, into a casual restaurant and microbrewery with a relaxed Southern ambiance.
"We call ourselves a Southern public house with a distinct sense of pride and place," says James Petrakis. "Generations of thirsty, hungry people have found their way here seeking good food, good drink and good company since the waning days of Prohibition in 1929, when Francis Harper took over a failed feed store near the railroad tracks in Winter Park and turned it into a tavern. And, yes, bribes to the local authorities might have been involved."
Cask & Larder pays tribute to the history of Winter Park by "creating a congenial neighborhood gathering spot where made-on-site beers can flow freely [hence, cask] and the pantry [larder is a Southern name for a kitchen pantry] is always full," James Petrakis says. "Long ago, the term larder applied to a storing area for meats and fish, typically the coolest room in a house. Modern refrigeration has since come along, but we honor the traditions of whole cookery by curing our own meats, canning our own preserved fruits and pickled vegetables, and seeking out the best local fish and shellfish."
"In deference to the larder reference in the operation's name, the restaurant consists of two main areas, a brewery housing the main bar, and a unique dining room that acts as the centerpiece of the establishment," says Anna Schmidt, ASID, IIDA, owner and principal interior designer of Schmidt Design Studio. "The old place was a longtime tavern and was very dark. We lightened the interior with a crisper, brighter palette and surprising design elements. We used butcher-block tables and mixes of industrial as well as Southern-style lighting. It's almost a complete transformation of the aesthetics, feeling and vibe from what was there before. Patrons come in and say this doesn't look like the same place."
"The building is like a warehouse, so when we gutted it, we didn't have too much difficulty rebuilding the inside," says James Petrakis. "We had fewer issues than we expected."
"I always wanted to run an upscale restaurant with a microbrewery attached," James Petrakis continues. "Julie's and my focus is craft and making dishes from scratch, and we wanted to make something significant in our beverage program as well. Beer makes sense with our farm-inspired food that makes everything available to à la carte diners who can create their own meals from seasonal vegetables, seafood and meat. This location has enough space — 1,000 square feet — to hold the microbrewery. Since the kitchen already had a great smoker and was basically fully functioning in this location, I took the money that would have been needed for the kitchen and put it into the brewery."
The Microbrewery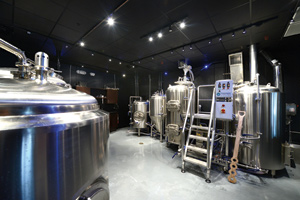 Industrial, stainless steel brew tanks produce nine beers on tap and one from the traditional cask. Four are core brands that the restaurant sells to local bars and restaurants. The brewery is separated into its own entity with its own license, so it can distribute up to 30 kegs a week to local restaurants. Photo courtesy of Schmidt Design Studio The brewhouse contains a mill room where cracked barley is augured into a mashing tank to create simple sugars. "These are then passed to a brew kettle where it is boiled with hops to add bitterness, flavor and hop aroma to the finished beer," says brewmaster Ron Raike. After boiling, it is flash-chilled through a heat exchanger and passed to an eight-foot-tall stainless steel fermenter. Yeast is added to convert the sugars to alcohol. A walk-in cooler in an adjacent room contains finished beer tanks that are used to serve the finished product to the bar area. The beer lines are kept cold with a glycol system and pass underneath the brewery and bar to the large draft tower."
"It was quite an ordeal to set this up, but it's a very cool system," Petrakis says. "Guests get the freshest beer possible — right from the tank."
For private dinners of up to 10 guests in the brewery, staff set up a custom-built wood table that they roll to a side wall during the day so they can use the space for beer preparation. The restaurant primarily serves its whole cookery menu in the brewery. This menu includes smoked suckling pig; low country boil with smoked snapper, shrimp, oysters and clams; butcher's feast with porchetta, sausage and smoked ham; and rib eye and beef ribs. "It's fun in here — guests are in a glassed-in room, so we can play music and guests can talk. We bring out a whole pig or large amounts of other menu items, so this is a big draw," James Petrakis says.
"I drink beer, but I had never made it," James Petrakis continues. "I had always wanted to. Though we serve craft beers at The Ravenous Pig, the operation is much more wine-driven. To differentiate Cask & Larder, I wanted to focus on pairing beer with food and what better way than to have the brewmaster work directly with the chef and develop food and beer that complement each other to give guests a different type of experience with beer. This is a big trend now, to heighten the dining experience with the beverages."
To make their dream come true, James and Julie Petrakis hired Raike, an award-winning brewmaster, who had worked with a large beer manufacturer for 20 years. Raike, James Petrakis and the chefs at both restaurants meet weekly to develop menus and microbrews. "We work with local farmers, and [in the microbrew recipes] Ron will use products such as peaches and acorn squash that we roast for him," James Petrakis says.
Acknowledging that beer making is a very intricate scientific process, Petrakis admits that the microbrewery maintains an "intense" program with nine beers on tap and one from the traditional cask. Four are "core brands" that the restaurant sells to local bars and restaurants. "We separated the brewery off into its own entity with its own license, so we can distribute up to 30 kegs a week," he explains. "We'll also customize beers for local restaurants."
Oyster Bar and Full Bar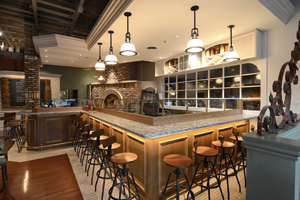 Vintage industrial pendant lamps and other antique lighting elements brighten the oyster bar and pastry area. The stone hearth oven serves as a fireplace to warm the space and bake breads. Photo courtesy of Schmidt Design Studio Near the brewery and in the center of the restaurant, the oyster and pastry bar offers customers a place to socialize while standing or sitting at bar-height or pub-height tables. With a mixture of dark wood paneling, rustic oak and customized millwork detailing, the space feels masculine and rich. "Drop ceiling features with decorative crown moldings float above the focal point of the dining area — see-and-be-seen booths, as well as over the show-kitchen portion of the dining room," says Grace Bade-Stevenson, designer and project manager at Schmidt Design Studio. Behind the brewery bar, an antique mirror engraved with the Cask & Larder logo provides an authentic backdrop for a custom draft system. The face of the bar contains reclaimed decorative millwork insets.
The bar's open kitchen area showcases the culinary staff's preparation of four varieties of oysters — two from the East Coast and two from the West — as well as the raw bar, pastry, country hams and artisanal breads. A six-foot-long refrigerated, stainless steel ice bin holds oysters and other seafood such as stone crabs, blue crab fingers, rock shrimp and pickled shrimp. Undercounter refrigeration holds products until staff need them.
"The most important facet of serving raw oysters is to be disciplined and receive and store them properly," James Petrakis says. "We have to make sure we keep them chilled at all times and wash them carefully."
At the back of the kitchen, staff receive oysters in bags, taking them to the walk-in cooler and setting them in ice bins. When culinary staff working the bar need the oysters, they take them out of the cooler and wash them in the back-of-house kitchen's fish sink. "The oysters are scrubbed twice on the shell and put immediately on ice," James Petrakis says. "We do 120 oysters daily, and they are kept off the ice for no more than 10 minutes. The culinary staff member working at the bar takes oysters to the bar, while a sous chef serves as the floater to bring oysters from the walk-in cooler to the front oyster bar as needed during service periods."
An ice machine in the back kitchen generates cubes for the oysters and entire restaurant.