This restaurant chain used its signature round sandwiches to inspire an updated interior design while leveraging a custom-made equipment package to rejuvenate operations.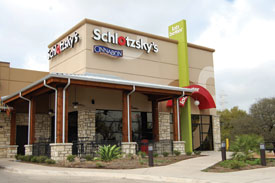 Like many in middle age — people and restaurants alike — Schlotzsky's had become frumpy. The Austin, Texas-based sandwich chain, which turned 40 this year, still had a popular signature toasted sandwich to tout, but just about everything else about the concept had become tired, inconsistent and borderline irrelevant in today's competitive fast-casual arena. With growth stalled and unit closures on the horizon, some serious "nipping and tucking" was necessary.
Enter FOCUS Brands, the multiconcept operator that acquired Schlotzsky's in November of 2006. At that time Schlotzsky's had about 365 units nationwide and systemwide sales of $210 million. Initially focused more on fundamentals such as customer service and making simple cosmetic improvements than on mapping out a growth strategy, FOCUS Brands brought on Kelly Roddy as Schlotzsky's new brand president in 2007. Since then, Roddy and his team have systematically sized up and reimaged Schlotzsky's, giving it a new look, a new style of service, new ways to boost unit profitability, and a whole new brand promise, through which every Schlotzsky's move is now filtered. That promise is simply stated: "Lotz Better."
"We knew we had to grow the company, but we also knew we weren't going to grow until some things were fixed," Roddy says. "We weren't relevant. Being a 40-year-old system, we were inconsistent across the country, with a few different prototypes out there. We ended up reimaging the entire system and put together this brand filter that says anything we do is going to be 'Lotz Better' than what the competition is doing. If it's not, we're not going to roll it out. We consumer panel it. We run it through our franchise advisory group. We test it, tweak it, go back and test it again. It's a time-consuming process, but we're really excited about the results we're getting."
That process applied to the chain's contemporary new look, as well. Teaming up with Atlanta-based Back Lot Productions, a brand development and design firm, Schlotzsky's spent about two years doing consumer research to understand the brand's strengths (its food) and weaknesses (tired look and feel, inconsistency, spotty geographical coverage) and what its customers wanted. Designs were drawn up and put before consumer panels.
"We got a lot of feedback about what our consumers would consider a very relevant, hip, cool design, and ultimately we built one new prototype unit," Roddy says. "We basically took an old store in Waco, Texas, across the street from the new prototype. The type of location was the same — a freestanding drive-thru — and the menu was identical. Only the look and feel was different, but we saw phenomenal impact. Before and after research showed that customers at the new prototype thought we were hipper and more relevant. There was a perceived improvement in food quality. We started skewing more female than male, which was a change for us. Our consumers even perceived us to be more environmentally friendly, though we really hadn't taken any steps in that direction."
The best impact, however, was on revenues. Sales at the new prototype, which opened in the fall of 2009, were 40 percent higher than in the old unit that it replaced. Roddy and company were now armed with solid confirmation that they were on the right track.
As he puts it, "It was an overall home run our first time at bat."
All new stores have the new look, and the company is in the process of reimaging or doing full remodels on all existing Schlotzsky's units nationwide; the company intends to complete all basic reimaging by the end of 2011. Roddy says that new-store success has been strong, but he's even more excited about the results being achieved by remodeled units — an average 28 percent increase in sales.
Signature Sandwich Inspires New Design
The inspiration for a key element in Schlotzsky's new look came from its signature sandwich. "There are dozens of sandwich chains in the U.S. Most are subs or square, but there really is nobody who does a round bun baked fresh from scratch in the stores every day," Roddy says. "It differentiates us, and it's our signature shape; so everything in the new design is based on the round shape."
To that end, order and drink counters are now rounded.
Tables are round, patterns on the tables are round, and lampshades are round with round patterns on them. The shape is used as a design element in all merchandising materials and signage, on the company's website, in its packaging and new logo, which features the brand promise "Every Bite Lotz Better" inside a circle with the "o" in Schlotzsky's highlighted in bright red to draw attention to the shape. Colorful circles are even painted on building exteriors to carry the theme.
While the company kept its heritage color scheme of red and green, it introduced more contemporary shades of those colors and ditched its original Italian flag and wheat sheaves imagery. Higher-quality furniture, including soft seating, was added as part of the company's commitment to offering a dining experience that's "Lotz Better" than what customers would find at competitive restaurants.
The new Schlotzsky's also features a new style of service. Previously, guests placed orders at the counter and were given a number. When guests' food was ready, staff announced the number via microphone, and guests returned to the counter to pick up their orders. Now, after orders are placed at the counter, servers deliver them to the tables, eliminating the noise of microphones and the extra hassle for guests. "It's taken about three years to get that change implemented through the entire system, and we're pretty much there now," Roddy says. "It came down to value at the restaurant. As the economy got worse, we had to improve our value. Everyone else started doing dollar menus, but that's not the realm we play in. We had to increase the value, so we started delivering the meals to the tables. It's another part of our brand filter: our service and our environment need to be 'Lotz Better.'"
Along those same lines, minimal but impactful changes were made to the food itself. The Schlotzsky's menu touts its original round toasted sandwiches on fresh-baked sourdough buns, as well as wraps, salads, gourmet pizzas and soups. Specifically, a new program featuring salads freshly made to order and plated on china replaced the company's previous prepackaged grab-and-go options. "This was our biggest change from an operations standpoint," Roddy says. "We had to tweak the recipes to be able to prepare them fast enough to order and added a salad table in the kitchen. We also expanded our pizza offering to include a 14-inch version in addition to our traditional eight-inch pizza."
Co-Branding Delivers New Revenue Streams
Another major change at Schlotzsky's since its acquisition by FOCUS Brands is the introduction of co-branding. All new units going forward as well as many existing units will feature not only the Schlotzsky's regular menu, but also Cinnabon and Carvel branded products. Those concepts, also owned by FOCUS Brands, are seen as complementary to rather than competitive with Schlotzsky's and so far have proven profitable additions to the mix, according to Roddy.
Initially adding them as separate "restaurants-within-a-restaurant," the company has since switched to a fully integrated co-branding strategy. "It took us a few years to get it right, but the concepts are branded into the restaurants front and center. We tested separate kiosks to the side of the main order counter in some units, and in some we tested integrating them into the main counter," he says. "We found that they did just as well if not better when integrated. It takes up a lot less space and doesn't require any additional labor or supervision, so that's the model we're using going forward."
With Schlotzsky's own dessert menu already in place —cookies, cheesecake and carrot cake — company officials had some concerns that the new sweet additions might cannibalize sales. They didn't. Rather, the addition of Cinnabon and Carvel sparked average check increases from about $7 for a standard sandwich-chips-and-drink order to $9.85 on average including the additional branded products. Overall, the move led to an increase in total sales of what Roddy calls the treat category from the previous 1.5 percent to 2 percent of sales to an average of 10 percent to 12 percent. To date, Cinnabon drives most of the incremental volume.
"What we saw was that Cinnabon wasn't seen as a dessert but more as a treat and that our regular desserts were still ordered as desserts," Roddy says. "About half of the Cinnabon sales are to people just coming in for a personal treat. A lot also go out as multipacks purchased to take home or back to the office to share. We've seen improvement in sales in midafternoons and evenings when people stop in for a Carvel ice cream treat."
Roddy notes that no major equipment or layout changes were needed to facilitate the co-branding effort. "We just had to get creative. Some of the products took additional refrigeration and/or freezer space, but at the end of the day we had it."
He adds that this year the company is opening up a Cinnabon inside of an existing Schlotzsky's at the rate of one every four days. Existing franchisees also have the option to purchase Carvel licenses. All new Schlotzsky's units going forward, however, will incorporate both Cinnabon and Carvel brands.
Equipment Ensures Speed of Service
Although Schlotzsky's added value and a service element with table runners, the company also keeps the "fast" part of fast casual as an operational mandate. In particular, drive-thru service times must be three minutes or less. Equipment made to spec, with an emphasis on speed, enables that to happen. The company has partnered with key manufacturers for its ovens, in particular, and requires its franchise partners to install specified brands only.
"We're looking at speed. The sandwich has to get to a certain temperature in a certain amount of time. There are only so many pieces of equipment that will work for us. Our vendors worked with our chef to get the specs just right, and we hold very tightly to those specs to ensure product consistency," Roddy says.
Schlotzsky's ovens include proofers and bakers for its signature round sourdough bread, as well as belted cheese-melting ovens that toast the sandwiches. Employees use a two-sided prep line, with one side used for preparing in-restaurant orders and the other side for drive-thru orders. At the start of the line, an employee assembles meats and cheeses from a refrigerated table onto the customer's choice of bread and places it onto the melting oven's conveyor belt. As the warm sandwich comes out the other end, another employee finishes it with the appropriate cold toppings and garnishes from another refrigerated table.
Other key pieces of equipment include slicers, refrigerated tables for salad prep, and other general prep tables, as well as refrigerators and freezers.
Roddy says the company's new prototype brought no significant changes to the size, layout or flow of the back of the house. It also won't impact overall unit opening costs.
In terms of equipment, Roddy notes that the company has taken out as much as it has added in most areas, so no big changes have been made. One exception, however, is ventilation hoods. Since Schlotzsky's changed several years ago from gas ovens to electric, ventilation hoods are no longer required in most units, unless they're required by a specific municipality.
New Growth Strategies Set in Motion
With its new prototype being rolled out systemwide, co-branding paying off and franchise activity heating up, Schlotzsky's is poised for significant growth in the years ahead. The company's goal is to nearly double to 600 units by 2015. It intends to get there by leaving another aspect of the old Schlotzsky's behind: its approach to franchising. Namely, it is turning away from its legacy model of one- or two-unit, hands-on owner-operators.
"There are a lot of those folks still out there who we're supporting," Roddy says, "but that's not the franchise partner that we're doing agreements with today. We're going after larger, well-capitalized partners that can develop multiple stores in a market. And unlike some chains, we require our partners to have industry experience."
In addition to reimaging or remodeling all existing stores, the company expects to have 20 new stores open before the end of this year. Another 40 to 50 are in the pipeline for 2012, and even more momentum is building for 2013. While most of these new stores will be franchised, the company plans to add corporate stores at a rate of 10 percent to 15 percent of the franchise system's growth.
Geographically, the company's target markets are many and varied, but its growth strategy starts with filling in markets where it already has a presence. "In the past, there was a real shotgun approach to growth," Roddy says. "Today, our strategy is to fill out the markets that we're already in and grow contiguously from there. We've got the design right, our average unit volumes are right, and we're ready to roll."
Facts of Note:
Founded: 1971, part of FOCUS Brands since 2007
Headquarters: Austin, Texas
Menu signature: The Original® Sandwich
Service model: Fast casual
Services: Dine-in, drive-thru, takeout, catering, delivery
No. of units: 350+
Annual sales: $241 million
Typical locations: End cap or freestanding with drive-thru, some nontraditional (e.g., airports)
Key expansion markets: Dallas-Fort Worth, Denver, Phoenix, Atlanta, Orlando, Miami, Philadelphia, Nashville, Kansas City, Raleigh, Charlotte
Hours of operation: 10 a.m. to 10 p.m. daily
Average check: $9.85
Average unit size: 2,800 to 2,300 square feet
Total unit cost: $390,000 to $625,000
Average kitchen space: 1,400 square feet, or one-third of restaurant size
Total equipment investment/unit: $210,000 to $225,000 (with Cinnabon and Carvel)
Key Players
President: Kelly Roddy
Chief Marketing Officer: Greg Regian
VP Purchasing: Matt Diana
VP Restaurant Development: Jay Allen
VP Company Operations and Training: George Schaefer
VP Franchise Development/Sales: David Wheeler
VP Research and Development: Paul Freeman
Food Distributors: SYGMA, Gordon Food Service
Smallwares and Equipment: The Wasserstrom Company, Columbus, Ohio; Concept Services, Austin, Texas
Architect: The Roberts Group, Lexington, Ky.
Design: Back Lot Productions, Atlanta, Ga.