While $12 may seem like a lot for a biscuit sandwich, the total package continues to sell at this emerging chain.
Biscuit-based breakfasts are a staple in the Southeast. They're such a part of the culture that finding a bad one can prove challenging.
"My husband and I are from Georgia, originally," says Lauren Coulter. "Even in the gas station, the biscuits are so good." Now living in Louisville, Ky., she and her husband, Chad, have built their careers around this delicious but humble food as owners of Biscuit Belly.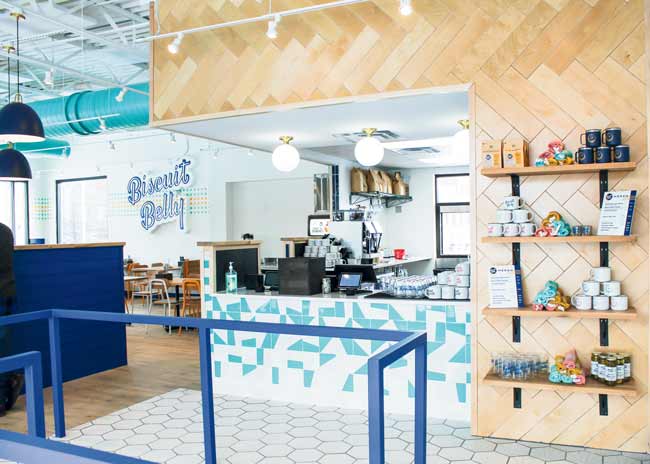 It's an unusual choice for the couple, who met in pharmacy school and worked as pharmacists for several years before becoming restaurateurs. Chad, though, had always wanted to run his own business. Lauren thought that would be a pharmacy, but they ended up first opening a paint-and-sip concept. Chad, says Lauren, "caught the bug," and next came a wine and tapas place that grew to five locations across Kentucky, Indiana and Ohio.
Chad Coulter then saw a bigger opportunity in biscuits. Not QSR-style, grab-and-go biscuits, as good as those may be, but an elevated biscuit concept with a down-home name: Biscuit Belly. The chain opened its first restaurant in the spring of 2019. Today it is up to six locations (four corporate units and two franchised units) across Kentucky, Indiana and Georgia.
"We are known for our big, delicious biscuits. The combination of scratch-made, very craft and unique flavors all inside a delicious Southern biscuit — that's definitely what we're known for," says Lauren Coulter, the chain's director of franchise development. While plenty of places sell biscuits and biscuit sandwiches, Biscuit Belly's are on another level, she says. The sandwiches are almost all fork-and-knife affairs. The menu includes standards like The Rockwell (buttermilk fried chicken breast, cheddar and sausage gravy) and more involved offerings like the Brisket Biscuit (brisket, Alabama white sauce, caramelized onion and cabbage slaw). The chain also serves breakfast appetizers like tater tots stuffed with sausage and cheddar, and biscuit doughnut holes with chocolate or cream cheese frosting.
Biscuit Belly's interior is light and bright.In addition to the food, Biscuit Belly has a well-crafted beverage menu. This includes drip coffee and espresso-based beverages, along with breakfast cocktails like mimosas, bloody marys and even coffee-based cocktails spiked with bourbon or vanilla vodka.
Sit-Down Food, Sit-Down Atmosphere
Customers order at the counter, then the dining room team handles the rest. Staff bring the food and drinks to the tables and even bus tables when guests are done with their meals.
The design of Biscuit Belly's interior matches the elevated food the chain serves. The space, says Lauren Coulter, is fun, light and bright. It features the chain's signature colors of navy blue (on light fixtures and divider walls), mustard (in wall art) and teal (in tile work, wall art, exposed ductwork, and upholstery for the booths and banquette).
While the space's general appearance remains consistent with Biscuit Belly's first store — the tables and chairs, along with the color scheme, have stayed steady — the company did make some specific improvements. For example, the chain updated customer touch points on the table, like the napkin and flatware holder.
Change in Progress
Biscuit Belly's kitchen, the place where these scratch-made $12 biscuits come together, has also evolved, as should be expected for a six-unit chain.
Some of these edits may seem small but actually make a big difference to kitchen operations, says Hannah McClain, Biscuit Belly's director of culinary. The company, for instance, rethought where it places items like plates, flatware and disposables to reduce unnecessary movement and steps for people working on the line.
Other changes to the Biscuit Belly kitchen have been larger and more notable. At one time, the chain had a smoker for making brisket in-house. Biscuit Belly has since hired an outside purveyor to make brisket to the chain's specifications. This not only simplifies life in the kitchen, but it also eliminates an expensive piece of equipment.
Other significant changes involve Biscuit Belly's holding equipment. At one point, the company used a cook-and-hold oven with humidity controls to store its fried chicken breast as well as its sausage gravy. That approach worked for the gravy but left the chicken breasts less than crispy. The company has since added warming drawers to its production area to hold the chicken breasts along with other fried items. These units, notes McClain, are only used during high-volume periods. The rest of the time, the company makes all food to order. The chain also no longer holds the gravy in the cook-and-hold oven. Instead, Biscuit Belly now uses steam wells to hold its gravy at safe serving temperatures.
Another food-holding change is still in progress: A key priority is finding the right warming cabinets to hold its biscuits, according to McClain. The company wants a unit with humidity controls that can keep biscuits from getting dried out or too soggy.
Big Back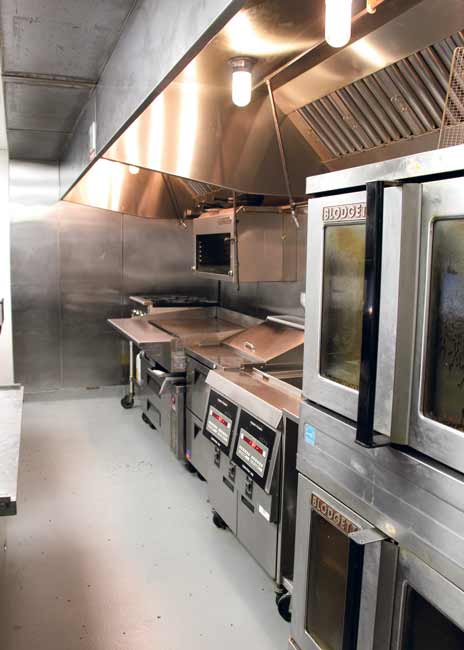 The double-stack convection oven is used to bake the chain's signature biscuits.
As a scratch operation, Biscuit Belly's square footage skews toward the back of the house by a ratio of more than 2 to 1. The prep area, where staffers make biscuits, gravy, sauces and other items every day, consumes a large portion of the back of the house. This area consists of three worktables and a large floor mixer for making biscuit dough, along with various smallwares.
The company's hot line starts with a flattop grill, where culinary staff make to-order pancakes and breakfast meats. The grill sits on a refrigerated unit that holds the proteins. After completing a menu item on this unit, the staffer sends the dish to the cold side of the production area for finishing with sides and toppings like syrup and gravy.
After the flattop comes a four-burner range where culinary staff cook eggs in saute pans. Past the range is a fryer bank. The chain has recently moved to self-filtering units in place of having a third party handle filtration. Past the fryers sits the breading station, which holds chicken breasts and breading in wells. Following the breading station is a double-stack convection oven, which staff use to bake biscuits throughout the day.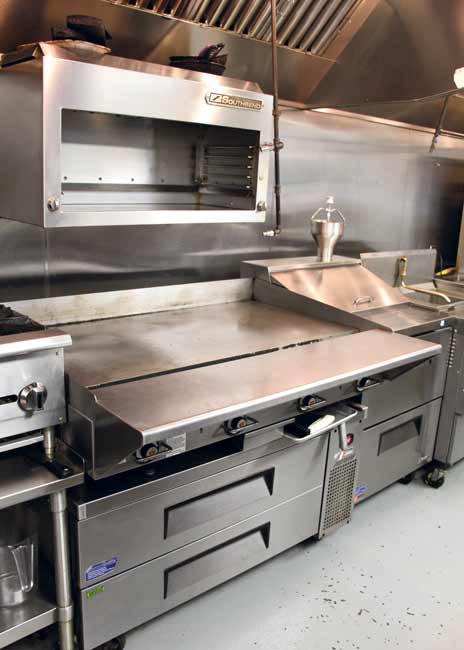 Biscuit Belly continues to tweak its production area; stalwarts include its flattop, breading station, oven and fryers.
The last piece on the hot line isn't actually used in food production. This is a small two-burner range that's one of the newest additions to Biscuit Belly's equipment package. The production team does not use this piece. Instead, the prep team uses the range to make gravy and sauces. "You have the line, and you have prep. The prep doesn't need to use the line's four-burner and get in [the kitchen team's] way to execute their prep," says McClain. "The two-burner has to be under the hood, but it's just right around the corner from prep." After cooking the menu items on the hot line, staff send the food to the cold section of the prep kitchen, which they access by simply turning around.
There have been some other significant changes in recent kitchen iterations as well.
One such change includes the introduction of a steam table with wells. As mentioned, Biscuit Belly now uses these wells to hold the chain's different gravies. In previous iterations, these were held in countertop warmers.
In addition to the steam table, Biscuit Belly has a cold table with wells, which it uses to safely hold items like butter, fresh fruit and condiments. Also in this area, the chain has warming drawers for fried items.
The chain focuses on endcap and freestanding locations. Patios are a plus.
Improving Systems
Biscuit Belly's self-improvement work extends outside the restaurants themselves. The chain has also invested heavily, in both time and money, in systems meant to support franchisees. While 2022 was "the year of systems," Lauren Coulter says, now is the time to put those systems to work.
Among these systems are new technologies for training restaurant leaders and staff. The company even invested in a marketing platform that allows it to monitor and post on the social media sites of each individual restaurant location.
These investments, Lauren Coulter stresses, were made with franchisees in mind. "We know the long-term success of this company is really dependent on who these first four to eight franchise partners are," she says. "We're really focused on growing from their networks."
The company anticipates opening around eight restaurants in 2023 and hitting 35 total locations by the end of 2025, says Lauren Coulter. "People in this day and age really appreciate good food," she says. "Now more than ever, they care about where their food comes from, what sort of quality they're eating. Maybe a bacon, egg and cheese from a typical fast-casual or fast-food place is fine when you're traveling, but people also want an elevated experience."
At a Glance
Chain headquarters: Louisville, Ky.
Year founded: 2019
Key Players:
Chad Coulter, co-founder and CEO
Chuck Schnatter, co-founder and partner
Lauren Coulter, director of franchise development
Lisa Dwelly, vice president of training and operations
Interior designer: Insomnia Design
Equipment dealer: The Wasserstrom Company
Signature menu items:
Rockwell Supreme: Buttermilk fried chicken breast, cheddar, egg over easy, bacon, Goetta sausage gravy
Mama's Boy: Buttermilk fried chicken breast, roasted jalapeno pimento cheese, pickles, fried green tomato
Loaded Breakfast Tots: Sausage-and-cheddar-stuffed tater tots with sweet maple mayo sauce
Number of units: Six (four company-owned, two franchised)
Unit size: About 4,000 square feet; 1,200 for the front of the house and 2,800 for the back of the house
Seats per unit: 70
Location type: Endcap and freestanding
Average sales: $1.4 million
Unit growth projections: 35 total units by the end of 2025
Check average: $26
Equipment package cost: $245,000