This Mediterranean chain is on the verge of major growth thanks to a deal with Walmart.
Images courtesy of Shawarma PressPut a pharmacist and a supply chain Ph.D. together and have them open a business. You might think they'd consult for drug stores or start selling medications and supplements online. You wouldn't guess they'd open a chain of shawarma restaurants.
But that's the true story behind Shawarma Press.
This chain was founded in the Dallas area by the husband-and-wife team of Ehap Sabri, the supply chain expert, and Sawsan Abublan, the pharmacist. Since the launch of their first restaurant in 2017, and despite a months-long holding pattern due to COVID-19, the pair opened five more units in Texas, launched their franchise system and even inked a deal with Walmart to place Shawarma Press restaurants inside the retailer's stores.
This is an unlikely path for a couple with their professional backgrounds. Abublan and Sabri, though, were motivated to start Shawarma Press by two very common impulses.
The bright colors at Shawarma Press are designed to be energetic and uplifting for guests.
Comfort-Food Cravings
Abublan and Sabri were both born in the Jerusalem area and lived in Jordan and Kuwait for much of their lives. In the early 1990s, they moved to the United States, earned their degrees and launched careers in their chosen fields.
Like almost everyone who has moved away from home, one thing they both missed was the food they grew up with, especially shawarma, says Abublan. "That was the one thing we couldn't find around here," she says. "We craved it all the time. When we'd go back to visit family, that's what we'd eat."
For most people, this sort of craving stops as just a craving, an itch you scratch when you can and then ignore when necessary. By the mid-2010s, though, both Abublan and Sabri were ready to leave their corporate jobs and start a business on their own. The love of shawarma connected to this desire for a career change when Sabri took a business trip to Detroit, where he found a number of shawarma restaurants.
Sensing an opportunity, Sabri began researching the restaurant industry and the Mediterranean food sector in particular. What he found was a gap in the market. Not just a gap big enough for one restaurant, but big enough for a chain. The gap was so large, in fact, that the couple started working toward franchising before the first restaurant ever opened its doors.
"Part of the research was, are we going to do this as a stand-alone location or are we going to consider the growth plan?" Abublan says. "One of the first things we did was to create the franchise disclosure document. People around us thought we were crazy because we had barely started our first location and we had our FDD ready. We just wanted to be ready for the expansion and the growth."
That time investment in the FDD looks ready to pay off. Of the chain's six current locations, five are company-owned, and one is franchised. That ratio is poised to shift dramatically in the coming months and years, thanks in large part to Shawarma Press' agreement with Walmart, which allows the chain to open restaurants in the retailer's stores.
The chain puts its vertical broilers in the front of the house to help communicate the nature of the menu to guests who aren't familiar with shawarma.
QSR Mediterranean
Restaurants inside Walmart aren't new, of course. The retailer has partnered with some of the biggest QSR chains in the world, including McDonald's and Subway. While Shawarma Press isn't as big or well known as those two, it is a QSR. That, acknowledges Abublan, is a bit unusual for Mediterranean chains in the U.S. In the past few years, a number of concepts in that sector have appeared, most in the fast-casual realm.
The QSR segment, however, is a more authentic match for how shawarma is served back home, Abublan says. "Over there, shawarma is a very, very popular street food. I always compare it to tacos or burgers or pizza. There's a shawarma joint at every corner. … In the Middle East shawarma is QSR. Some of those joints don't even have a seating area. It's all to-go," she says.
The chain's authenticity in operation, Abublan says, matches with Shawarma Press' authenticity of flavor, with the chain using the same seasonings and marinades as restaurants back home. This commitment to the roots of shawarma naturally impacts how the operation assembles and serves its food.
Just as fast-food burgers come with set toppings, Shawarma Press' wraps are served with default ingredients and sauces that regularly appear on menus in the Middle East. For example, garlic sauce and pickles accompany the chicken shawarma, while onions, tomatoes and tahini sauce top the beef shawarma.
And like fast-food restaurants that will hold certain toppings upon request, Shawarma Press will customize orders, but the chain encourages guests to try the default first. "We tell them, just try it, trust me. Try it the way it is," Abublan says. "I personally tell customers if you bite into it and you don't like it, bring it back and I will build it up the way you want it. It makes me really happy that I've not had a single person come back and say they want it changed."
Shawarma Press' menu consists of more than wraps. The chain sells bowls with shawarma ingredients served over french fries, rice or salad, as well as soups, salads and hummus. To execute this menu Shawarma Press has a kitchen that is both efficient and helps educate new customers about its food.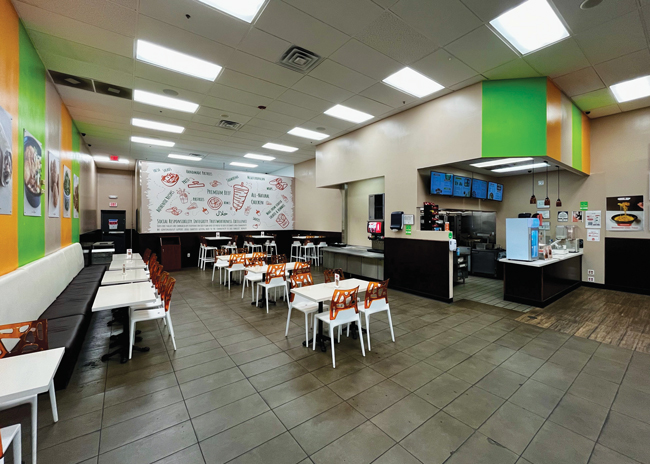 Walmart locations have many of the key design elements as non-Walmart stores, including the white banquette, mural wall and signature colors.
Production Display
At Shawarma Press, staff prepare food in the back of the house before cooking it up front in full view of customers. The location of the kitchen changes within stores to match the footprint — that flexibility becomes a necessity for Walmart locations — but the equipment lineup itself remains consistent from one location to the next.
In the front of the house, the hot-side equipment sits against the wall, while the cold equipment with toppings and sauces is a 180-degree-turn away.
The hot side consists of three vertical broilers for cooking cones of beef and chicken. These sit in full view of customers, helping people new to shawarma as a menu item understand what they restaurant offers. The restaurant dedicates one broiler to each type of meat, while the third serves as a flex broiler.
"If the chicken is running low, we pop a new cone on the third broiler. If beef is running low, we pop a new beef on the third broiler. There is an hour of rotation before [the meat is fully cooked and] we are ready to cut. That is why we have three [units]," says Abublan.
While some shawarma concepts use standard knives to carve these meats, Shawarma Press uses an electric knife that shaves off meat at a set width. This approach improves food consistency, Abublan states.
The hot side also has fryers for falafel and french fries, as well as a gas-fired flattop. Staff use the flattop to toast wraps, with the line cooks pressing on each side — hence, the "press" of "Shawarma Press." This approach gives the bread an appealing crispiness.
In some cases, says Abublan, the chain cannot fit a full flattop into a unit's footprint. When this situation arises, Shawarma Press switches to a panini press to crisp the bread. "That is the only thing we are flexible about. If there is no space for the flat grill, we can substitute it with an electric panini press. The outcome is the same. The level of crispness and the taste is not affected," she says.
The cold line consists of a refrigerated sandwich table with wells for sauces and sandwich toppings. A refrigerated space below the sandwich table holds the extra ingredients staff use to refill these wells. The area also has a steam table, which holds precarved beef and chicken. The chain typically holds these meats no longer than 30 minutes in anticipation of lunch and dinner rushes. During off-peak hours, staff carves meat on demand, one wrap at a time.
The order of work, then, has staffers assembling wraps with beef, chicken, falafel or hummus on the cold side. After placing the ingredients on the shrak bread — a traditional Middle Eastern flatbread that's become the region's standard for shawarma — staff wrap the menu item burrito-style and place it on the grill. After toasting, staff wrap the order in paper (for ease of eating) and then give it to the customer.
A simple, back-of-the-house workspace supports this production area. This area includes dry storage; a walk-in cooler and freezer; and a prep kitchen. Here, team members prep veggies, sauces and other ingredients. A small bit of prep work takes place in the morning, before lunch, while more is performed as needed after the lunch rush.
Notably, not everything is prepped in this area. The chain uses a central commissary kitchen to make falafel batter and hummus. These items ship from the commissary to Shawarma Press' food distributor, which then distributes them to each of the chain's six locations.
"With something as proprietary as hummus and falafel, we wanted to make sure the consistency is there for all the stores," says Abublan.
The view of a Shawarma Press from a Walmart entrance. The chain expects Walmart locations will become a major driver of its store-count growth.
Flexible Front
Just like its kitchen, Shawarma Press has a QSR-style dining area. The exact design must be flexible to match the space, particularly in Walmart locations, but it includes stylized plastic chairs and floating laminate tables.
There are a few frills to each location, though. Shawarma Press' signature colors consist of a palette of a bright orange, bright green and tan. These elements can appear on anything from the walls to ductwork.
To make the space more comfortable, restaurants also have cushioned booth and banquette seating with white vinyl covering serving as a signature design element. This piece, says Abublan, "opens up the space and provides uplifting vibes. It also extends over the longest wall, and that creates a very welcoming gesture for friends and families. It can be intimidating to choose a cream color in a restaurant, but we found that daily cleaning with a damp cloth followed by weekly cleaning with a leather conditioner has allowed us to maintain the look and quality of the benches over the past few years."
Each store also has large photographs of menu items like wraps and falafel. Walls also feature a custom vinyl wall covering with sketches of their food, including meat cones, wraps and falafel. According to Abublan, these drawings help guests understand Shawarma Press' menu. The wall covering also includes brand messages ranging from "Premium Beef" and "Authentic Recipes" to a core values statement highlighting the chain's commitment to "social responsibility, integrity, trustworthiness and excellence."
Choosing Your Path
With its restaurant design set and the Walmart deal in place, Shawarma Press sees major growth on the horizon. The chain, says Abublan, expects to hit 100 locations in the next five years. Most of those, she says, will be franchised units, with a good number opening in Walmart stores.
One of the important tasks now, says Abublan, is preparing for the coming growth and properly vetting potential franchise partners.
On the preparation front, the chain has bulked up its corporate staff. This includes the hiring of a new chief financial officer, director of franchise development, legal team and marketing team. The chain, says Abublan, will add more members to the franchise team as the company grows.
For franchisees, the most important quality the chain looks for is enthusiasm about the brand. The company considers prior restaurant ownership or experience a definite plus, but neither is required. First-time owners, though, must be owner/operators and are strongly encouraged to hire a manager or assistant manager with industry experience. This policy ensures newcomers to the sector "have both hands on the wheel," says Abublan.
This approach to franchising makes sense when considering the chain's origins.
Shawarma Press was born out of the founders' desire to own their own business and their love of shawarma. If others want the same future and feel the same love, Abublan and Sabri are happy to have them as partners on
the journey.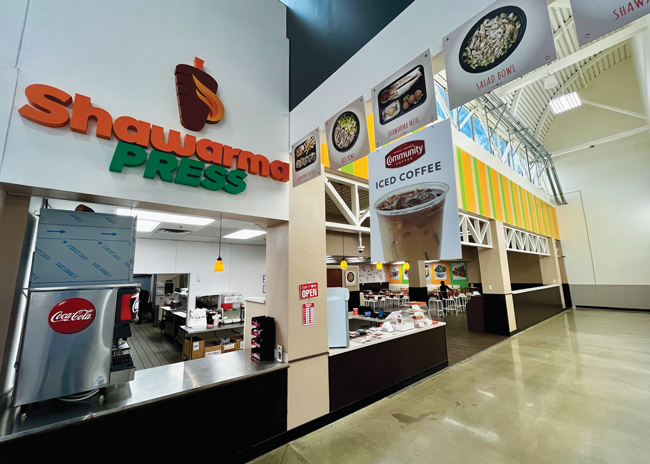 In Walmart locations, the chain adjusts its footprint and design to meet the available space.
At a Glance
Co-founder and CEO: Sawsan Abublan
Co-founder and chief operating officer: Ehap Sabri
Kitchen design consultant: Andrew Zheng, Champs Restaurant Supply, Richardson, Texas
Equipment dealer: Champs Restaurant Supply
Chain headquarters: Irving, Texas
Year founded: 2017
Signature menu items: Authentic chicken and beef shawarma; proprietary hummus, falafel and sauces
Number of units: Six currently; eight more opening soon
Unit size: 2,000 square feet, roughly evenly divided between front and back of the house
Seats per unit: 60
Location type: Inline, end cap and co-located in Walmart stores
Check average: $20
Equipment package cost: $33,000