This taquito concept aims to be a billion-dollar brand through a focused menu, strong branding and disciplined franchising.
Lots of entrepreneurs have big goals for their companies. Not as many are as up-front about them as Ryan Usrey, founder and CEO of Roll-Em-Up Taquitos.
While the Southern California fast-casual concept has just 3 locations now, the chain projects 500 in 5 years. Further down the road, Usrey envisions even more. "If a brand like Taco Bell can have 7,000 locations, there is no reason why I can't have 2,000," says Usrey. "It's about us finding quality people on our team who have passion for our brand. Me and Chris [Wyland, chief development officer] are going to ride this until the wheels fall off, and we are going to make it happen."
A Family Foundation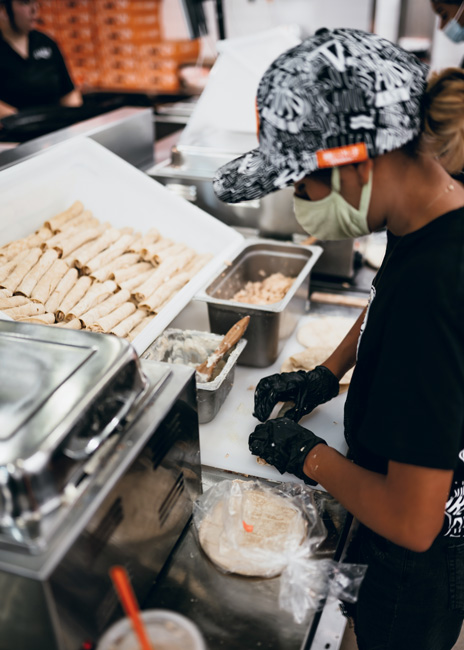 Staff roll taquitos all day at Roll-Em-Up. Each location fries an average of 3,500 taquitos each day.With such big plans, it's ironic that Roll-Em-Up has a mom-and-pop-style backstory.
Homemade beef taquitos, Usrey says, were the go-to party food of his mother, Karen. She'd spend all day making them for events like Super Bowl parties and holiday gatherings. "She would roll three or four hundred of them at a time, and they would be gone in like a minute," Usrey recalls. "People would always joke that 'Hey, you should open up your own taquito spot.'"
While the family kicked around the idea, they never pulled the trigger. But after Karen died unexpectedly, Usrey decided to follow through. An entrepreneur by nature, he shuttered his clothing and branding companies and began to develop the Roll-Em-Up concept.
In 2016, Usrey signed a lease for a storefront in Chino Hills, Calif. There, he and his wife worked on recipes for items like chicken, potato and avocado taquitos; sauces that top the dishes; Mexican street corn; and a churro doughnut, which is a doughnut made from traditional churro dough. They also focused on the operational side of the restaurant.
"We moved our family to a house right across the street from the restaurant so we could spend 17, 18 hours a day there just to dial in our operations and make them simple," Usrey recalls.
At the same time, Usrey put his branding background to work, developing the restaurant's personality, look and feel. This allowed Roll-Em-Up to present a fully developed brand from the day it opened its first restaurant in 2019.
"Customers would come in, and everything was heavily branded and uniquely packaged," says Usrey. "When we had one location, they'd ask where our other locations were, how to franchise. Since day one, people have been asking us about buying franchises."
Franchise Planning, Franchise Sales
Despite the interest, Roll-Em-Up only began selling franchises in summer 2021, between the opening of its second and third company-owned stores.
The launch of the franchise system has been a clear success. The entire Southern California market sold in two months, and by the end of the summer, the chain had 50 locations in the pipeline. Roll-Em-Up expects to have five to eight total stores open by the end of 2021.
Part of this success is due to the planning that went into its franchising plan. With aspirations to be "a billion-dollar brand," says Wyland, Roll-Em-Up was working toward franchising from the beginning. This includes developing training systems and a training team, along with securing expertise in real estate, design and construction.
The upstart concept pairs these efforts with a disciplined franchise strategy. Roll-Em-Up will expand in Southern California, says Wyland, then move to the central and northern portions of the state, along with surrounding states including Arizona, Nevada and Idaho.
This approach, says Wyland, will allow the chain to support its first franchisees more effectively and then establish supply chains and vendor relationships further out when the time comes. It also lets Roll-Em-Up make better use of its marketing spend. "By growing our Southern California base, we can use those marketing dollars wisely. We can put billboards in LA while we wouldn't do those across the country initially," he says.
Balancing this approach to franchising is a business with impressive financials. With taquitos as its only entree — something Usrey is adamant will never change — Roll-Em-Up has streamlined kitchen operations, labor and food costs. Sales, meanwhile, are quite strong, with the top-performing Chino Hills restaurant hitting $2.3 million its first year and a projected $2.6 million to $2.8 million this year.
A low up-front investment complements these results. The final cost to build out a Roll-Em-Up, with furniture, fixtures and equipment included, is between $420,000 and $450,000. Converting a second-generation space previously occupied by another restaurant can bring that total down $100,000, Wyland notes. "I think a mistake that franchisors make is putting these prototypes together, and the next thing you know, it is an $800,000 build-out," he says. "That affects the ROI [return on investment]. They want to build the Taj Mahal. We want to be streamlined, clean. We want the store to look fantastic, but we also don't want it to cost an arm and a leg to get them up and running."
Roll-Em-Up's intentional low-frills design still gives the space plenty of energy.
A Low-Cost Kitchen
Part of keeping its build-out and operational costs low involves making the kitchen simple and easy to operate. With an equipment cost of less than $80,000, per Usrey, the chain is certainly doing that.
All of Roll-Em-Up's kitchen operations, from prep to assembly, take place in the front of the house, allowing the chain to showcase the freshness of its food. The heart of the prep area consists of two large worktables. These are the rolling stations. Here, staff work all day adding one of five fillings to either corn or flour tortillas and rolling them into taquitos. The proteins are held in trays in the restaurant's walk-in coolers, while the countertop steam pans on the tables hold tortillas, keeping them pliable and easy to roll.
The team members working the rolling station actually face the hot line workers. A four-foot wall with a countertop separates the two lines. This setup is a change from the initial stores, where rollers were in the back of the house and had to walk to the front to resupply the line cooks with taquitos ready for frying. This change saves time and simplifies everyone's job.
"We can only store so many cold taquitos in the front," says Usrey. "It is very inefficient running back and forth, reloading your cooler. We positioned the roller behind the cookline. That way, they communicate and pass taquitos through."
While the fillings are precooked, taquitos ready for the fryer are held in drawers next to a set of wok-size burners.The cookline itself is simple but has some interesting equipment applications. The line actually starts with a small upright reach-in cooler — Roll-Em-Up branded — where the restaurant holds bottled beers.
Next comes the actual cooking equipment, starting with four custom-built burners, all side by side. These are actually wok ranges converted to have a flattop for Roll-Em-Up's cast-iron skillets.
These skillets — not a fryer bank — are where each Roll-Em-Up location fries an average of 3,500 taquitos each day. To reach that volume, each skillet measures 24 inches and is capable of cooking around three dozen taquitos at once.
The workers at this station retrieve skillet-bound taquitos from a set of undercounter refrigerators one step down the line. These refrigerators have five drawers, each holding one type of taquito (beef, chicken, etc.) wrapped in either a flour or corn tortilla.
Past the refrigerators is a standard range top used for making rice and beans, followed by the chain's lone fryer. In a pinch, Roll-Em-Up will use this fryer for large orders, says Usrey, but its main purpose is making tortilla chips from scratch. "All of our tortilla chips are hand-cut daily. It's the same proprietary tortilla we use for our taquitos," he says.
After the fryer comes the chain's final piece of hot equipment, a double stack oven. This is used to cook the restaurant's chicken and beef overnight, as well as to make Roll-Em-Up's churro doughnut.
The ordering counter sits a 180-degree turn from the hot line. Directly across from the bottled beer refrigerator is the POS station and a cold well filled with ice and beer. "That's the vibe we want. We want it to look like an ice chest full of ice-cold beer," says Usrey.
Past the well and POS station is a hot table, then a cold table. The hot table holds beans, rice and the corn for Mexican street corn. The cold table holds items like guacamole; street corn toppings like butter and hot Cheetos dust; and the chain's proprietary sauces.
While this production line setup hasn't changed much from its initial design, a small bit of the operations has, Usrey notes. When it first opened, Roll-Em-Up tried having its guests walk down the line and pick out what they wanted on top of their taquitos. With all taquitos made fresh to order, the timing simply didn't work. Now guests spell out exactly how they want their food prepared when they order, and then are called to the pickup area when their dish is ready.
Whether dining in or getting their food to-go, these guests find themselves in a space that's low frills but still clean and polished.
The brand, says Usrey, "has a street vibe to it. When you walk into a normal restaurant, everything is clean and safe. I feel like our brand is a little more edgy and cool."
One of the design's standouts is the chain's signature color, a bright orange that's not too far off from the color of one of its sauces. This color can be seen in the outdoor signage, food packaging, and metal chairs and stools. It's also found on Roll-Em-Up's signature design element, its graffiti wall, which is accomplished with a vinyl wall covering.
Other than these wall coverings and the pops of orange, the restaurant's design is simple. Elements include butcher-block tables, sealed concrete floors and subway tile on the POS counter face. "We're not putting a bunch of money into the design; it's mostly graphics and logos," Usrey says.
That sort of discipline plays a big role in Roll-Em-Up's early success and will contribute to the chain's expansion going forward.
While only time will tell if the chain hits the 2,000- or even 500-store goal, its focus on a strong brand and strong ROI are prerequisites to recruiting the franchisees necessary to hitting those numbers.
"I think you have to bring great franchisees into the system who are willing to grow," says Wyland. "You have to have a great system in place that is showing success. Nobody is going to build restaurant number two if number one is not doing well."
Roll-Em-Up At a Glance
Key Players:
CEO and founder: Ryan Usrey
Chief development officer: Chris Wyland
Interior design and kitchen design: Ryan Usrey
Kitchen equipment dealer: Action Sales, California
Chain headquarters: Irvine, Calif.
Year founded: 2019
Signature menu items: Taquitos with five filling options (beef, chicken, potato, cheese, avocado) in either corn or flour tortillas, Mexican street corn, churro doughnuts
Number of units: Three corporate locations in Southern California with 40 franchised units in development
Unit size: 1,600-2,000 square feet; 60% front of the house, 40% back of the house
Seats per unit: 40
Location type: Endcap or drive-thru
Top-performing store: $2.3 million
Unit growth projections: 500 in development over the next five years
Check average: $20.65