After a decline in store counts, this comfort-food chain is positioning itself for renewed growth.
It's hard to think of a better example of a regional favorite than Cincinnati chili. According to the Greater Cincinnati Convention and Tourism Bureau, the city's residents eat more than 2 million pounds of the dish each year.
Despite its popularity in its hometown, Cincinnati chili hasn't broken through outside its region. Perhaps the offering — more of a spiced meat dish/sauce typically served on a bed of spaghetti or on top of hot dogs — just doesn't match with what most people think of as chili. Whatever the reason, even the powerhouse Cincinnati chili chains have fewer than 150 locations.
One of these powerhouses, GSR Brands, owner of Gold Star Chili, decided it can't rely on Cincinnati chili alone for its growth. At least some of the company's future lies outside its core brand. "Gold Star would like to be a $100 million company and a company of companies," says Dave Mayerik, GSR's vice president of operations. "That is our goal, and our ten-year plan is to look at ways to do that. That includes acquiring other concepts. Tom & Chee is one we felt could help us achieve that."
Tom & Chee, indeed, has an appeal that's clearly broader than regional. The nine-store chain specializes in tomato soup (the Tom) and melts (the Chee).
This concept has its own backstory. Founded in 2009, the chain got national attention when it was featured on the investment-pitch television show "Shark Tank." After inking a deal and growing to more than 30 locations, the chain hit a rough patch. Many locations had unsustainably large store sizes and the Tom & Chee menu grew too complex, says Mayerik. In 2017, seeing a strong concept with fixable challenges, GSR acquired the brand.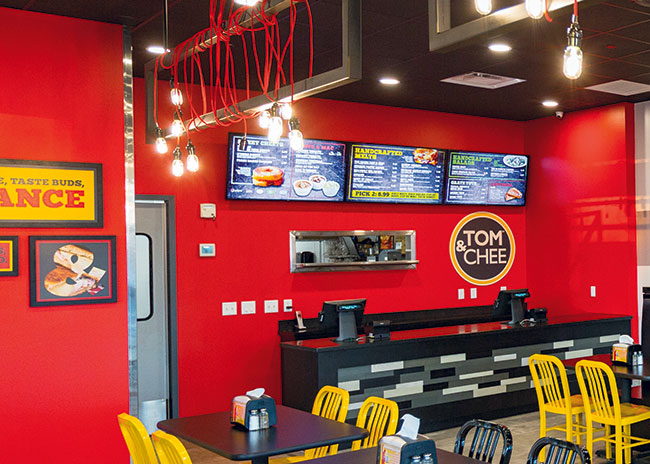 GSR moved Tom & Chee's kitchen to the back of the house yet positioned the pass-through window to allow line cooks to keep tabs on the dining area.
For the three years following the acquisition, GSR set about addressing those operational issues. According to Mayerik, one of the most important steps GSR took was cutting the Tom & Chee menu. Where the chain once had 15 melts available in different sizes, it now offers just 9, all served the same size.
That change alone made execution tactics far simpler. "There were recipes of many different sandwiches that were flowing in and out of the menu," says Mayerik. "We scaled it to where we could sell it. It's hard to train people on a very complex menu. To train people, we needed to make it as simple and repeatable as possible."
This menu alteration was done in conjunction with a push to simplify food prep work. More Tom & Chee ingredients arrive from the distributor already prepped than before the turn-around effort. The chain continues to focus on eliminating one-off ingredients in favor of those that it can use in multiple dishes, says Tyler Kraemer, GSR's director of training and a holdover from Tom & Chee's pre-acquisition days. It has also adjusted its recipes to do more with less.
"We're using a lot of plus-one builds," says Kraemer. "We're using one sauce for one thing and then adding a couple of key ingredients and transforming it into another [ingredient and flavor] for a completely different application."
While cutting the menu was key, Tom & Chee's new ownership also saw challenges with its store design. On top of having many stores that were simply too large to justify, the appearance and atmosphere wasn't quite right for a comfort-food concept. Even worse, Tom & Chee's kitchen wasn't exactly efficient, with ticket times regularly running six-plus minutes on a sandwich.
In January 2020, just before the pandemic took hold, GSR opened a new prototype store in Anderson Township, Ohio. This restaurant not only features a more focused menu, but it also has a redesigned kitchen that cuts ticket times by more than half.
Flattops Out, Fast-Cooking Ovens In
Achieving such a significant improvement in ticket times takes more than a few tweaks. With its new prototype, Tom & Chee changed both its kitchen design and its equipment package.
The most significant of these changes impacts how the chain actually cooks its melts. In legacy stores, the chain used flattop grills with steam hoods. This technology allowed staffers to grill bread, heat proteins and melt cheese all at once. While effective, the downside of this equipment was how long it took to make a melt.
In its place, Tom & Chee now specifies fast-cooking ovens that utilize radiant heat and convection. The chain pairs these ovens with grill plates that brown and slightly caramelize bread like a flattop does.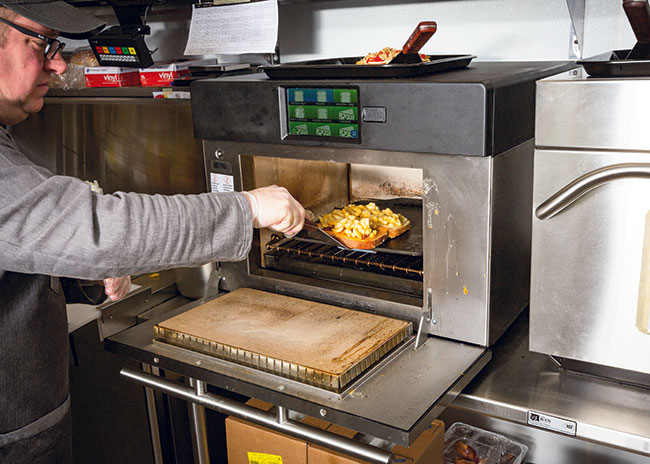 The chain cut its melt make time by more than 50% by switching from griddles to fast-cooking ovens.
Sourcing just the right grill plate took about six months, says Kraemer. "We did not want [our melts] to look like a panini," he says. "We wanted to find something that would grill it, not toast it; that as it makes contact with the plate, it sizzles. You put that in a 500 degree F oven with circulating air, it looks and tastes just like it came off a traditional griddle."
Not surprisingly, these ovens have a higher price tag than Tom & Chee's older flattops. This added expense was offset by the lower-cost install requirements of these units. "The [fast-cooking ovens] do not need to be vented. We went from running upward of 17 feet of hood. In some cases, we were running hood over refrigeration, wasting that length. Now we are able to go down to just a hood to cover our small range, oven and fryer," Kraemer says.
A new kitchen layout also helps make this smaller hood possible. The chain's legacy kitchen utilizes a single straight line in the front of the house. The new prototype deploys a U-shaped kitchen in the back. The tall portions of the U run along the side walls, while the bottom serves as an expo point at the pass-through window.
The top right side of the U starts with a sandwich table with cold wells. This space holds meats, cheeses, spreads and other melt toppings that can be heated. Staffers assemble melts on large spatulas. Popular offerings include a macaroni and cheese melt with bacon, a chicken bacon ranch melt and a Philly cheesesteak-style melt.
After placing ingredients on bread, staffers move the dish down the line to the fast-cooking ovens and place the food on grill plates. Each store has two of these ovens. A single oven can cook two to four melts at a time, depending if the recipe calls for open- or closed-face heating. Cooking takes just 90 seconds.
The high-volume capabilities help with not just individual orders, but larger ones as well. "We do a lot of catering-type events," Mayerik explains. "The ability to mass produce melts at one time is a challenge, but those ovens seem to keep up with it. They handle it very well."
After the ovens comes another sandwich table, where cold toppings such as lettuce, tomato and other produce are added to sandwiches. The other side of the U starts with another cold table where staffers put together salads such as garden, house and chicken Caesar. This table also holds the makings for Tom & Chee's desserts. Staying on-brand, this part of the menu features melts with donuts standing in for bread. Offerings include s'mores, Nutella and banana, and even a mild cheddar.
After the cold table comes a range with four burners plus a griddle, with a conventional oven below. The chain uses the burners to make soups and sauces, while staffers cook bacon and grill donuts on the griddle.
Past this unit sits a fryer, where staffers make Tom & Chee's tater tots. While much of the chain's menu work in the past few years has been focused on reducing offerings, this represents a new category for the company. Guests can order their tots plain or with toppings like garlic, chives and cheese. A freezer unit next to the fryer stores the tater tots.
After staff assemble a menu item along the sides of the kitchen, the food arrives at the bottom of the U. This space houses soup warmers where staff ladle offerings like classic tomato, tomato basil and chicken tortilla. Then staff either plate orders or bag the food and place it in the pass-through window.
The window was intentionally positioned to give team members in the back the ability to keep an eye on the front of the house. "As someone comes in, we are still able to give the interaction, give the wave from behind the wall," says Kraemer. "We can see almost the entire dining room from that expo window. You can keep a pulse on what is going on without being fully exposed to the dining room."
While the back of the house is home to nearly all of the store's kitchen equipment, the new design includes one key piece up front: a hot holding cabinet for to-go orders. This piece was specified pre-pandemic but proved especially useful during times when off-premises was the only option. Notably, the unit is positioned so that only staffers behind the counter can retrieve orders. "It is 180 degrees F in there, so we don't want a customer opening that door," says Mayerik.
Hip But Warm
A new holding unit wasn't the only change to the front of the house, of course. Tom & Chee also changed its appearance and its branding with the introduction of this new prototype. The chain's legacy stores feature a red and yellow color scheme, matching the tomato soup and cheese in its name.
Leaning into its comfort food-based menu, the restaurant's dining room now has a more elevated look. The space feels hip but warm, with cloud elements and creative lighting fixtures overhead. While red and yellow remain accent colors, the chain now uses more black, grays and off-whites.
The kitchen's move to the back of the house helps support this calming, more comforting environment. The redesign also showcases a slight change in Tom & Chee's branding. Previously, the chain used a plus sign for the "and" in its name. The company now uses an ampersand. Through signage and food photos on the interior, this change lets Tom & Chee emphasize food combinations, such as "soup & sandwich" or "turkey & bacon melt."
With the new prototype in place, Tom & Chee is ready to get back on a path to growth. Franchised locations are opening in Pennsylvania and Oklahoma City this year, along with a possible company-owned restaurant in Ohio.
Beyond this year, Mayerik says GSR expects Tom & Chee's growth to be more strategic than before. The company will go where the opportunity is but will be wary of opening too many far-flung locations too quickly.
Wherever the chain does open, though, it's likely to get a good reception. While Cincinnati chili may be regional, Tom & Chee has a menu that appeals to basically everyone.
"It's comfort food at its core," says Mayerik. "I think it translates to multiple demographics."
---
Tom and Chee at a Glance
Key players
CEO: Roger David
Vice president of operations: Dave Mayerik
Director of training: Tyler Kraemer
Equipment dealer: Alack Culinary Equipment & Supplies, Hammond, La.
Chain headquarters: Cincinnati
Year founded: 2009
Signature menu items: Tom & Chee Melt, Classic Tomato Soup, Grilled Cheese Donut
Number of units: 9
Unit size: 1,500-2,000 square feet
Seats per unit: 30-35
Location type: Inline and end-cap
Unit growth projections: Four new locations in 2021
Equipment package cost: $80,000-$100,000
The chain's new Anderson Township, Ohio, restaurant is the first redesigned location. It opened in early 2019.