This casual-dining concept redesigned with off-premises sales and on-premises experiences in mind.
It may be hard to remember, but many of the foodservice trends that we associate with the pandemic actually started before anyone outside a lab knew what a coronavirus was. To-go orders and third-party delivery had taken hold, while better restaurant experiences (not just better restaurant food) were seen as a way to drive
dine-in traffic.
These trends explain why Cincinnati-based Buffalo Wings & Rings introduced a new design in the summer of 2020. "COVID played a role [in the redesign], but actually we were a little bit ahead of COVID, to be honest," says vice president of marketing Diane Matheson. "We started this labor of love a couple of years ago; we knew there were a few things we wanted to address."
Concept Description
The concept's Valet Pickup lane facilitates a smooth pickup process for to-go orders. The door connects directly to the restaurant's kitchen.Founded in 1984, Buffalo Wings & Rings is an 80-plus-unit casual-dining concept offering (of course) Buffalo-style wings, along with burgers, sandwiches and more, all served in a sports-centric environment.
While wings and sports aren't exactly a unique combination, Buffalo Wings & Rings stands out by offering a "club level" experience, Matheson says. "If you think about going to a football game, you can sit in the end zone or you can sit in club level. The end zone is a lot of fun, but there might be a lot of rowdy people," she notes. "It's probably not the right place for family and maybe friends to watch a game. If you think about club level, you're having just as much fun, but the service is better, the food is better and the atmosphere is different."
Buffalo Wings & Rings maintains a sports focus like others in its space but seeks to offer an elevated experience, one that's lighter and brighter and not so "man cave-y," says Matheson.
Beyond that, just what makes a better atmosphere continues to change, and Buffalo Wings & Rings continues to change too. In the new design, the concept shifted its front-of-the-house footprint dramatically with a goal of offering a better experience for both sit-down guests and bar patrons.
The bar and lounge area was previously located to the side of the dining area; this area now sits toward the rear of the space. This, says Matheson, offers greater separation between guests who want to enjoy a few beers with friends versus those out for a more traditional restaurant experience, possibly with the kids in tow.
The traditional dining area now features a wall with localized elements that help connect each restaurant to its community, as well as a set of booths with their own flat-screen TVs, allowing guests to choose their game, regardless of whether it features a local team.
The bar area, meanwhile, includes a new "hangout zone" with lounge-style seating and foosball tables located just off the bar. Via accordion-style windows, this section connects to an outdoor space with picnic tables, Adirondack chairs and outdoor games like cornhole. According to Matheson, these additions provide an experience similar to what's found at many microbreweries. This area draws inspiration from hangout spaces that are common features in the microbrewery segment. "We wanted to incorporate more of a hangout zone where people can relax, have a beer and hang out with friends," Matheson notes.
Changes to the dine-in customer experience weren't all about setting the stage for a good hang. The chain also introduced new technologies to speed up service and, hopefully, improve the guest experience.
Customers who don't want to flag down a waiter can now manage their visits via their smartphones. Using either a web browser or the restaurant's app, guests can view a menu, place orders, pay their bills and more.
Going even further, Buffalo Wings & Rings also revamped its POS system, a move that grew out of a time and motion study of both the front and back of the house. This study found there was a lag between customers placing their orders with a waiter and the waiter inputting the order into the system. During peak hours, waiters would be lined up to enter orders, according to Bob Bafundo, Buffalo Wings & Rings' chief operating officer.
Designing for Time
Taps sit against the wall, separating the front from the back and keeping the beer lines as short as possible.Along with the redesign effort, the company gave its waitstaff tablets that send orders directly to the kitchen display system in the back of the house, completely eliminating a service bottleneck. The kitchen has been overhauled in the new design.
Driving this overhaul was the aforementioned time and motion study. While the chain expected the study to show kitchen equipment capacity issues in the back of the house, says Bafundo, it showed something different.
"Most operators in our system went into that study feeling like our equipment was restricting our capacity in the kitchen. In fact, as we studied workflow, studied sales mix and the types of orders we received, we found out we did not have a capacity issue. We had an efficiency issue in terms of the way our kitchen was laid out," says Bafundo. In short, kitchen staffers had to take too many steps and cross paths too many times to get food out the door.
The new kitchen, then, offers an improved flow along with other benefits, including a dedicated section for curbside pickup and a revamped food prep plan that's integrated into the food production area.
The redesigned kitchen actually starts outside of the building, where Buffalo Wings & Rings has located its cold storage. In earlier ground-up builds, the chain's walk-ins were placed inside the main structure. The shift to outside, says Bafundo, simply allows the chain to devote more building space to the revenue-generating parts of its business.
In the prototype, the door connecting the kitchen to walk-ins is just a few steps away from the food production line. This, notes Bafundo, makes it easier for staff to restock wings, fries and other items in cold storage.
Buffalo Wings & Rings' production line starts with its hot equipment against the restaurant's back wall. The line opens with a hand sink followed by a breading station for chicken tenders. A refrigeration unit below stores unbreaded chicken and chicken wings.
After the breading station comes a four-vat fryer, where culinary staff cook chicken — and only chicken. Notably, the chicken breading and frying units were previously placed further down the line. Moving them closer to the walk-ins helps make the kitchen more efficient.
"If you look at the [walk-in] cooler, that is where your fresh chicken is coming from," Bafundo says. "It made sense to reduce steps and get that chicken fryer closer to the cooler."
Following the fryers is a small worktable, then a flattop grill where burgers, grilled chicken sandwiches, steak sandwiches and more are cooked. This unit sits on a base holding raw proteins in refrigerated drawers.
The appetizer station sits after the flattop, where staff prepared fried appetizers like mozzarella sticks, french fries and, of course, onion rings. This station consists of a three-vat fryer along with a refrigerator and freezer at the end of the hot line.
The chain's cold line sits a 180-degree turn away from the cooking equipment. Worktables bookend the line, including one with a built-in vegetable sink; both are near hand sinks. While prep used to have its own corner in the back of the house, moving these tables to the production area allowed the chain to make better use of its labor.
In previous designs, Bafundo says, prep was handled primarily in the morning, before the restaurant opened. This change "gives us the capability to do prep between orders or during off-peak time without having to leave the cookline. Our cooks are able to slide over to one table to get some prep done. When an order comes in, they can slide back and get that product cooked and out to the guest as quickly as possible," he says. "That has really helped with labor efficiency."
The rest of the cold line is dedicated primarily to finishing the items made on the hot side. This includes a saucing station opposite the chicken fryers and a refrigerated worktable, where staff top sandwiches and assemble salads.
Culinary staff then place finished product in the two-tiered expo window. With heat lamps hanging above, the top tier holds hot food while the bottom tier holds cold items. The expo station, separated from the production line by a wall, still resides in the back of the house. It's at this station that team members add dressings like ranch and blue cheese to the order before delivering them to the dining room.
The dining room, of course, isn't the only destination for orders. The chain has also adjusted its operations and design to better serve to-go customers.
New to this prototype, Buffalo Wings & Rings' Valet Pickup provides "a more elevated way to deliver to-go," says Bafundo. This essentially serves as a curbside pickup offering with a drive-thru-inspired design.
When customers place their to-go orders, they're asked to give basic info on their vehicle (make, model, color). When they arrive for pickup, guests pull up to a door on the side of the building, where an employee matches the vehicle to the order and brings out their food.
"You're not parking in a spot. You don't have to pick up the phone and call anybody. ... We took that out of the equation. If you pull up, we see you," says Bafundo.
This door for valet pickup connects directly to the back of the house, just off the expo station. The chain has equipped the area near the door with everything it needs to be an effective to-go operation. This includes storage for to-go packaging, a hot holding unit for finished orders and a POS station for people paying at pickup.
The chain's logo wall is one of the key design elements.
New Design, New Name?
With the chain's new prototype open a few months now, the company is still assessing its performance. Once it gathers enough data on the prototype, it will create a remodel plan for legacy stores.
So far, though, the chain is especially pleased with how its Valet Pickup has fared. Guests get in and out quickly, and concerns that customers would confuse the pickup lane with a traditional drive-thru haven't materialized.
The chain is also happy with another element of the redesign: With this new store, the company is experimenting with life without the Buffalo name and rebranding as just Wings & Rings. This move, says Matheson, strives to distinguish the chain from other wing concepts.
Still, the business was concerned about hurting its brand in its home market, where it has the most density. That, too, seems like a bullet dodged.
"The funny thing is most people who know us call us Wings & Rings anyway," says Matheson. They always use shorthand and drop the word 'Buffalo.' So far, it does not seem like we have caused confusion because that's what consumers were calling us."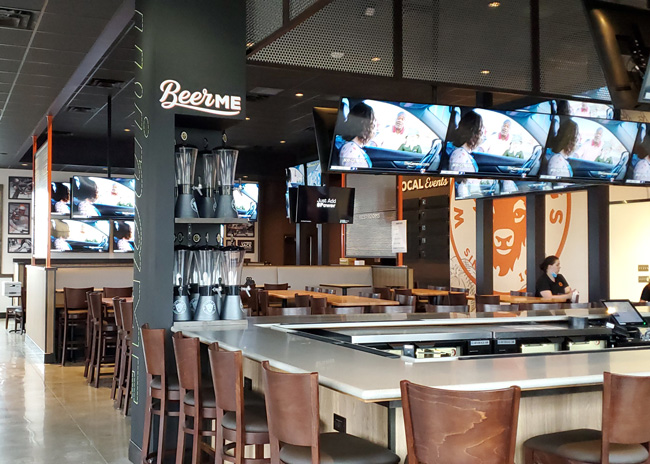 The new U-shaped bar encourages conversation among guests at Buffalo Wings & Rings.Nailing down its brand now is a wise move given the company's growth plans. The chain wants to add 10 to 20 units a year for the next few years, eventually going from the roughly 60 U.S. locations it has now to about 150, Matheson says.
Growth will come as the chain fills in its existing markets, primarily in the Midwest, and then moves outward geographically — a strategy that will allow Wings & Rings to build name recognition and better support franchisees, Matheson notes.
If the concept hits these growth targets, this new design will almost certainly have played a big role in its success. By embracing new aspects of the restaurant industry just as COVID-19 put them on fast-forward, Wings & Rings seems ready for an evolving future. "All the things we set out to do, the consumer was moving toward anyway," Matheson says. "Have we had to tighten up a few things or do them faster because of COVID? Absolutely. But I don't think we're moving away from where we were going anyway."
At A Glance
Key Players:
President and CEO: Nader Masadeh

Chief development officer: Thomas Flaherty

Director of franchising: Dan Doulen

Franchise development: Terri Bornhauser

Vice president of marketing: Diane Matheson

Chief operating officer: Bob Bafundo
Chain headquarters: Cincinnati
Year founded: 1984
Signature menu items: chicken wings, chicken tenders, chicken sandwiches, shareable appetizers, burgers
Number of units: 80-plus
Unit size: 4,180 sq. ft.: 2,800 sq. ft. for FOH; 1,380 sq. ft. for BOH
Seats: 142 (excluding patio)
Location types: free-standing, endcap
Total system sales: $122 million
Check average: $27.70
Equipment package cost: $175,000
Kitchen design consultants: PROFITALITY, Miami: studies and analysis; The Wasserstrom Company, Columbus, Ohio: kitchen design and equipment specification
Equipment dealer: The Wasserstrom Company