This fast-casual operation is set to go from a single-digit store count to nearly 40 locations in two years.
A lot of people have bet on the success of The Great Greek Mediterranean Grill in its 12 years. First, there were the concept's creators, a father-and-son team of Greek and Armenian heritage. They opened the first location of this fast-casual concept in Henderson, Nev., in 2008, serving chef-driven food inspired by family recipes.
Next were Nick Della Penna and Trent Jones. Both third-generation restaurateurs, they acquired the independent restaurant in 2011 with a goal of expanding the concept. Over the next few years, they opened two additional locations.
Then came United Franchise Group, which took a stake in the company in 2017 and helped The Great Greek become a franchise that's now poised for rapid expansion.
What's led so many to bet on this concept? According to Bob Andersen, executive vice president of United Franchise Group's Food Division, the chain stands out for its culinary menu combined with a level of service that surpasses most other fast-casual concepts.
While many in the fast-casual space have guests walk down a point-and-pick line and choose what they want on their plates, staff at The Great Greek cook hot items to order, from burgers to souvlaki to gyros. Culinary staff make other items, such as sauces, dips and rice pilaf, in-house. This approach, Andersen says, allows the chain to offer high-quality fare that staff can customize upon request. Guests who want their steak souvlaki medium rare can get it medium rare. That's an unusual offering in the fast-casual sector.
After orders are placed at the POS station, the experience is as close to full service as possible without technically being a full-service concept, Andersen adds. Restaurant employees deliver orders to dine-in guests on plates with flatware. What's more, staff bring out orders in stages: appetizer first, followed by entree, then dessert.
Guests who enjoy this level of dine-in service do so in a light, bright space designed to celebrate Greece and its history. The chain's feature wall is a white brick veneer with The Great Greek logo painted on, surrounded by small green plants attached to the wall in metal holders. Other plants appear on the tables and near the beverage station, adding an element of liveliness and freshness to the space.
Wood also plays a big role in the restaurant's design. Engineered wood in a reclaimed wood style is built into the face of the ordering counter and some walls, while tables are made of hardwood and paired with red metal chairs.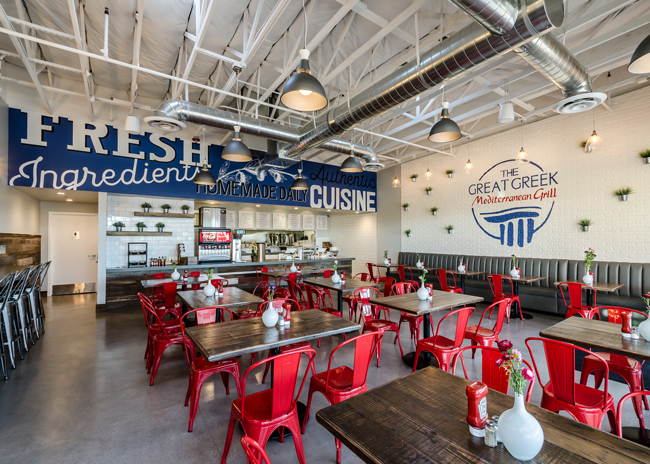 Business Case
Of course, dine-in occasions remain challenged while off-premises occasions continue to rise. With respect to the latter, the chain's been thriving, says Andersen. In fact, since the emergence of COVID-19, sales at individual restaurants are up by 12% to more than 20%, depending on the location.
"We're perfectly positioned for a family meal," Andersen says. "We're delivering really healthy, shareable meals. We're satisfying something for people who don't want to cook at home, don't want to go through a drive-thru and get burgers or down an assembly line and get precooked food."
In addition to rising sales, the chain's footprint makes it easier to manage costs. The Great Greek restaurants usually measure between 1,800 and 2,000 square feet, meaning the franchisees pay less in rent and utilities than many competitors.
Also, the chain's average ticket is higher than those of many competitors, Andersen says. While the scratch kitchen may require a bit more labor, the chain's labor costs-to-sales ratio more than makes up for this increase. Ultimately, more money falls to the bottom line.
Potential franchisees are responding well to this model. The chain opened 2020 with 9 locations and should be up to 16 or 17 at the end of the year. Next year, The Great Greek expects to open another 20 to 25 locations.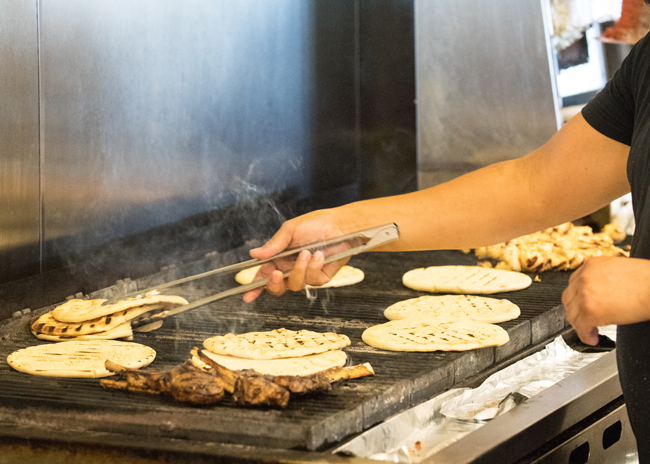 The chain uses its chargrill to make burgers, souvlaki and pitas. This unit can be either 5 or 6 feet, depending on the operator's preference.
Kitchen Modifications
To make this expansion as successful as possible, The Great Greek has tweaked its back-of-the-house operations in recent months. The goals of these changes include simplifying prep work, making catering easier to execute and keeping ticket times in the six- to eight-minute range.
The kitchen's hot line starts against the back corner wall with three gyro broilers. When possible, the positioning of the kitchen's large pass-thru window showcases these pieces of equipment and the theater of slicing gyro meat.
All three broilers are used to cook a beef-lamb blend for gyros. Since the units only cook about a quarter of an inch of meat at a time, having three ensures there will always be meat ready to serve, even during peak hours, says Director of Operations Michael Wilcox. The broilers sit on top of an undercounter refrigeration unit, which stores the cones of gyro so team members can easily access them. "At a high-volume location, you can go through upwards of eight of these cones a day," he says.
Next to the gyro broilers sits a chargrill that measures either five or six feet, depending on the operator's preference. Kitchen staffers use this piece to cook hamburgers and souvlaki in beef, chicken, lamb and shrimp forms as well as to grill pita bread. Refrigerated drawers below the chargrill store the souvlaki meats, along with the shrimp and hamburger patties.
After the chargrill comes a single two-bin fryer, which the chain uses for fries, chicken tenders and falafel. This is followed by a small worktable with an undercounter freezer below for holding frozen items for the fryer. Attached to the wall above the table is a gas-fired cheese melter. The specs for that unit have changed in recent months, Wilcox says. "We used to have an electric unit, but we found it couldn't get the food out in the time we wanted it to," he says. "It just didn't provide enough Btus."
Following the worktable comes the final piece of equipment on the hot line: a four-burner range top with a convection oven below. Staff use the oven to cook baklava and lamb shank scraps for pulled lamb sandwiches. In addition, staffers use the burners to make rice pudding, baklava syrup, rice pilaf and soup as well as to heat soup to order.
Notably, the placement of this unit has shifted in newer stores. Previously, it was located on the other end of the hot line, next to the gyro broilers. In its new spot, it sits next to the hallway that connects the prep kitchen to the production area.
"By putting it right there on the end, it allows for easy access by the prep person who's working in back," Wilcox says. "They can just come around the corner to check on what they're making and then go back to their station rather than having to interrupt the whole line by trying to squeeze by everyone."
Opposite the hot side of the line is the assembly line. Workers here face the pass-through window and the front of the house. Starting opposite the gyro grills, the line begins with a worktable for staging pita bread destined for the grill. Next to this sits a refrigerated make table. This piece holds items like sauces, tomatoes and red onions. At this spot, a team member takes proteins from the staffer or staffers working the gyro broiler and chargrill — one person during slow periods, two during heavy periods — and assembles hot entrees, including gyro and souvlaki plates.
These items aren't always made with just-cooked meat, though. The chain has recently added an undercounter hot holding unit next to the hot entree assembly table. While the chain is happy with the quality of food coming from this piece, the hot holding unit isn't used throughout the day. It was put in place to keep up with rush periods, Wilcox says. "Regardless of whether the guests know we're making the items from scratch, they are walking into a brand where they expect quick service ticket times," he explains.
Above the hot holding unit sit two steam wells, which hold rice pilaf and pita fresh from the grill.
Three gyro broilers are all used to cook a beef-lamb blend for gyros, providing plenty of redundancy for busy periods.
After this station comes another refrigerated worktable. This piece is used for salads, desserts and appetizers, as well as stuffed grape leaves and spinach pies.
While that table marks the end of the production kitchen, the chain has worked to improve operations in other areas of the back of the house. Storage in particular has gotten extra attention, says Andersen.
While the chain's freezers are all reach-ins, its walk-in cooler has been expanded, allowing for more storage of whole and prepped items. "We went vertical on the coolers," says Andersen. "It allowed us to get most of our prep done in a certain period of time instead of turning it out throughout the day and having those prep hours linger."
The chain also dedicated more back-of-the-house space to dry storage. This space, says Wilcox, houses grocery items and disposables. With catering and off-premises becoming more central to the chain's success, extra room was necessary to hold paper goods needed to execute these business lines.
The back of the house also contains a large prep area. This space is typically equipped with four work surfaces. Here, staffers handle the typical produce prep for gyros and salads. They also break down whole proteins, from chicken breasts to lamb shanks to steak, into 1-inch-by-1-inch cubes for souvlaki. Prep also includes making large batches of souvlaki marinades, dips like hummus and tzatziki, salad dressings, rice pudding and rice pilaf. Notably, these tasks are spread throughout the week to make them more manageable, Wilcox says.
"The last thing you want to do is prep a hundred items every single day," Wilcox says. "We teach [franchisees] how to manage the shelf life of the items. They're prepping produce every day, but they're prepping dips one day, protein another. We tried to space it out so it's not so overwhelming."
The prep area is also home to additional refrigeration units. An upright reach-in freezer stores hamburger buns, french fries and gyro cones, the chain's only frozen items. An undercounter refrigerator holds prepped and marinated souvlaki meat that line cooks can access without having to go into the walk-in cooler.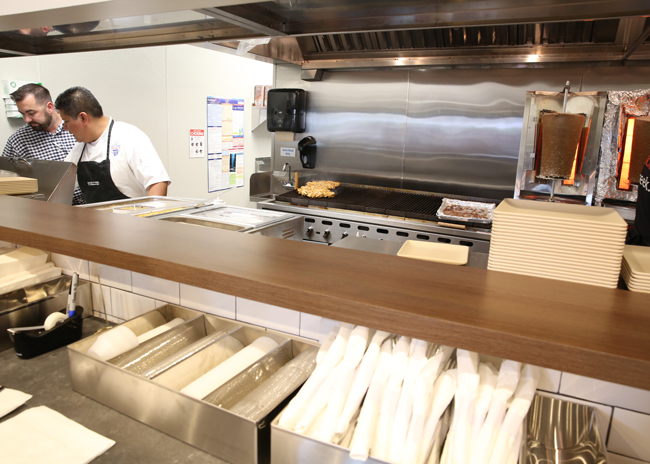 The chain has a back-of-the-house kitchen but keeps the gyro broilers visible through the pass-thru window, adding a bit of theater to the experience.
Global Aspirations
With the chain's operations now streamlined and growth on the horizon, The Great Greek is ready to manage this coming period of expansion, Andersen says. United Food Group has resources for construction, site selection, marketing and other areas of franchisee support.
What's more, United Food Group plans to scale up these areas as necessary. With the unfortunate job losses of the pandemic, there are talented people available who can help the chain grow, Andersen notes, while The Great Greek's expansion can contribute in a small way to economic recovery.
Beyond growth in the U.S., though, the company sees itself expanding internationally. The Great Greek, says Andersen, has the quality of food, level of service and operational model to attract investors across the world. "We have global aspirations. We want to be the worldwide leader in the Mediterranean food space," he says. "That is our vision."
The Great Greek At a Glance
Key players: Jim Butler, president; Bob Andersen, executive vice president; Mike Wilcox, director
of operations
Chain headquarters: West Palm Beach, Fla.
Signature menu items: The Great Greek Gyro; lamb, beef and chicken souvlaki
Number of units: 10
Unit growth projections: 7 to 8 in 2020; 20 to 25 in 2021