Justin Bertsche, C&T Design and Equipment Company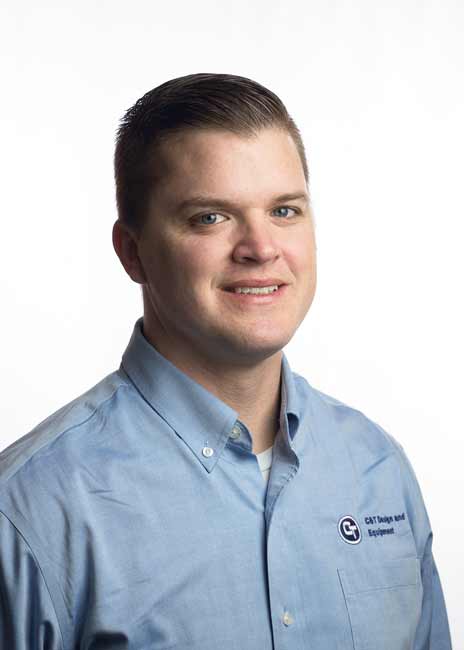 Over the course of a baseball game, it's not uncommon for a base coach to strike up a conversation with the umpire between innings. These conversations, for the most part, tend to be fairly casual and rarely extend much past the playing field. But one such conversation proved to be career-altering for Justin Bertsche.
While umpiring a youth baseball game, Bertsche began talking with the first base coach for one of the teams. That coach, Tim Ronnebaum, told him about his line of work, which led to a business card being passed to Bertsche, setting things in motion for him to join Ronnebaum at C&T Design and Equipment Co. That was six years ago.
Currently, in his role as project manager working from the dealer's Columbus, Ohio, office, Bertsche works with operators across a variety of segments, including healthcare, schools, universities and fine dining, managing their projects from start to finish.
Q: You had a casual conversation on a baseball field that led to a big career change. What made the possibility of working in foodservice so appealing to you?
A: I always did it. Growing up, I worked in a banquet hall in high school. And throughout college, I worked in banquet halls and such. When I had a family, I got out of it because the hours were not that appealing. I did not know a career opportunity like this existed until I spoke with Tim on the baseball field, and that's what made me want to get back into the foodservice and hospitality industry.
Q: You have a degree in hotel and restaurant management and years of experience working as an operator. How does that help you better support your customers?
A: It helps me get on the operators' level and better understand what they want to do. I can actually envision the steps of working in a kitchen, which helps. A lot of our customers are really busy in the field and don't have time to understand why one piece of equipment's features may be better for their business than another piece of equipment. My experience-based knowledge helps me better design the flow of their operations from receiving to dry storage to the kitchen.
Q: What are a couple of design trends or foodservice developments that inspire you?
A: In the Columbus market, some of the higher-end chefs are going toward the live-fire grills because the customers want to see it. And we're seeing more places making their own craft beer and craft cocktails. We're also seeing a greater interest in automation, particularly in fryers. Labor's so expensive that people are trying to save money wherever they can.
Q: What's the key to specifying the right equipment for a given project?
A: I look at if I can match the equipment based on what the customer needs in terms of volume of the operation, ease of use and cleanability. I pair their vision with these features. Some want economy items, and others don't. If I can get the customer into a demo with a factory rep, I try to go that route. That's a key part of the process because you can tell them about the features and benefits of a piece of equipment, but actually seeing the equipment in action takes it to the next level.
---
DSR 3-2-1
Justin Bertsche, C&T Design and Equipment Company, sits down with Jason Wange, Foodservice Powerplant Network, to talk about being named an FE&S DSR of the Month.
Find more episodes of DSR 3-2-1 here.
Foodservice Equipment & Supplies Presents DSR 3-2-1 is sponsored by Salvajor.