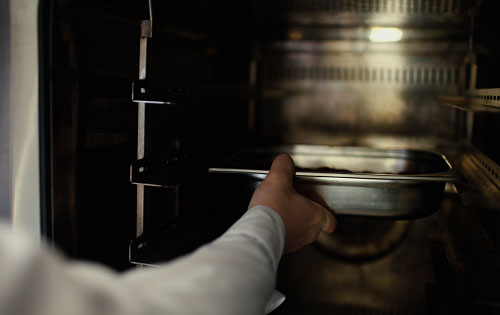 Service technicians can do different preventative maintenance tasks to keep convection ovens in top shape.
Many restaurants and commercial establishments feel a convection oven is the lifeblood of their kitchens. This unit uses a fan and exhaust system to evenly distribute air across the cooking cavity, which reduces hot and cold spots and creates a browning effect to what's being cooked.
Aside from daily and weekly oven cleaning, there is additional maintenance that technicians can conduct on a quarterly or semi-annual basis. Below are some key tasks that service companies can offer customers as part of planned maintenance packages on a gas convection oven.
Cleaning the Burners
The burners are essential to the entire cooking process, so it's vital that they're cleaned and well maintained throughout the oven's lifespan. During a quarterly maintenance checkup, your technician can use a stiff-bristled tube brush to remove any debris buildup that can interfere with the burners. During this task, double check for any chipping or damage to the part. It should be replaced at signs of wear to avoid further damage and future downtime.
Cleaning the Cooling Fans
The cooling fans on a convection oven not only keep the cooking cavity cool, but they also help prevent the electronic controls from overheating during operation. A large buildup of grease and debris can limit cool airflow to these areas of the unit, which is why regular maintenance is crucial. Since many models keep the fan close to the electrical components, an operator should leave this task to a technician. The job only requires a tech to remove debris from the fan and intake channel using a stiff-bristle brush. This means it can be easily included into any routine semi-annual or quarterly maintenance package.
Cleaning the Blower Wheel or Fan
The blower is a crucial component on convection ovens and should be maintained regularly.
The blower wheel, or blower fan on some models, is a major part of the convection cooking process. It ensures even baking and helps create a browning effect that makes food picturesque. Over time, the blower can accumulate grease, grime and food particles. As part of a quarterly maintenance package, a technician can check the blower, remove large pieces of foil or parchment paper from the blades and conduct a full-scale cleaning. All that is typically required is a stiff-bristle brush and soft cloth. This project also gives a technician the chance to find wear or damage to the blades. If either is noticeable, the component should be replaced.
Inspecting & Replacing the Door Gasket
Some models include have doors that use gaskets. They help seal the oven doors shut, trapping heat inside the unit to cook food quickly and evenly. When this part is cracked or wearing down, it can ruin the quality of an establishment's product. Not to mention, a customer also can end up paying more in energy bills because the unit is overworking itself. By the checking the gasket on a quarterly basis, you can spot damage and replace the gaskets immediately.
Lubricating & Adjusting the Door Chains
On most ovens, there is an area behind the kickplate that houses the tension chain for the doors. Offer to clean this area and apply chain lubricant semi-annually, so the doors continue opening and closing smoothly. The chain typically rusts over time, so make sure to check for significant signs of wear or damage. If there is any damage, the package should include replacing the part. Also, if you notice one of the doors is lagging or isn't closing evenly compared to the other, use this time to adjust tension on the chain.