Time is money, and no one understands that old adage more is better than an employer who pays employees by the hour. What if there was a way to reduce the amount of time dishroom operators have to spend pre-soaking and scrapping dishes before loading them into the dishmachine, and instead gives them more time to do other productive tasks around the kitchen?
The new Hobart AM16 Advansys™ Door Type Commercial Dishwasher has been redesigned from the ground up to maximize dishroom performance, efficiency and productivity for busy, moderate-sized operations. The advanced technology on the AM16 removes more tough food soil with less labor time and effort, and lower cost of operation.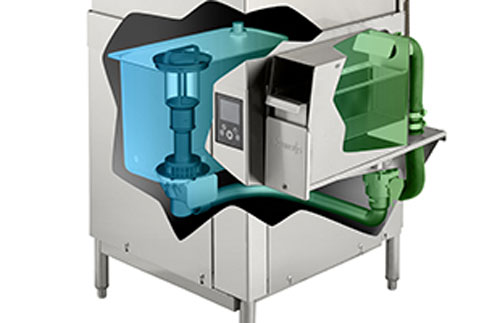 Automatic Soil Removal removes 80% of heavy food soils to reduce prescrapping labor by 20%.

The ASR basket is easy to pull out and empty into the trash.
One of the new technologies on the AM16 is Automatic Soil Removal. The ASR system filters and pumps out 80% of heavy food soils during the wash cycle, grabbing both large and small particles of food. More food comes out of the machine, which means more soil can go into the dishwasher, so operators don't need to do as much pre-soaking and prescrapping. "We're not having to handwash dishes or even spray them, which is a real labor savings for us," says Monte Veatch, Food Service Director at Cedarville University in Cedarville, Ohio. "You really don't have to scrap very much because the machine is designed to take care of that soil, so it's a real bonus." Because ASR helps keep wash water clean, it also reduces wash tank changes up to 50% throughout the day, saving more labor time on cleaning the machine.
Anyone who has worked in a dishroom knows the pain points operators face. From baked on sauces to eggs and cheese, food left on plates, bakeware, pots and pans can call for a lot scrubbing and rinsing before going into the dishwasher. ASR takes away the need for a lot of that manual labor. "I've found savings of up to 30 seconds per rack of dishes," says Steve Dorn, kitchen manager at Harrison's in Tipp City, Ohio. "When you add that time up over the course of a day or a week, it's a pretty significant amount of time."
Dorn says that the dishwashing crew is now able to perform light prep jobs, such as chopping vegetables or prepping baked potatoes, during the time they would have been prescrapping dishes. Other tasks to do instead of washing dishes can include serving customers, cleaning up around the kitchen, or helping out on the cookline. The time savings can even lead to less overtime, since reduced machine cleaning time and other time savings can help get staff out on time or early at the end of the day. "Saving labor in the dishroom helped improve our bottom line," Veatch says. "But we also reallocated to put more labor in the dining room to make a better customer experience."
In addition to ASR, The AM16 is equipped with other great technologies that help get even more tough fool soil off ware and reduce the dishmachine's operating cost at the same time.
X-Shaped Wash Arms double water coverage over ware to remove more tough food soil.
New X-Shape Wash Arms double water coverage over ware to remove more tough food soil and reduce pre-scrapping even further.
Auto Clean and Auto Delime automate common cleaning tasks to save up to 30 minutes per day and help ensure the dishmachine maintains peak performance.
Drain Water Energy Recovery recycles heat from drain water to save energy and reduce drain water tempering by 90 percent.
On board WiFi and our new SmartConnect App let you monitor and optimize your dishwasher's performance.
Lifetime Value - Hobart commercial dishwashers offer the highest lifetime value available, thanks to superior reliability and the lowest energy, water, chemical and labor consumption. Year after year, an investment in the AM16 will consistently deliver results that save time, resources, money and effort.
The new AM16 commercial dishwasher is available in tall and standard height models, and with or without Ventless Energy Recovery. To learn more, visit www.hobartclean.com/am16.