Preserving the integrity of wine is of the utmost importance to restaurant operators, yet lack of space can be one of the industry's biggest challenges.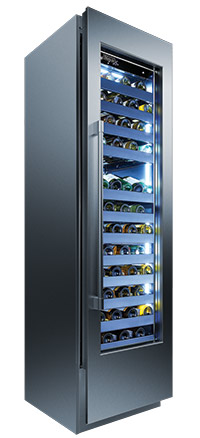 Perlick's Wine Column Refrigeration combines function with fashion to make a statement in the front of the house.With differing temperature requirements, convenient, attractive, space-saving storage options for red and white wine varieties are limited or lacking the necessary attributes operators seek.
With Perlick's groundbreaking Wine Column Refrigeration, that is no longer the case. This high-capacity 84-inch-high wine storage solution utilizes just 4 square feet of space and offers Single and Dual Zone models that operate efficiently using a variable speed compressor as well as R600A refrigerant, an eco-friendly hydro carbon refrigerant with minimal global warming potential.
The Wine Column Refrigeration's all stainless interior, styling, amenities and finishing options make it a suitable front of house addition for all types of dining and drinking establishments.
The Single Zone model provides storage for 94 bottles or 99 bottles when double stacked on the display shelf. The Dual Zone unit accommodates 86 bottles or 91 when double stacked. This unit also has separate compartments that can be set at two different temperatures zones—between 40 and 68 degrees F—for storing both red and white wine. Dual zone models may also be used as a single zone for added versatility.
In addition, the Wine Column's factory set sensor maintains optimum humidity levels by removing moisture or harvesting condensation from the evaporator if additional moisture is needed. On board carbon filtration also is included to remove odor causing impurities.
In both the Single and Dual Wine Column Refrigeration models, convertible full extension/display shelves allow for showcasing select vintages. Six full-size bottles are displayed in front, with space for four dessert (half size) wine bottles in the back. With the Dual Zone unit, the display shelf can be placed in either zone. Magnums fit on both display and flat shelves. Shelves are black vinyl dipped to provide vibration protection and protect labels from abrasion, while the soft closing feature protects wine from jarring and agitation.
With commercial grade construction for outstanding long term performance, the Wine Column Refrigeration includes heavy-duty hinges for smooth operation and exceptional durability; heavy duty springs that ensure secure door closure; and stainless steel, factory-installed sides. Models come standard with field-installed door locks that add an extra layer of security.
A convertible full extension/display shelf allows for showcasing select vintages.
Door finishing options are available, including field-installed stainless steel overlay for glass doors with full length heavy duty handles or a wood overlay made locally using a template provided by Perlick with a choice of handles.
Blue and white LED interior lighting highlights product and slow fades on and off for high-tech visual appeal.
Energy efficient, environmentally friendly operation is achieved with a variable speed compressor, which allows for slower operating speeds, quieter operation and lower energy consumption. Triple pane, Low-E, bronze-tinted glass is energy efficient and protects wine from UV exposure.
The units come equipped with a capacitive touch screen for precise temperature control and access to all refrigerator functions. Auto alarms alert user to temperatures that exceed high or low settings and open doors.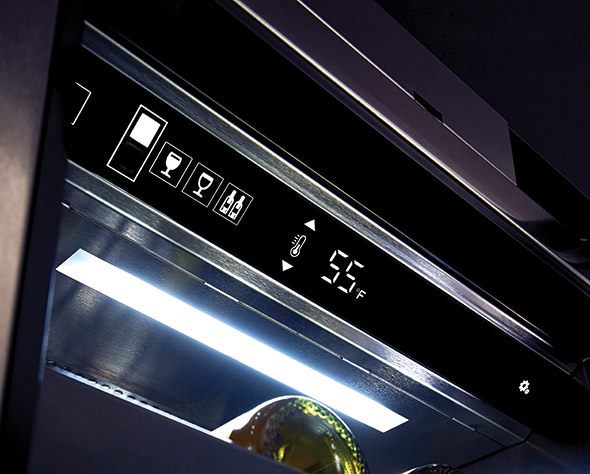 A capacitive touch screen provides precise temperature control and access to all refrigerator functions.
The Wine Column Refrigeration cartridge is removable to provide easy access for servicing.