Despite a host of challenges, restaurant industry sales will reach a record high of $863 billion in 2019, per the National Restaurant Association. This marks an increase of 3.6 percent compared with 2018, when the industry posted sales of $833.1 billion. It also marks the tenth consecutive year of industry growth.
"That positive environment will continue into 2020 and it will be moderate," says Hudson Riehle, senior vice president, Research and Knowledge Group for the National Restaurant Association. "If you look at how the industry has progressed since 1970, the compound annual growth rate comes in at 6 percent. Over that time period, that's a solid growth rate and better than other industries. If you look at the compound annual growth rate from 2008 to 2018, though, you see a distinct moderation where it comes down to 4 percent. So, it's positive, but consumers have been pretty conservative."
The industry's moderate growth rate should not come as a surprise to those monitoring specific macroeconomic indicators, such as gross domestic product. "Ultimately, what goes on within the underlying economy correlates with industry sales," Riehle notes. "If you look at real GDP gains over the past decade, they are substantially lower than they were before the great recession."
This year, forecasts call for GDP to grow at a rate of 2.6 percent, but that shrinks to 1.5 percent to 2 percent in 2020, Riehle notes. "The underlying economy is not growing at the rate it did 20 years ago. Consequently, growth in the restaurant industry reflects that," he says. "So, the question of how you achieve greater national economic growth remains a substantial one."
Employment and income growth represent two other key ingredients in the foodservice industry's tried-and-true recipe for success. This year, consumers' disposable personal income is expected to increase 2.3 percent and next year, it will become more moderate in that 1.5 percent to 2 percent range, just like GDP, Riehle notes. "There's no expiration to an economic expansion, but when you survey consumers about the economy, they have mixed feelings," he says. "The majority of consumers still feel the economy is fair to poor. When you have a majority that say the economy is not good to excellent, that's an indication of that fragility. When you look at consumers' current situation versus their expectations for the future, they are less optimistic about the coming six months. And that varies by census regions. It's definitely a mixed bag."
Unit Count Maxed Out?
The mixed nature of economic growth brings up an important reminder: Economics is local. If an area enjoys above-average population growth, job growth and even wage growth, there's a good chance the local restaurant industry will grow accordingly. If any or all of those factors trend in the opposite direction, though, expect restaurant industry growth to be more challenging. "It can be a tale of two cities," Riehle says. "The number of establishments per capita remains at an all-time high, too. Competition remains intense."
Some observers feel the industry remains beyond its capacity in terms of unit count. That may explain, in part, why some chains continue to trim the branches of their enterprise. Take, for example, Pizza Hut. Just last month, parent company Yum! Brands announced plans to close hundreds of locations while transitioning others to more of a fast-casual model. And as part of its preparation to sell restaurant chains Perkins and Marie Callender's, the company reduced each concept's unit count by 10 and 19 locations, respectively. The company also voluntarily initiated Chapter 11 bankruptcy proceedings.
"One of the big stories is that there are still struggling chains that are on the bubble," says Darren Tristano, CEO of FoodserviceResults. "Many are going into bankruptcy or on the verge of going into bankruptcy."
Many expect the number of chains in trouble will continue to grow as competition from other industry segments intensifies. Take, for example, convenience stores. "They are really doing more, especially with the delivery options available today," Tristano notes. "You can get a bottle of wine, for example, from a convenience store, by going in or ordering for delivery."
While some industry observers feel casual dining's struggles are the result of having too many units, its troubles may run deeper. "Not just too many units but too many seats in the units [is an issue]. The whole trend is off-premise and casual dining has more seats than anyone," Tristano says. "Certainly, they don't stand out. Most have taken the path of value instead of differentiation."
Indeed, the emphasis among many casual-dining operators seems to focus on prompting consumers to dine on a deal. But some of the concepts that really stand out in this segment continue to provide consumers with unique or differentiated experiences that make the chains stand out. Cooper's Hawk represents one good example. The chain combines dining with a wine club, elevated retail options and more to create an experience that differentiates the concept from the competition. "They have the total package, and they are upscale," Tristano notes. "Most people consider them fine dining, but they are really a polished-casual price point."
Despite glacier-like economic development on a national level, the foodservice industry keeps moving forward. "The industry continues to grow because the consumer continues to embrace the industry. Consumers' pent-up demand for using restaurants remains very high  at more than 42 percent," Riehle notes. "That's up substantially from the low 20 percent range before the Great Recession. Consumers still want to use restaurants more than they are. So engaging consumers to get them to patronize restaurants is now more important than ever.
"Overall, though, consumers continue to increase their spends on food at restaurants. Fifty-one percent of all food in America is spent on food in restaurants. And that's been trending upwardly year after year," Riehle adds. "In just more than 60 years, that proportion has more than doubled. It's that fundamental aspect that keeps the industry growing from year to year."
While industry growth continues to mirror that of the U.S. economy, many are left to wonder when this period of economic expansion will end. "It's too good to be true. The stock market is at an all-time high. Gas is relatively affordable. And employment is strong," Tristano says. "But if you listen to a lot of economists, a recession is coming. I believe in the restaurant industry, but I would not be surprised to see some big bumps in the road."
Political Fallout
The contentious nature of today's political climate will continue to impact the foodservice industry in 2020, too. And it will go beyond simply shaking consumers' confidence.
Looking ahead to next year, a trio of politically related themes are in position to impact the commercial foodservice industry, according to Charlie Souhrada, vice president, Regulatory and Technical Affairs for the North American Association of Food Equipment Manufacturers. First, tariffs will be a part of the conversation moving forward, and they threaten to drive price increases for foodservice equipment, parts and other products. Second, states will look to fill perceived voids the federal government has not addressed by enacting their own regulations or laws. Finally, the industry as a whole will need to address a steady flow of government regulations.
"We have to be prepared for constant change. We should expect regulations will continue to evolve over the next year, and different governments — whether federal, state, or even Canada and Mexico — will step in to fill voids that they feel meet their needs. Some of these tend to pop up like brushfires, and that makes it difficult to anticipate what will happen next," Souhrada says.
Take, for example, the issue of tariffs. On May 31, the federal government announced plans to impose tariffs on products from Mexico. This decision to enact the tariffs was made one day earlier, and though the tariffs went away roughly a week later, their impact rippled through the industry. "Even just the mention of tariffs put a number of NAFEM members on high alert because they either had manufacturing taking place in Mexico or were shipping product there," Souhrada says.
On the surface, these issues may seem manufacturer-oriented when, in reality, they affect each member of the supply chain in different ways. This impacts product availability, price and, in the case of parts, service agents' ability to maintain and repair existing equipment. "There's a certain silo mentality where people like to think of something as a dealer or operator or factory issue. Those days are over," Souhrada says. "It illustrates the herky-jerky situation that impacts all of us, whether you are a manufacturer, consultant, dealer or operator."
Taking the Labor Pool Temp
Labor remains a top-of-mind challenge for operators as they strive to recruit and retain top talent. "In terms of the number of vacancies, it's at a record high. It's a reflection of a shallow national labor pool as well as competition from other industries," Riehle says. "Operators have stepped up their pay scale and offerings."
The net result: The restaurant industry's labor costs continue to grow at a rate faster than the national private sector, Riehle notes. Only part of that, though, is due to rising minimum wage costs.
"The unemployment rate as low as it is makes it harder to find good labor," Tristano says. "You now have to raise what you pay to get the better employees. Regardless of what you pay, you will need to keep pace — whether it's legislated, you are doing it to stay ahead. It's going to impact pricing. And if the economy struggles next year, price increases will have to be part of the correction."
In addition to higher labor costs, at $60,000, the restaurant industry's sales per employee is lower than other retail segments and other capital-intensive industries, Riehle notes. Naturally, many in the restaurant industry feel the advent of automation, namely robotics and other forms of technology, could help offset these price pressures. "But it's a hospitality industry, so it has to be a win for the operator and the customer," Riehle says. "It's important to think in terms of technology integration and not just robotics. Consumers are accepting of technology integrated into the front of the house and back of the house."
In fact, when it comes to technology, the attributes most important to consumers include ordering and payment, customer service, and detailed information about the food available at an operation. "Whether it's looking at menus, locations or ordering online, a vast majority of Americans have done that over the past year," Riehle notes.
Consumers' acceptance of robotics, though, seems to be a ways away. "When you ask consumers as to whether they want to see robots integrated into restaurants, they are pretty negative," Riehle says.
Operators Set Pace to Remain Relevant
Operators from all segments will need to come to grips with consumers placing greater value on having the ability to consume their food in someplace other than their restaurants. "American consumers want restaurant-quality meals, but they want them at home," Tristano says.
As a result, "63 percent of all restaurant traffic is off-premise, and that will continue to grow," Riehle says. "Part of that growth is the rapid integration of technology on the part of operators and third-party providers." As a result, the overall web of where customers can get delivery continues to grow.
While growth in off-premise consumption remains a positive for the industry, it comes at the expense of growth in other areas. "Over five years, dine-in is flat, and off-premise is growing through catering and delivery  both third party and direct," Tristano says. "Any restaurant building bigger locations will continue to struggle with traffic declines."
Does the surging popularity of off-premise spell the end for the traditional restaurant as the industry knows it? Riehle does not think so. "There will always be a need for physical locations for the restaurant industry. In addition to convenience, socialization is an important driver for restaurant sales," he notes. "Older dining formats don't go away. Very seldom do some of the types of restaurants cease to exist. You can still dine out in the way you used to in the '60s."
In fact, format evolution has long been a part of the restaurant industry's resilience. It started with table-service restaurants, which were followed by quick-service restaurants that eventually added drive-thru service. Then came fast-casual concepts, some of which now feature drive-thrus. "That type of evolution will continue," Riehle says. "The paradigm of what used to constitute a restaurant is being rapidly redefined. It means there are new building blocks to move the industry ahead."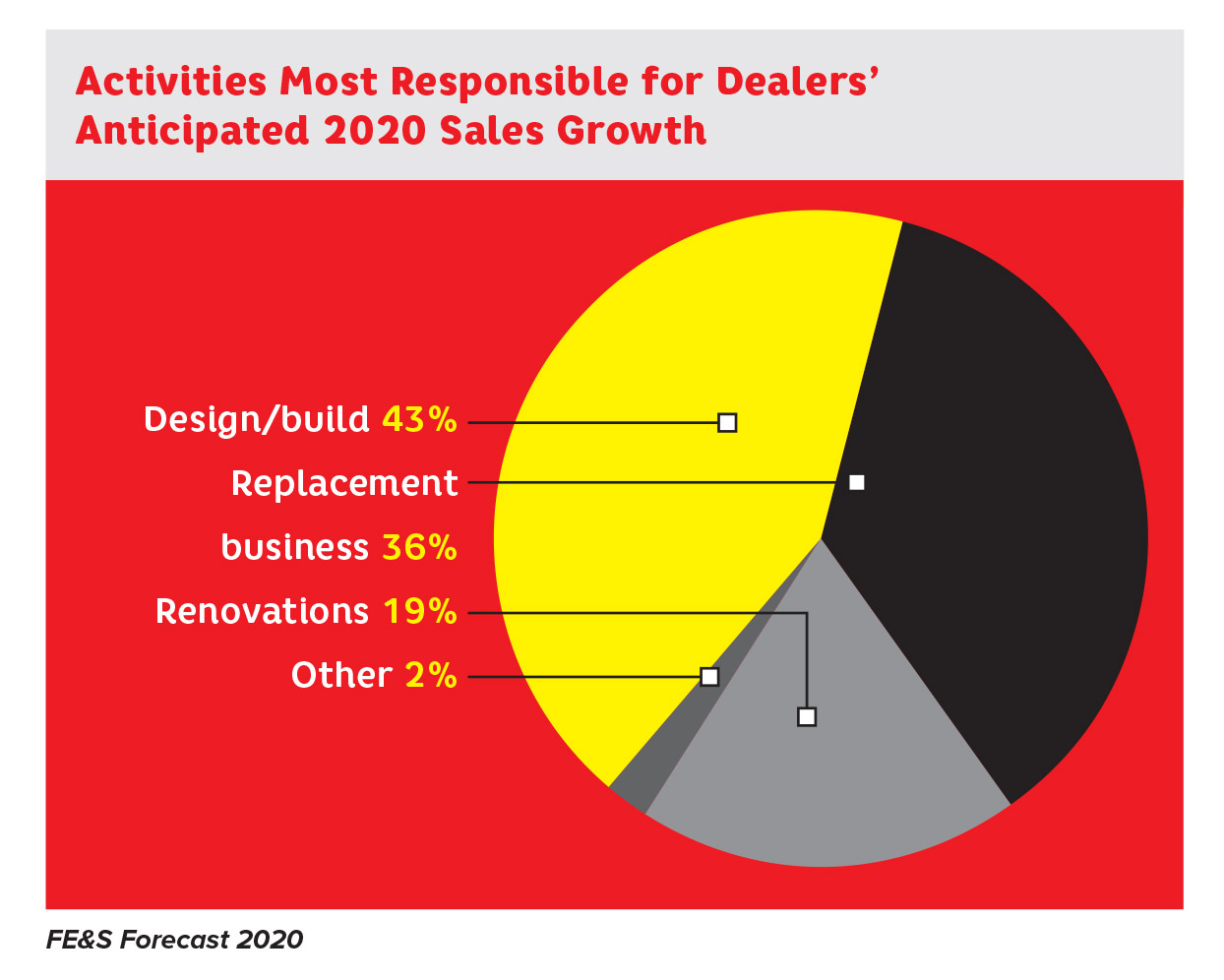 This type of evolution, though, means operators will further scrutinize the size and location of their points of access — not to mention the customer experience they provide within those four walls.
Off-premise's popularity, though, continues to challenge some long-standing industry norms. "QSRs have long been about convenience and off-premise. Now that's becoming more important to table-service restaurants," Riehle says.
To remain relevant in the future, various operators will need to reengineer how they go to market, and that includes how businesses structure their income statements. "The term 'location' is becoming somewhat antiquated. 'Points of access' is becoming more appropriate," Riehle says.
Take, for example, dark kitchens or ghost sites. Generally speaking, these tend to be production-only facilities for carryout and delivery orders. They continue to grow in popularity, particularly among chains and multiconcept operators. "I don't think the ghost kitchen is the answer if you are an independent. They need to have a brand, a loyalty and consumer base to survive," Tristano notes. "If you are a chain, it really helps the other units who don't have to build out the space or handle groups of 20 or more."
Along those lines, Cousins Subs opened a delivery- and catering-only location in Milwaukee. The 5,300-square-foot restaurant resides in a warehouse space that is larger than the chain's traditional stores while serving Cousins Subs' full menu of deli and made-to-order grilled subs, macaroni and cheese, french fries, Wisconsin cheese curds, and vanilla and chocolate shakes. "Operating the delivery-only restaurant out of a warehouse affords us the space to park delivery vehicles overnight and build out a kitchen that contains double the amount of sandwich-making space, double the amount of fryers, and ample space to stage and pack large residential and business orders and catering orders. What's more, the warehouse space provides additional space to store dry goods," says Joe Ferguson, vice president of development for Cousins Subs.
Because it does not include a guest-facing component, selecting the proper site for a delivery-only restaurant can differ from more traditional locations. "When searching for the right spot, we focused our efforts on geographical location. We set out to open the delivery-only restaurant concept in a spot that is close to busy streets and highway ramps and is centrally located," Ferguson says. "We were not concerned about the visibility of the location because we are operating a delivery-only restaurant. Additionally, parking was not a concern because our delivery vehicles are parked in the warehouse. Finally, retail in the area was not a primary consideration given that we are not focused on driving traffic to the location."
Expect more chains to operate ghost kitchens to handle delivery and catering orders. Doing so allows these chains to cash in on these sales opportunities without increasing the burden on the individual customer-facing restaurants. And some chains use ghost kitchens to fuel greater points of access while retreating from a storefront and higher rent approach. "Some have a food truck that they can send out to basketball games or other community events," Tristano says. "It's an enormous opportunity to strengthen your brand."
Catering offers operators the opportunity to grow sales and can be a natural fit for ghost kitchens because by their very nature, these orders get consumed off-premise. Catering consists of two segments: business to business and business to consumer. "The former is a little more untapped, and more businesses are opting to cater in lunch and can do so using the app from a chain," Tristano says. "On a business to consumer basis, catering is getting promoted more. But there's lots of other work associated with hosting people. Plus, younger consumers don't know how to cook and are willing to pay the price."
But it's not always so simple by virtue of the fact that smaller operators will frequently get orders that are too big for them to fill. "Lots of operators have trouble keeping up with catering," Tristano says. "They don't want to disrupt their business to turn these orders down or they get referred to other stores."
Overall, the foodservice industry seems poised for continued moderate growth in 2020, but the operating environment remains rife with challenges that, if not addressed correctly, could make progress more difficult for operators in all segments.