Cautious consumers and mixed economic indicators combined with the impact of a harsh winter will result in the foodservice industry experiencing a moderate 2014 but point to a somewhat promising 2015.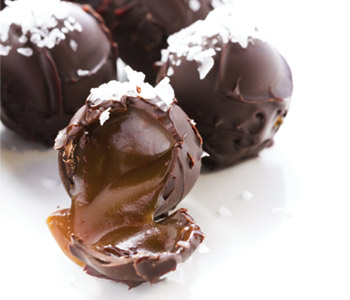 One of today's most pervasive menu trends is pairing sweet and salty items. Salted caramel, for example, is a common element on menus, from Starbucks to celebrity chefs. Since first taking off several years ago the pairing of sweet and salty continues to show incredible staying power. Unfortunately, the pairing of sweet and salty also remains a healthy metaphor for the foodservice industry's economic forecast.
Yes, the industry will benefit from such sweeter bites as a more stable employment picture, consumers' continued desire to go out to eat as well as other fiscal morsels. But they will also have to gut their way through some saltier bites in the form of consumer wage stagnation and higher labor and food prices. The winning foodservice companies will be those who can strike that just-right balance between the sweet and not-so-savory.
Mother Nature's winter wallop, which impacted roughly two-thirds of the country in some way, slowed domestic economic growth. "Obviously, the first quarter gross domestic product was lower than anticipated. But there's still time left in this year and you could expect GDP growth to come in at about 2 percent," says Hudson Riehle, senior vice president, research and knowledge group for the National Restaurant Association. "So that's a positive environment but not one that engenders confidence in the consumer or the operator."
The foodservice industry felt the impact of the deep freeze, too, with sales declining 2 percent during the first quarter, according to Technomic, a Chicago-based market research firm. In fact, 60 percent of consumers reported the historically bad weather that socked most of the country impacted their activities, according to Technomic. Further, 53 percent of consumers said the weather curbed their use of sit-down restaurants and 42 percent said it impacted their use of fast food restaurants.
"Weather finally became an issue rather than an excuse as it had been for so many years," says Darren Tristano, Technomic's executive vice president. "It put a damper on an industry that already had low expectations for growth heading into 2014."
For its part, the National Restaurant Association projects industry sales will total $683 billion in 2014, a net increase of $24 billion over 2013. "The industry is progressing pretty much as we expected it to," Riehle says. "This industry is truly an economic juggernaut and will grow in the years ahead. The question is what are those economic growth rates relative to historic levels? And they are moderate. Compared to a few years ago, that's a substantial improvement but historically this remains an environment of moderate growth."
Technomic projects restaurant industry sales will post a nominal increase of 3.3 percent in 2014. "Certainly, we've seen things pick up since the first quarter but even if we have a strong third quarter, we are not likely to see any real growth in 2014," Tristano says.
Despite the industry's somewhat salty sales performance in 2014, Technomic forecasts sweeter times when the calendar rolls over to 2015. Looking at next year, Technomic projects foodservice industry sales will increase 3.5 percent to 4 percent in nominal terms or roughly 1.5 percent in real terms. "You can put almost all of it on an increase in the first quarter of 2015. I think we will pick up almost a half a point," Tristano says. "With a little bit more employment, perhaps some higher minimum wages and better overall performance in the first quarter, things will be better."
Sales at limited-service restaurants will grow at a
nominal rate of 3.5 percent and remain flat in real terms
in 2014, according to Technomic's projections. For 2015, Technomic projects sales at limited-service restaurants will grow 3 percent nominally and 1 percent in real terms.
Full-service restaurant sales will grow at a nominal rate of 2.5 percent or -1 percent in real terms in 2014, according to Technomic. For 2015, Technomic projects sales at full-service restaurants will grow 3 percent nominally and 1 percent in real terms.
Technomic also projects sales at bars and taverns will grow at a nominal rate of 2.5 percent or -1 percent in real terms in 2014. Next year, this segment will grow at a rate of 2.5 percent nominally and 0.5 percent in real terms.
"Overall, there really are not many segments that are performing well," Tristano says. "We are seeing more from adult beverage-focused concepts as a whole but there are still a lot of struggles there. Health-focused concepts, there are still so few of them, but they continue to do well as a group. A number of concepts that have focused on health and wellness as a philosophy have filled the niche and are doing well. I am just not sure how big that segment will be."
Despite the struggles of individual segments, the industry as a whole will move forward in 2015, but growth will be far from robust. "When you look ahead to 2015, one would expect to see a slightly improved overall environment but it will be an environment that will tax the patience of operators and consumers alike," Riehle adds. "From the consumer perspective, it's an environment of moderation and this will remain true next year, too. The consumer remains really tentative."
Indeed, the consumer mindset remains incredibly volatile. For example, in July The Conference Board reported an increase in consumer sentiment for the third consecutive month. In contrast, the Reuters/University of Michigan study of consumer sentiment declined slightly during the same time period. And The Gallop Organization's U.S. Economic Confidence Index, which was the model of stability for the first six months of the year, finally moved significantly in July. Unfortunately, it went the wrong way, posting a six-point decline. So what's the takeaway from all this? The U.S. economy still has a little way to go before consumers feel they are once again on truly solid ground.
The absence of more robust growth means individual members of the operator community will continue to grow at someone else's expense. "Like we saw before the recession, the industry has a lot of supply and not enough demand," Tristano says. "We continue to add restaurants, albeit at a slower pace, but we are not adding traffic. That's the big difference. As a result, the industry will continue with this take-share mentality.
"Many of the fast-casuals continue to be aggressive in their expansion plans, and that will lead to more independents struggling, particularly in the family and casual dining segment," Tristano continues. "If you think about the fastgrowing chains, their volumes are coming from somewhere. They are taking share from someone."
New Competition
One macroeconomic area trending in a positive direction of late is national employment. As of July, the U.S. economy had added more than 200,000 jobs per month for 6 consecutive months, the longest streak since the mid-90s, according to multiple published reports. Steady, if not growing, employment levels help drive foodservice sales because as consumers get busier the amount of cash they have on hand increases, making it easier for them to patronize restaurants, and they crave the convenience emphasis the industry
provides. Sweet, indeed.
The salty side of this equation is the fact that job growth remains too slow to really jump start the economy overall. "Job growth is heading there. It's just in the past few months where the national employment level has gotten to where it was prior to the recession," Riehle adds. "Meanwhile, population growth for the country has been 1 percent or higher. It's heading in the right direction but the magnitude of numbers are not there yet."
In general, the economy has become stable enough that most consumers no longer fear for their jobs. Wages, however, remain stagnant for 80 percent of the country, according to Arjun Chakravarti, PhD, of the IIT School of Business in Chicago. So the consumer mindset is pretty ho-hum.
Although consumers' disposable personal income remains relatively flat, the cost of the goods and services they purchase continues to fluctuate considerably. "Goods are getting cheaper but services like education and childcare are going up," says Chakravarti, who made these comments during Technomic's 2014 Trends and Directions Conference, held earlier this summer. "So you see a major shift in how people are spending."
And this shift continues to shape the foodservice industry's competitive landscape. "It puts pressure on the consumer to be extremely judicious in terms of how they spend," Riehle says.
It used to be that operators competed for a share of the consumers' stomach. Today foodservice operators compete for a share of their wallet. In fact, only 13 percent of the average
consumer's dollar goes toward food purchases, Riehle points out. In contrast, 50 percent goes to housing and transit. "If you look over the longer term at how household spending has changed, the money allotted for food has declined overall," Riehle says. "The industry has done a good job of gaining a larger share of a declining piece of the pie." But it's important to note that pie continues to shrink, which leaves a far from sweet aftertaste.
While more moderate growth rates may seem like a new foodservice phenomenon, the fact remains this has been emerging for quite some time. Over the past 42 years the industry posted a compound annual growth rate of 6.5 percent, according to Riehle. For the past 10 years, though, that rate slowed to 4.2 percent and it declined even further, to 3.8 percent, over the past 3 years. "When you look at macroeconomic trends, that moderate growth rate is sustained in the coming years. There's nothing to trigger faster growth," Riehle adds.
Hence the paradigm through which the industry defines competition is changing and will continue to do so in the coming years. "Traditionally competition took the form of the other restaurants in an operator's general trading area or those restaurants that competed for the same customer demographics," Riehle says. "That will remain true but the industry is in a battle to get consumers to allocate that money toward foodservice. The savvy operator knows they have to remain top of mind with their target demographic and that success is never final. Social media gives operators a tool to remain top of mind and generate that incremental visit, particularly for operators looking to build their customer base among Millennials."
In order to compete for a greater share of their customers' wallets, foodservice operators will likely need to employ marketing and engagement tactics similar to those
retailers use. Operators may develop programs that allow them to link different levels of spending to other promotional or loyalty efforts. For example, some club stores will offer lower gas prices as a way of enticing members to increase their grocery purchases. "The retailers understood this years ago and going forward that will become more important to the restaurant community," Riehle says. "Operators will need to be more forward thinking in this regard."
Beyond facing increased competition on multiple fronts, the consumers operators cater to are more educated and have more choices than ever before. "They are choosing based on the quality and the experience rather than price and convenience," Tristano says. "Execution is still important, but when you get down to it the playing field has been leveled to a certain extent."
As a result, an operator's ability to elevate the experience becomes a key differentiating factor. "As you can find options across more segments, the experience is becoming elevated. So it's not just about the food, it's about the experience. It's about memorable service, signature items that are craveable that you can't get in other places. If it is a Millennial experience, communal tables are important, too. All of these factors contribute to experience, which has become a stronger differentiator for restaurants."
Mounting Operational Pressures
As if the evolving competitive landscape were not enough of a challenge, looming labor challenges will certainly provide operators impetus enough to belly up to their own bars for a few cocktails.
"One thing's certain about the operating environment going forward, it's an environment where labor remains front and center," Riehle points out. "Roughly about a third of a typical restaurant's sales dollar goes to labor costs. So increasing labor costs can have an immediate negative impact on margins. Operators are cognizant of that and the successful, savvy ones closely manage labor costs."
When it comes to labor, operators continue to face pressure on a number of fronts, including rising costs of benefits and, more prominently, the national discussion about raising the minimum wage. "Politically, the minimum wage discussion will be a big issue," Tristano says. "We will see higher labor costs and adjust everyone's thinking about what things cost."
Along those lines, the top three operator responses to proposed higher minimum wages include raising menu prices, cutting staff hours and reducing the overall number of employees, according to Technomic. It was also interesting to note that 17 percent of the operators said they would cut benefits and 12 percent would have to consider closing as a result of an increased minimum wage. "Human labor will become a differentiator down the road. It's coming and it's coming quickly. There is no stopping it," Tristano says.
Most industry observers feel operators will turn to technology in an attempt to offset rising labor costs. "Some will rush to it. It is going to reduce labor and save some money. The brands that do it right will get credit and those that don't will suffer," Tristano says.
The most obvious approach is to install self-serve kiosks, which allow customers to order and pay for their meals without interacting with staff. Many operators who do this don't necessarily reduce the amount of labor their businesses require. Rather, they deploy the labor differently to help drive throughput and efficiencies. And some even report that implementing such a system can help increase check averages and customer loyalty. "Over the long term, the integration of technology can realign the way labor is used to have a positive impact on the way a customer experiences a restaurant," Riehle says.
Operators will look to their supply chain partners to
continue to identify labor-saving designs and equipment that can help them get the most from their people. This includes scalable foodservice designs that allow facilities to ramp up to accommodate large numbers of customers during peak periods but allow operators to close off certain areas during slower periods to save on labor and other resources. It also applies to equipment items that can perform multiple functions and reduce the number of items that go beneath the hood.
When it comes to food, operators will keep pressing for ways to minimize waste and maximize yield. That's in direct response to the challenge of rising food costs. In fact, according to the National Restaurant Association, wholesale food prices increased 4.2 percent during the past year. In contrast, menu prices have increased only 2.1 percent. As a result, 28 percent of operators say food cost is their top challenge, up 11 percent from 2013, according to NRA data.
"Like labor, food costs are a fact of life and fact of pricing. So I think it will become an issue for lower priced brands," Tristano says. "The big issue with food costs is the pressure operators face in raising menu prices. So long as everyone is increasing prices across the board, the operators will be ok. Consumers will have to pay for it."
In general, consumers take about six months to adjust to price increases, Tristano adds.
"It has never been a large margin industry overall. And it does indicate that even if sales increase, this sustained focus on driving out internal costs will increase," Riehle says. "It is an environment that remains fragile. It is better but it is not an optimum environment."
In addition to such economic challenges as labor and food prices, a number of potential international conflicts could impact Americans and scare the market, which could impact consumer confidence and impact traffic to restaurants. Issues like unrest in Eastern Europe and the Middle East, a widespread outbreak of serious medical conditions like the Ebola virus and more could shake consumer confidence and, subsequently, restaurant sales.
"Externalities certainly impact consumers' ability to spend at restaurants," Riehle says. And the industry is so large at 4 percent of the national economic output, that even small pullbacks in consumer spending can have billion dollar impacts."
Still, Riehle points out that despite myriad economic and other external factors, the only time the industry actually realized a decline in sales was in 2009. In other words, the restaurant industry, despite all of its challenges, remains very resilient, which is very sweet, indeed.
The Evolving Foodservice Customer Base
The customer base that restaurants serve will continue to evolve considerably in the next five years.
Members of the Baby Boom generation continue to transition into the next phase of their lives. Some are becoming empty nesters, while others are traveling or even transitioning into senior living, according to data from the NPD Group. As a result, their dining choices will be less about the latest fads and more about maintaining their lifestyles.
Simultaneously, Millennials, those consumers 24 to 37 years old, will continue to exert more influence over the market and consumers from Generation Z, individuals less than 23 years old, will begin to impact the foodservice industry, NPD adds. These generations want more involvement but not necessarily complexity in preparing their meals.
Breakfast is of particular importance to these generations and they expect fresh preparation. As a result, NPD projects sales in the breakfast daypart to increase 8 percent in the next 5 years.
In addition, Hispanics make up a large portion of the Millennial and Generation Z demographics, NPD reports. Hispanics favor Latino cuisine and prefer foods they perceive fresh and natural and like to have some control over flavor profiles. NPD projects sales of Latino foods to increase 7 percent over the next 5 years.
Regardless of which generation they represent, though, consumers today choose foodservice operators based on four key criteria: quality, dynamic experiences, convenience and value. These attributes are universal and apply to all consumers in all markets.
Quality: The quality of the food has to align with the experience and price point.
Dynamic Experiences: The experience is as important as the food. Consumers are more willing to forgive a bad meal than bad service.
Convenience: The foodservice venue has to be easy to use and often take something away from their to-do list. Features such as online and kiosk ordering can help operations be more convenient in the eyes their customers.
Value: This takes a variety of forms that can include better-for-you products, ease of use, the ability to keep their fast-paced lifestyles going or even serve as a gathering place.
The dynamic nature of value is why macroeconomic trends such as employment, personal income levels and even real estate results will be important to monitor.