Proper placement, sizing and utilization of space are hallmarks of an efficient walk-in.
Walk-ins serve as more than just large, cold spaces that store perishable food items. Rather, these mammoth pieces of equipment can take the place of multiple reach-ins, serve as large auxiliary rooms for prepping ingredients and provide convenient cold storage for multiple beer kegs.
Walk-in coolers and freezers, like other equipment items, have become difficult pieces to obtain due to the current supply chain environment. "The only real way to handle it is just to inform our clients," says Brent Hall, principal and vice president of Clevenger Associates in Puyallup, Wash. "We do have one client that opened up their restaurant using temporary reach-in refrigerators until the walk-in cooler and freezer could be delivered and installed."
While some designers report an improvement in lead times, things can still vary by project. "It really depends on what bells and whistles will be included," says John Marenic, principal, Marenic Food Services Consulting Inc., in Charlotte, N.C. "If it is a replacement walk-in, operators may need to replace the refrigeration on the original box first, then move it over to the new box when it arrives. If a client really needs one fast, we use a standard-size unit (8 feet by 10 feet), which some companies have in stock for fast shipping."
It's important to note that, unlike blast chillers, for example, walk-ins are not designed to pull down temperatures of hot food quickly. With temperatures between 34 degrees F and
38 degrees F for cooling and 0 degrees F to -10 degrees F for freezing, walk-in units are best used for storing cold items that staff will use within a couple of days or to contain bulk purchases.
"[With design], the key is to get flow, function and proper sizing so operators don't have something big not being fully utilized," says Marenic.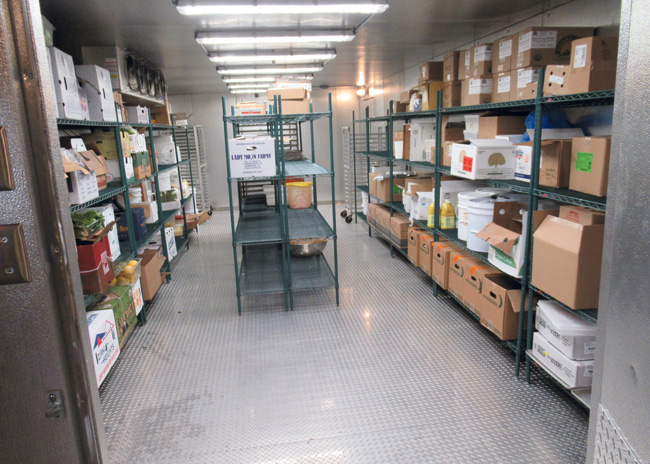 Walk-in interiors should be configured to make the most of available space while also leaving enough room for easy maneuvering.
Rules of Thumb
The type of operation dictates the use and requirements of a walk-in. While it may serve as a refrigerator at a mom-and-pop restaurant, for larger operations like hotels and hospitals, it serves as ancillary cold storage that may reside off-site where staff access it once a day.
Whatever its use, there are basic criteria to get the most out of a walk-in unit. "[In most cases], walk-ins are located close to the receiving area, so perishable products are not left in ambient temperatures for too long," Marenic says. "Also, depending on the operation and walk-in size, it's best if this equipment can blend into the kitchen side for staff access."
Following proper flow is important. "Those coming through the delivery door hit dry storage and walk-ins first," says Hall. "Locating this equipment in between the kitchen prep and back loading door is ideal [so deliveries don't interfere with production]."
In contrast to smaller independent restaurants, larger operations may place a walk-in farther away from the kitchen, even on a separate floor, in another part of the building or outside.
"Flexibility is increased [in terms of size limitations] if the walk-in is not inside the building," says Juan Martinez, principal and founder of Profitality, a Miami-based consulting firm that specializes in applying industrial engineering principles to the foodservice industry. "However, access to a walk-in is important and dependent on how it will be used. And once you land on a certain space for the walk-in, it tends to stay there."
In addition to locating walk-ins as close to the delivery entry point as possible and near prep lines in prep-heavy operations, it also may be beneficial to situate these boxes by the hot cooking line, says Scott Ellerhorst, sales and design consultant at foodservice consultancy C&T Design and Equipment Co. in Indianapolis.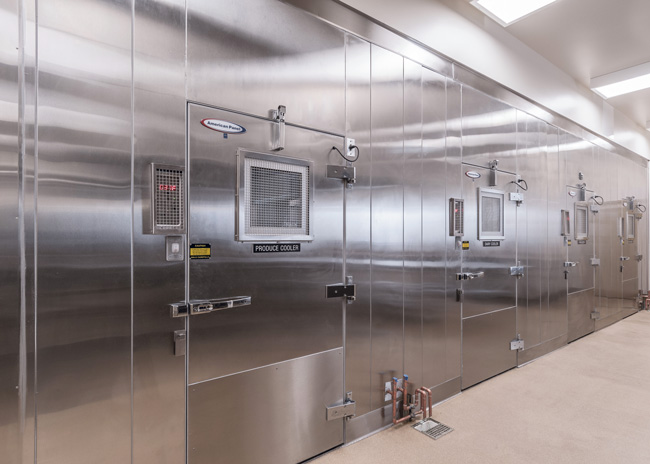 In larger operations, multiple walk-ins can each be designated for specific products.
"The location also depends on local codes," Ellerhorst says. "We did a project in Columbus, Ohio, where the walk-in was by a ventilation hood. Because combustible materials were required to be 18 inches back from the hood, we had to either put in an insulated panel by the hood or create an 18-inch gap between the walk-in panels and hood." Other proximity considerations include being aware of plumbing and leaving a 2-inch air gap between walk-ins and surrounding walls to alleviate condensation buildup, he adds.
Along with proximity, properly assess space allocation to ensure the unit will meet both the current and future storage needs. Operators can segregate products by size, type of product or a combination of both. "For example, raw meat should be separated from fresh produce," Martinez says.
When building and placing shelves, optimizing space is the goal. Although four shelves are common, a fifth shelf can add vertical space, increasing storage capacity by as much as 25%. "You want to apply science and discipline to optimize the way you use a walk-in," Martinez recommends. "The better organized it is, the more costs can be reduced. Operators can go from three deliveries a week to two. Shelf signage also helps achieve this by showing where everything is located and keeping inventory in check."
Another interior consideration is floor type. Insulating a walk-in's concrete floor may be more costly during construction, but the floor will be level for rolling carts and shelves and likely last a long time. "A concrete floor is needed under tile to handle a lot of weight," Marenic says. "For walk-in freezers, I recommend stainless-steel floors since this area is typically smaller — two-thirds of a combination walk-in is for refrigerated foods, while one-third is designated for the freezer."
One option is stainless diamond-plate floors, which provide a no-skid feature. "For beer keg coolers, putting diamond plate 12 to 18 inches up from the floor is an advantage when rolling items in and out of the cooler," Marenic says. "This prevents the sides from denting."
As for walls, Hall notes that walk-in panels should be built in accordance with local energy codes. "Strip curtains on walk-in doors are required in most jurisdictions, and it's good practice," he says. These vinyl strips prevent cold air from escaping when the door is repeatedly opened.
Compressor placement represents another key consideration, says Marenic. "We always try to get the compressor mounted as close as possible to the cooler, ideally within 25 feet, which also saves on energy and electric costs," he says.
Just as space allocation saves money, walk-in safety features can save lives, or at minimum ensure staff won't get trapped in a cold, locked box. "Walk-ins are available with glow-in-the-dark interior door handles," Marenic says. "There also are optional alarms that alert operators if temperatures are out of compliance but also can be used as a safety feature, enabling employees to shut off the compressors in case someone gets locked in."
Clevenger Associates generally includes a temperature control panel that connects to building management systems and notifies operators if walk-in temperatures go out of compliance. The company almost always specifies 14-inch-by-17-inch window panes on walk-in doors for added safety and convenience.
Lighting also represents an important interior component that is easily overlooked. Marenic recommends LED lights in place of standard fluorescents. "It doesn't cost much more and creates very little heat, plus LED lighting is much brighter," he says. "Employees and health inspectors appreciate the added visibility."
Ellerhorst enhances LED lighting with white interiors, which not only brightens up the space but also magnifies dirt to simplify day-to-day cleaning.
"Especially in larger spaces, it's more difficult to get lighting right due to a walk-in's excessive size and different shelving heights. LED lighting is needed at different levels for visibility," Marenic says. "It also pays to think about sanitation when putting shelving inside. Yes, shelves with wheels cost more money but are worth it for easier cleaning."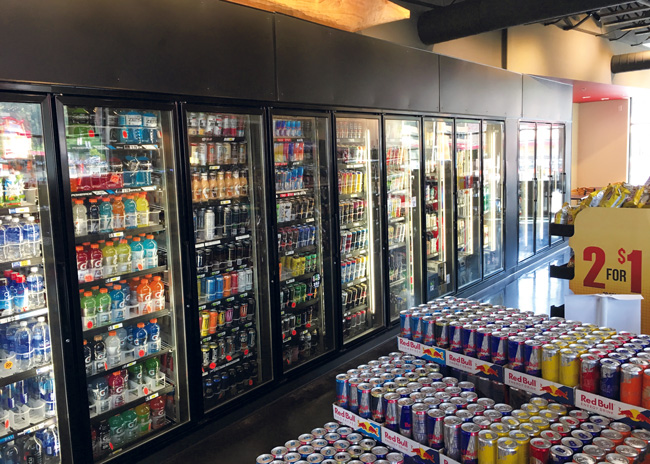 Walk-ins can contain reach-in coolers to hold additional inventory.
Space and Sizing
Properly sizing walk-ins can be challenging but is essential for making the best use of the allocated space. Clevenger Associates sizes walk-ins based on the number of meals being served per day as well as delivery schedules.
"It also depends on the menu," Hall adds. "If it consists of all fresh foods with local shipments, freezer space may not be needed. Operations offering a lot of breaded product that comes in frozen for frying may need more freezer space, though."
Although there are quick-ship walk-ins available in set sizes, the majority are custom-designed. The custom-designed units can be configured in almost any size or shape and offer a variety of options. "There are many walk-in sizing approaches, but we frequently find that most are initially designed too big," Martinez notes. "The reason is operators never say they have too much storage space, but if you analyze how much space they have, there is always an excess. This not only wastes space, but also costs more in utilities."
Operators ideally need enough space for two deliveries, Martinez says, adding that he typically sees walk-ins designed for four to five deliveries. The beauty of having a unit attached to the building versus within the kitchen is that space is less of an issue. "Wasted space should be prevented," he says. "There are tricks to optimizing space."
According to Hall, a typical walk-in at a restaurant has 8-foot ceiling heights. "Depending on whether or not the walk-in is on a depressed slab, the top is generally 8 feet, 4 inches off the floor," Hall notes. "Because access to the exterior of the top ceiling panel is needed for interior light connections, there should be no interferences with ducts or ceiling joists above it."
When additional space becomes necessary, Marenic will utilize vertical space rather than take up more back-of-the-house floor space, while accounting for the compressor height.
Martinez recommends calculating how much space is necessary by using boxes or cubes to fill a shelf that's 4 feet wide by 2 feet deep by 7 feet high. "This way, you can see the inefficiency or what percentage of space is not being properly utilized," Martinez notes. "Operators also can determine how many boxes will need storing by looking at sales, product mix, item count, utilization and waste factors."
Space allocation should also include processed inventory, or preprepped items, such as meat, salads and cold cuts. Ellerhorst likes to design walk-ins so space isn't tight but also is not cavernous.
"We typically put 24-inch wire shelving in a walk-in, leaving 3½ to 4 feet in between shelving," Ellerhorst says. "We make sure to utilize all the space and leave room for maneuvering."
Ergonomics also play a role in allocating vertical walk-in space. "People can only reach as high as 6 feet," Ellerhorst says. "You don't want staff climbing on boxes to get to the top shelf. And if you make it too high, shelves won't be utilized, and it's wasting space."
If draft beer controls are being factored into a walk-in, these can be mounted high above a shelf away from the kegs. This not only creates a cleaner, more organized space but also prevents the controls from getting damaged when sliding kegs onto shelves.
Not to Be Overlooked
Walk-in design mistakes can be costly and can negatively impact back-of-the-house efficiency.
Blowers, which take up space inside the cooler, are a main component that can be easily overlooked but should be accounted for. "Traditional blowers take up roughly 18 inches and impact interior space," Marenic notes. "These come in smaller, low-profile versions. Shelving height will be limited to between 48 and 55 inches, depending on how the blowers are mounted."
Door clearance is another aspect that can be easily overlooked as this is impacted by thick quarry tiled floors. "Walk-in doors should be sized to accommodate the thickness of the tile and grout; otherwise these will hang too low and won't pull shut easily," Ellerhorst says. "Most manufacturers use light-duty hinges, but these don't last long, and doors won't close well if there's any drag. We specify hydraulic door closers that can be adjusted."
As an added safety measure, Ellerhorst will incorporate door windows, which help prevent employees standing by the cooler from being hit when staff is exiting the unit.
It's also important to note that, although flooring is not required in refrigerators, walk-in freezers will typically need tile floors to meet local codes. "If a walk-in freezer is not slab on grade [where the concrete slab foundation is formed from a mold that is set into the ground], floor insulation is required to prevent condensation damage," Hall explains. "Floor insulation also is needed for walk-ins not located on the ground floor."
For added durability, Hall prefers quarry tile floors or commercial sheet metal with welded seams as opposed to standard walk-in floors. There are other floor code requirements that should be adhered to. "Diamond-tread overlays are not NSF rated because food and debris can get trapped in the flooring," Ellerhorst says. "It's OK to use this in a beer cooler, but if food is being stored uncovered, the flooring needs to be NSF approved."
In looking at access, having dual doors on either side of the walk-in can facilitate easier receiving from the dock and product accessibility for kitchen staff.
Also providing dual capabilities by putting a freezer section inside a walk-in offers the benefit of keeping temperatures more consistent when doors are opened as the surrounding air is cool. This format conserves kitchen space but takes up refrigeration space, so it's a give-and-take situation.
For beer keg walk-in coolers, which are set at a lower temperatures than traditional refrigerators, Ellerhorst includes electric defrost and evaporators that provide more security in case there is a frost up.
There are a number of things to keep in mind with outdoor walk-ins as these are exposed to the elements.
"If specifying outside boxes, operators need to make sure the roof has a rubber membrane for added protection from the elements. In snowy areas, the roof needs to be sloped so it doesn't collapse," Ellerhorst says. "To handle high winds, camlocks in the panels need to be fortified. There may be other code requirements, depending on the location."