Foodservice operators from all industry segments can use heated display merchandisers in the back or front of the house to keep food accessible and hot prior to serving. Self-serve units help create impulse sales opportunities in grab-and-go applications.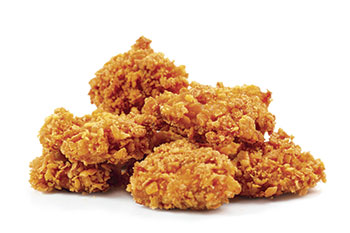 Operators that often use this type of hot food-holding equipment include restaurants, cafes, cafeterias, concessions areas, convenience stores and supermarkets. In terms of applications, these units can keep just about any item — from pizza and soup to fried and baked goods — at a ready-to-serve, food-safe temperature, which generally falls between 140 degrees F and 160 degrees F.
The type of product and holding time dictates the style of heated display merchandiser that best suits a given operation. For example, operators typically hold packaged product in paper or clear clamshells between 30 and 45 minutes.
Heated display merchandisers generally feature stainless steel construction and come in sizes ranging from 10 inches to 36 inches wide, with some units measuring more than 90 inches long. Shelving ranges from one to five tiers, depending on the model, and can be either horizontal for products like boxed pizza or slanted, which gravitates product forward for better viewing.
These units offer various heating methods, depending on the unit. Some provide top and bottom heat, while others utilize conductive heat on the bottom. Heating methods include a Calrod or heat strip on top and a heat blanket on the bottom, convected air or infrared heat.
Models with heated shelves range in size from 18 to 72 inches and come in either a stainless steel or a black powder-coated finish. These units heat up to 220 degrees F across the surface for uniform holding.
Operators can also choose humidified merchandisers. Enclosed humidified merchandisers with doors can hold open or unpackaged product and help maintain the food's natural moisture. These units can double the hold time to between 1.5 and 2 hours compared with non-humidified merchandisers.
Generally, non-humidified, open models have shorter holding times, and foodservice operators commonly use these units with packaged product. Serving pizza by the slice represents one common application for these units.
Depending on the model, these merchandisers provide two- or three-tier shelves, digital temperature displays, water reservoirs and backlit graphics.
Countertop versions include a water reservoir that helps to keep product moist and fresh, along with
interior lighting, angled shelves and graphics for merchandising capabilities.
Grab-and-go-type heated merchandisers are typically narrow to fit in tighter spaces. These models typically include interior lighting, heated shelves and interchangeable graphics. Retail applications and operations with limited counter space can opt for compact grab-and-go styles. Operators can opt to use mobile heated merchandisers on countertops or as island units.
Along with size and configuration, aesthetics come into play with heated display merchandisers. Manufacturers offer various designs, including simple utilitarian models that include a shelf, decorated bull nose displays, and units with curved lines as well as elliptical styles. In addition to the more industrial stainless steel and aluminum finishes, various color powder coatings are available to match different decors or themes.
Standard features for these display units vary, depending on the model and manufacturer. These may include divider rods to help section off different products that run front to back, removable shelves, pull-out crumb trays, thermostatic controls and a choice of shelving tiers.
Upgrades include more sophisticated temperature controllers, curved glass instead of square and stainless steel legs. Some units can vary the temperature in different sections of the display unit for various holding needs.