Rack warewashers, commonly referred to as rack conveyors, are often used in full-service restaurants and higher-volume applications, such as universities and healthcare foodservice. This is because the average production rate for these continuous-motion machines is between 100 and 300 racks an hour. While undercounter and door-type machines also use racks, this reference typically is limited to the conveyor-type units.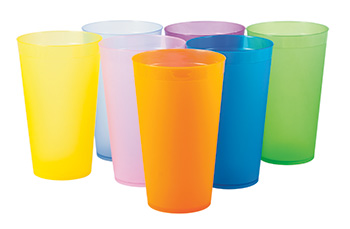 Most local codes require warewasher temperatures to reach between 160 degrees F and 180 degrees F. High-temp warewashers use 180-degree F rinse water to sanitize wares, eliminating chemical sanitizing residue, an issue in some applications. The hot surface temperature of glasses and plates removes food soil and grease, sanitizes the items and dries them quickly without spotting when exposed to room-temperature air after washing.
High-temp units also feature booster heaters to keep water at the proper temperatures for washing and rinsing. Because some municipalities don't allow 180-degree F water from dish machines to drain into plumbing due to the risk of damaging PVC pipes, operators can add drain quench systems or water tempering kits. These devices allow cold water to drain in advance of the hot water, lowering the temperature of draining dishwater.
Low-temp warewashers are less expensive and used more often in smaller operations. Unlike high-temp machines, this warewasher type uses a chemical sanitizing agent in the final rinse cycle.
Smaller warewasher models require manually loading of wares into a rack and include single-rack undercounter machines, single- and dual-rack lifting door-type machines connected to dish tables, and rack conveyor models, which also attach to dish tables.
Rack conveyor units move loaded dish racks continually through the machine for greater throughput. These models often feature automatic tank refill capabilities, leak-proof doors, rinse-saver devices, 2- or 3-horsepower wash pumps, a door-activated drain closure, removable spray arms, convenient controls and interchangeable spray arms. Single- and multi-tank models are available and may be equipped with hinged access doors, which make access and service more convenient. Single- and double-wash-tank designs are available with these units, and sizes range from 44 to 100 inches in length.
Insulated doors have become more common with this equipment. These not only help control the temperature inside the dish machine and prevent heat from escaping the unit, increasing its efficiency, but they also lead to less noise in the dish room during operation.
Standard rack warewasher features include double-wall insulation, automatic filling, automatic starting, strainers or scrap baskets to catch particulates, pressure-reducing valves, external vent controls and low water protection. Some units offer two opening height options, either standard or tall. Side loader options can be used for warewashers operating in tight corners.
Newer rack warewasher innovations include dual rinse zones for improved results and reduced water consumption; heat recovery systems that reclaim the waste heat generated by the machine as a source of energy to preheat the incoming final rinse water, reducing energy consumption and machine emissions; and systems that actively reduce soil contamination in the wash water.
The prewash option includes an additional wash tank, an extra set of wash arms and a scrapping area to remove food soil before dishes go into the wash chamber. This is a good option for operations that don't have the ability to pre-scrap prior to dishwashing.