Professional chefs and line cooks in all types of operations, from quick-service to white-tablecloth restaurants, use choppers. This equipment can help save money by making more efficient use of labor, and it can ensure uniform and consistent results. Choppers may also offer a safer alternative than traditional knives, especially when working with less-skilled teams.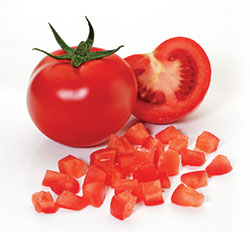 This equipment is categorized by what it can do, such as slice, dice, wedge, etc. The design of most choppers makes them suitable for working with specific products, such as onions, tomatoes, potatoes, lettuce, french fries and citrus. For example, a tomato slicer typically cannot slice an onion since it is designed to handle softer products as opposed to harder, dense foods. Operators can use wedgers for citrus fruit, like oranges, lemons and limes.
Automatic vegetable cutters have slower RPMs than automated meat and cheese slicers and utilize sharp blades to help retain the cell structure of the product. This can extend shelf life and produce an end product with a higher-quality appearance, taste and aroma. End users can choose from a variety of discs to replicate a number of hand-cutting styles.
The size of the cut may vary from chopper to chopper. This includes 3/8-, 3/16-, 1/4-, ½- and 1-inch cut sizes. Some models feature slicing attachments and wedging kits to accommodate different foods. If someone misuses a chopper, the user runs the risk of breaking the blade as these units work by slamming through the food.
The majority of choppers operate by hand, using a downward pressing motion. The operator forcefully guides down a handle on two guide rods to cut the product. Fry cutters use the same blade setup but typically have a lever handle that provides added force or leverage behind the press. This provides better power to cut through hard potatoes. Also available are multi-product choppers that include more than one blade for cutting multiple product simultaneously.
Heights of this equipment vary to accommodate either 4- or 6-inch-deep pans, which serve as containers to chop product into, rather than dispersing it onto a table.
Choppers typically feature an aluminum base with stainless steel cutting blades. Operators can also elect to specify all stainless steel units. Citrus choppers contain either plastic and/or stainless steel since the fruit's acid can pit or break down aluminum. Most units feature removable blades.
Mounting options include both wall and table versions. Some tabletop units come with legs, too. Wall-mounted choppers use a pull-down, rather than a push-down, chopping motion, which helps when cutting harder and denser products.
Designs that facilitate easier cleaning with more removable parts are available. Also, additional safety features have been added to some chopper models to protect users from sharp blades, although fingers are not generally exposed to blades during the cutting process.