Conveyor toasters offer a greater capacity than the pop-up style for high-volume toasting of breads, rolls, buns, English muffins, bagels, frozen waffles and other bread products. Some models also can accommodate larger-size breads, such as sub rolls, croissants and other specialty bread items. Convection conveyor toasters are more versatile, and operators can use them for sandwiches, pretzels and pizza.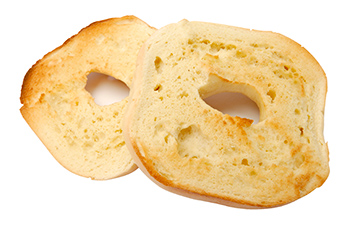 Depending on the number of slots, a pop-up toaster can produce 60 to 380 slices of bread per hour, whereas conveyor models can handle 200 to as many as 1,800 slices per hour. Opening heights range from 1½ to 3 inches. Available space will determine whether an operation's conveyor model should be vertical or horizontal. Vertical units generally have a 22-inch-by-17-inch footprint and stand nearly 3 feet tall. Horizontal models usually measure 14 inches by 22 inches and are typically no taller than 16 inches.
Conveyor toasters require single-phase electricity ranging from 120 to 240 volts. The higher the voltage, the more slices the toaster can accommodate. Bread is toasted with infrared radiation from either metal coil or quartz heating elements. Metal sheath coil elements are about 10 percent less efficient than quartz elements and require more power to achieve the same toasting performance. Although metal elements take longer to heat up and are less energy efficient, this type of heating mechanism is very durable.
Quartz heating toasts 10 percent faster than metal using less energy, and because this method heats quickly, it saves electricity and time. The downside is that quartz elements wear out in about five to seven years and can break more easily.
Operators can also select conveyor toasters that pair infrared technology with convection air and conveyor support. This design evenly distributes heat on the product as opposed to in its surroundings, saving on energy usage and reducing kitchen heat. Because these units focus the heat on the food, operators can use them to prepare products like sandwiches, chicken nuggets, pizza, pretzels, tortillas and appetizers.
Types of conveyor toaster controls include belt speed only, which is the most common; analog with top and bottom heat; and electronic, a programmable type with top and bottom heat.
There are various types of conveyor styles for different applications. The standard unit has a 1½-inch inlet with top and bottom heat, while the bagel type has an inlet between 1¾ and 2 inches and provides top heat only. Conveyor toasters specifically geared toward bagel production accommodate product on a 10-inch-wide conveyor belt and provide a pull-out tray and recessed control panel. A high inlet toaster has a 3-inch opening for buns, rolls and larger-sized products and heats from both the top and bottom.