Advertisement

December 2, 2020
---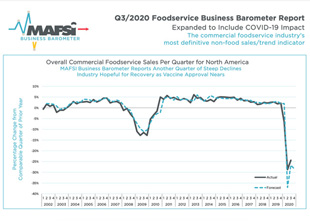 MAFSI Reps say Q3 Better than Expected
While still down significantly, sales of foodservice equipment and supplies are 8% better than reps forecasted at the end of the second quarter of 2020 according to Business Barometer published by Manufacturers' Agents Association for the Foodservice Industry.
This Week in Foodservice
Restaurants showed a "modest gain" in October. Two major studies report a decline in consumer confidence in November. The Charleys Philly Steaks chain signed a deal to put its restaurants in Walmart stores. These stories and a whole lot more This Week in Foodservice.
Squisito Prepares for Expansion
Monte Restaurant Development Group tapped a New York-based entrepreneur to become a managing partner and franchisee of the Squisito chain.
December 2020 Rep Roundup
A new rep firm emerges in New England, while Thermo-Kool and UNOX update their rep networks. Plus, Nordon taps a foodservice industry veteran to fill a key sales and marketing role.
Yogurtland's Recipe for Success
Yogurtland hopes that combining healthful options with convenience is the recipe for success moving forward with its newest concept, Holsom by Yogurtland.
Saladworks Blooms in Grocery Store
Continuing down a path of growth via nontraditional locations, Saladworks opened an in-store restaurant inside of a Kroger grocery store in Cincinnati.
You received this e-mail as a subscriber to Foodservice Equipment & Supplies or one of its e-newsletters.

View past editions of Flash News in our online archive.

Please direct advertising questions to:


This email address is being protected from spambots. You need JavaScript enabled to view it.

, Vice President.

Please direct editorial questions to:


This email address is being protected from spambots. You need JavaScript enabled to view it.

, Editorial Director.

Subscription Support:
630-739-0900 (ext. 53) or e-mail

This email address is being protected from spambots. You need JavaScript enabled to view it.