"Lead with love." That's the motto Jamie Arguello, president of Gradys Foodservice & Equipment, continues to follow every day — and she pays no attention to any naysayers.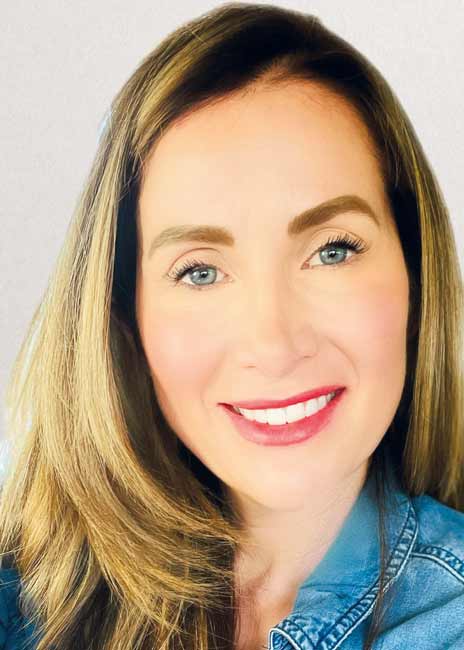 Jamie Arguello, principal/president, Gradys Foodservice Pueblo, Colo."I've heard people say you can't lead a company with love and by being nice and empathetic," Arguello says, but she has "never known another way." She took over as president of Gradys in 2018, succeeding her father Paul Gradishar, another highly respected industry professional and genuine human being. "I care about people and about everyone who works here. How otherwise do you motivate people if you don't lead with your heart?"
Arguello admits some people might call this approach soft, but battling breast cancer, raising three kids and leading the family business has really shifted her perspective and solidified what's important. "I don't worry as much about every little, day-to-day thing like I used to before the cancer diagnosis," Arguello says, though she admits she's a workaholic — in a good way. "After going through what I went through, I know what matters most. Sure, we're selling pots and pans, but at the end of the day, if we're not doing things to improve the lives of our team and their families and our customers and their families, then what are we here for? It's all about helping other people — from our customers to the person eating at the restaurant to the employee working the dish room."
Arguello first discovered what matters most at her family's business from her grandfather, Warren Freeman, who purchased Gradys in 1965. From a young age, she learned the ropes and was a hard worker, helping unload glassware in the stock room. She learned the most, perhaps, from her grandmother, who took over the company when her grandfather passed away at the young age of 56.
"I was 6 at the time, and my grandmother Dorothy taught me a lot over the years since then — she taught me about accounting, collecting invoices [and] cash flow, and this was at a time when many women were not in the workforce, let alone running companies," Arguello says. "Even in the '80s and '90s, just seeing her do it all was an amazing experience. My girls are 6, 8 and 11 now, and those are the ages I was when I was first working in the warehouse."
In 1997, Arguello's father purchased the company and continued to build success, including overseeing an expansion in 2017 to a new 45,000-square-foot building — a $5.6-million investment at the time. "My dad is the hardest working person I ever met — I'm very blessed to have been able to learn from him as well," she adds.
Arguello admits she didn't intend to follow in the family footsteps, though she did study business at the University of Denver. After graduation, she started a side business with her brother Luke Gradishar in the real estate industry but was soon met by the 2008-2009 recession. "The economy tanked, and my dad gave us a loan to help keep that business afloat until we could get back on our feet," explains Arguello, who made it her mission to pay the loans back in dollars — and what would later be a new revenue stream.
"I had shifted gears and was doing some government work, selling custom apparel and uniforms and fell in love with it," Arguello says. She even brought her father to a class on securing government contracts. She suggested leading an effort to secure government work for Gradys, and it worked.
"I was pregnant with my first child, so I could never sleep, and I stayed up all night working on business contracts for my dad; that was the launch pad," says Arguello, who found steady work with military bases in Colorado and felt confident enough to work on other foodservice projects, including national chain accounts — the largest being Noodles & Company — and concepts at Denver International Airport. Today, Gradys has customers across the country in all segments of the industry, including schools, universities, correctional centers, government and community centers, healthcare, catering, restaurants, food trucks and more. Notable projects include Weidner Field (home of the Switchbacks soccer team), Bronco Billy's Casino, the Denver Zoo, New Widefield Bistro Taproom, Archuleta Detention Center, Broomfield Community Center, Del Norte K-12, Pickens Technical College, Real De Minas and Oglala Lakota High School. The company has also worked with tech companies including Facebook, Google and Slack as well as the U.S. Army War College in Pennsylvania. The company has also worked with tech companies including Facebook, Google and Slack.
"I started working for my dad full-time, and he couldn't get rid of me," says Arguello, admittedly not a foodie but who immediately fell in love with the foodservice industry. "So many people in this industry are so willing to help and offer their knowledge and support — it's magnetic and amazing." She also gives thanks to her support network at FEDA and SEFA buying group — she serves on the board of each association — as well as her many manufacturers representative partners.
Arguello also gives thanks to her brother, now vice president of business development for Gradys, who was able to secure letters from several manufacturers at a convention in order to earn highly competitive government contracts.
When COVID-19 hit in 2020, Arguello says her father took a bigger step away from the company toward his retirement, but when she was diagnosed with cancer just a few months later, "he became my full-time caregiver, driving me to 163 appointments over the course of 18 months over an hour away," she says. Meanwhile, Arguello's husband, Brian, who works in pharmaceuticals, stayed home to hop on Zoom calls while simultaneously overseeing their three girls' remote schooling, "not complaining once."
That's the thing about Arguello; she's quick to give credit to everyone other than herself for Gradys' successes. Make no mistake though; she's leading the company and overseeing talent in the various departments: design-build, project management, smallwares and equipment distribution, multiunit and national chain fulfillment, construction and installation.
"I'm an action-based person, and that's a hard habit to break, so I have to stay focused on the big picture," she says, commenting on how each of Gradys' 23 full-time employees stepped up to the plate when she took time away for treatments. "They proved how capable they were, and it gave me the perspective that in order to build people up, you have to give them ownership and get out of the way," she says, noting that one really is only as good as one's team.
Everyone at Gradys has a quote next to their photo on the company website. Arguello's is this: "The moment you decide to no longer think the same way, act in the same way, or live by the same emotions, it's going to feel uncomfortable. And the moment you feel uncomfortable, congratulations — you have just stepped into the river of change."
There's nothing soft about that.
Industry Involvement
Foodservice Equipment Distributors Association (FEDA), board of directors
Supply & Equipment Foodservice Alliance (SEFA), executive committee, board of managers
Influencer Give & Take
Tell us about one person who influenced your life.
Other than my grandmother and father who started in this business before me, I have to say my mom; I don't thank her enough for everything. She's the most
generous person I know. My brother Luke is my rock and holds me accountable.
How would others say you influence them?
I influence them through action. I think in order to get people to do things, you have to do them yourself. If you go through hard things, it motivates others and helps them do hard things, too. I admit when I make mistakes, and I'm always willing to work on myself.