Page 6 of 6
Catering/Banquet
First Place: Florida Aquarium, Tampa, Fla.
Photos courtesy of Justin Lyles, Louis Wohl & Sons
Why it Won
They hit the nail on the head. The tablecloth they use screams aquarium. And the accent plate creates an ocean-like experience. The use of white with these other elements is perfect because it keeps the tabletop from getting too busy. The presentation of the food is terrific, particularly for a catering operation. It allows you to eat with your eyes before picking up the fork to taste the food. It really looks like a pleasant place to go for a function.
Specifying Team
Monica Banker, executive chef, Aramark/Florida Aquarium; Kristofer Kautz, F/S account manager – West Coast Florida, Libbey Foodservice; Patrick Pantano, managing partner, The Pantano & Pinilla Agency; Eva Pennington, general manager, Aramark; Michelle Rostron, dealer sales rep, Louis Wohl & Sons; and Jay Williams of Churchill Dinnerware
China: Churchill and World Tableware
Flatware: Cardinal
Glassware: Cardinal
Accessories: American Metalcraft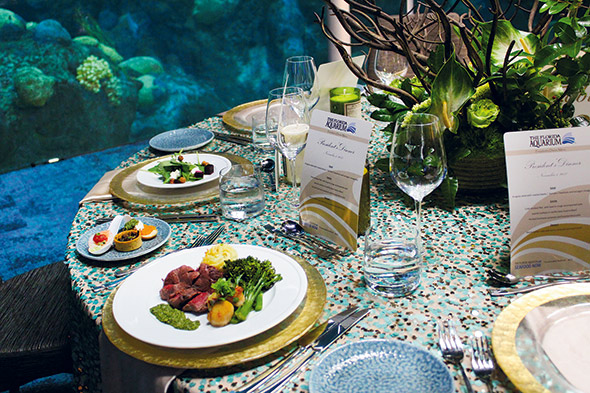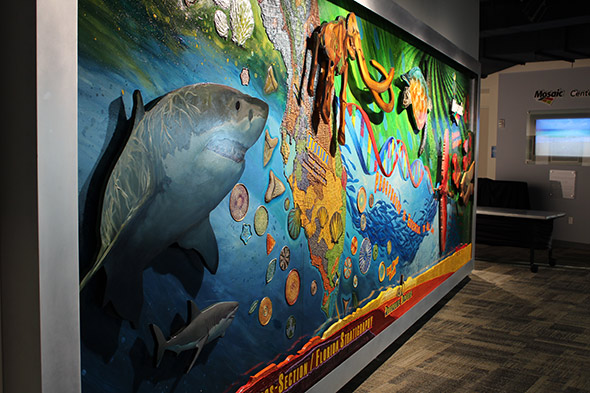 ---
Honorable Mention: Convene Meeting Rooms and Event Spaces at Conde Nast Venues, New York City
Photos courtesy of Melissa Horn Photography
Worth Mentioning
This all goes together so well with their goal of being modern with a classic twist. The tabletop is very versatile. You can prepare for any kind of event and the food will show well. The built-in buffet is great for this overall concept.
Specifying Team
Sarah Bulmer, LMT business development, M Tucker; Frank Cullinan, north region manager, FoodService Division, Villeroy & Boch; Marc Fuchs, executive vice president, M Tucker; Sasha Karpova, president, Roskush Hospitality; Barbara Martelli, president, BSM Marketing; and Alexander Selig, business development – national sales, M Tucker
Honorable Mention: 1 Hotel Brooklyn Bridge, New York City
Photos courtesy of Melissa Horn Photography
Worth Mentioning
This installation makes good use of natural materials in the tables to fit the hotel's earthy aesthetic. The use of the white and black tabletop elements goes well with this design. The restaurant prides itself on the use of local sourcing and suppliers and that carries over into how they source the tabletop items.
Specifying Team
Sarah Bulmer LMT business development, M Tucker; Sasha Karpova, president, Roskush Hospitality; Kristine Martin, northeast regional sales manager, Steelite; Connie Pezulich, president, RCP Design Inc.; Tess Rex, business development – national sales, M Tucker; Jonathan Short, chef, 1 Hotel Brooklyn Bridge; Heidi Surlock, director of sales - east, Dudson; and Morgan Tucker, director of business development, Singer Equipment Company