Page 4 of 6
Banquet and Catering
First Place: Le Jardin at Cantigny Park, Wheaton, Ill.
Specifying Team: Mike Machay, Food and Beverage Director, Le Jardin; Melissa Margarite, Director of Business Development, Hode Group; Jeff Matual, Sales Representative, Edward Don & Company; Mike Nass, General Manager, Le Jardin
China: Bauscher (Purity)
Glassware: Cardinal (Excalibur)
Flatware: Oneida (Scroll)
Accessories: Bauscher, Imco, Vollrath
Why it Won: This tabletop really captures the elegance necessary to host high-end events.
---
Honorable Mention: EVENTS at City Flat's Hotel, Grand Rapids, Mich.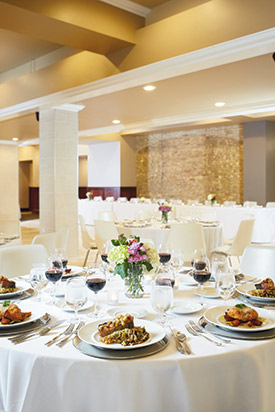 Specifying Team: Greg Fedurek, Territory Manager, Zink Foodservice; Quentin Gort, Marketing Associate, Sysco Grand Rapids; Katie Vogelheim, Ballroom Manager, EVENTS
China: Oneida (Circa)
Glassware: Stolzle (Celebration Stemware)
Flatware: Oneida (Sestina)
Worth Mentioning: This timeless yet beautiful tabletop can adapt to elegantly serve a variety of events.
Photos courtesy of Ashley Avila, Ashley Avila Photography, Grand Rapids, Mich.