This transformational project was a response to "inspire engagement we can only begin to imagine."
---
FE&S appreciates the following professionals for generously contributing their time to judge this year's competition:
Bill Davis, regional sales manager, Edward Don & Co., Woodridge, Ill.
Armand Iaia, FCSI, regional manager, Cini-Little, Chicago
Beth Kuczera, president, Equipment Dynamics Inc., Chicago
Kristin Sedej, FCSI, owner, S2O Consultants Inc., Chicago
Editor's Note: Facility Design projects featured each month become eligible for the Facility Design Project of the Year competition. If you would like to submit a project for
consideration, please contact Joseph M. Carbonara at This email address is being protected from spambots. You need JavaScript enabled to view it..
---
This expansion of a historic existing building to create the Yale Schwarzman Center included moving, renovating and expanding many foodservice components. The renovations and restorations preserved the building's historical, architectural integrity, while creating efficiencies for and connection of various spaces.
Yale Schwarzman Center Yale University
About the Project
Opened: Sept. 1, 2021
Scope of project: This expansion of a historic existing building to create the Yale Schwarzman Center included moving, renovating and expanding such foodservice components as the main servery, the support kitchen, and The Underground.
Size:
Total building: 123,388 sq. ft.
First level, Commons:
Servery/kitchen: 6,888 sq. ft.
Dining room: 13,000 sq. ft.
Lower level, The Underground:
Kitchen: 3,480 sq. ft.
Dining room: 1,861 sq. ft.
Elm and Ivy, 2,324 sq. ft.; The Bow Wow, 200 sq. ft.; The Well, 1,453 sq. ft.; President's Room and warming pantry, 193 sq. ft.; Dome Room and warming pantry, 207 sq. ft.
A cook draws attention with fire at the Cantonese wok at Lotus.
Seats: Commons, 775 seats; Elm & Ivy, 200 seats; The Well, 40 seats plus standing room; President's Room, 110 seats
Average check: ranges between $6 and $11
Daily transactions/covers: 3,500 across all areas
Staff: 420 full-time equivalents and 350 part-time team members
Total project cost: $160 million
Equipment investment: $3.9 million
Website: hospitality.yale.edu
Key Players
Owner: Yale University
Associate vice president, Yale Hospitality: Rafi Taherian
Senior director of Yale Hospitality Auxiliary Operations: Adam Millman
Director of asset renewal and special projects, Yale Hospitality: Daniel Flynn
Director of culinary inspiration, Yale Hospitality: James Benson
In the main production kitchen, a six-burner range, a griddle, fryers and combi ovens support production at all the foodservice platforms and for catering.
Senior director of residential dining, Yale Hospitality: Robert Sullivan
Managing director of Schwarzman Center Hospitality: Stacey Hepburn-James
Executive chef: David Kuzma
Director of capital program, Yale University Office of Facilities: Keith Fordsman
Associate director of construction, Yale University Office of Facilities: Mike Douyard
Architect: Robert A.M. Stern Architects (RAMSA), New York: Graham S. Wyatt, partner; Melissa DelVecchio, FAIA, LEED AP, partner/architect; Jennifer L. Stone, AIA, partner/manager; Kurt Glauber, associate partner/manager; Ken Frank, senior associate/architect
Interior design: Robert A.M. Stern Architects: Lawrence Chabra, interior design director; Shawn McCormick, interior design project manager
Foodservice consultants: Ricca Design Studios, Englewood, Colo.: David Chislett, executive principal, development; Derek Sisson, project director (Michigan); Jim DiTrapani, project manager (Michigan)
Equipment dealer: Kittredge Equipment Co., Agawam, Mass. (now Singer Kittredge): John Roche, project manager, sales
Structural engineer: Robert Silman Associates: Rebecca Buntrock, PE, associate/manager
MEP engineer: AKF Group LLC, New York
Civil engineer: Langan, Parsippany, N.J.
Construction manager: Dimeo Construction Co., New Haven, Conn.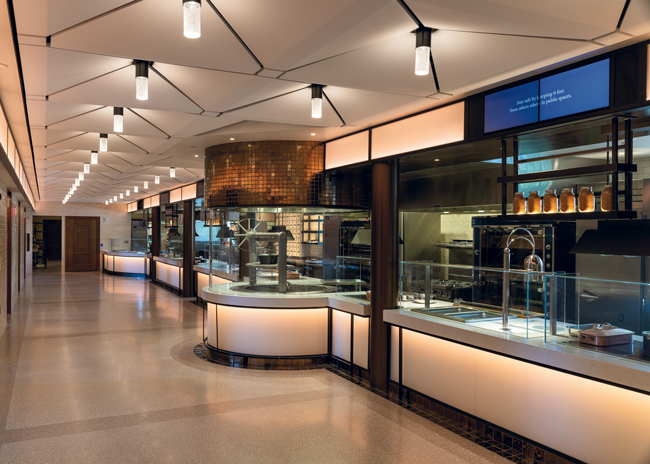 The custom-crafted, hand-cranked, rotating circular grill stands out at Rostir in Commons.
Why It Won: The Judges' Comments
The overall complexity of the project allowed this one to stand out. The project worked within an existing structure and the parameters that come with such a project. Until project designers start tearing it apart, they don't truly know what they are going to find, and only then will they learn how they will have to work within those parameters. For example, as the project unfolded a lot of structural issues came to light that the project needed to address, like digging deeper for a new floor.
The Well, a student pub, sits in a location formerly used as a storage room. Photo courtesy of Francis Dzikowski/OTTO
Historic preservation is a big deal when remodeling a structure like this. The project did not compromise the building's original design intent. Plus, it seamlessly married the two facilities. The project even used a Yale architect. This would not have been accomplished without a full team effort. This was a labor of love all the way from faculty to students to donors.
This project was truly "over the top — they spared no expense on design and interiors." In doing so, the project truly raises the bar for college and university foodservice.
This project made sense from a labor perspective because the design features four food stations in the dining area. These are structured in such a way that staff can more easily adjust or move to different stations during nonpeak periods. "Sometimes we cannot predict the labor situation, but labor remains a consistent problem. And this design addresses that in its own way," said one judge.
At the same time, the design of each station makes it easier to change menus. Overall, there's enough variety in place to keep students and staff interested. "If something's not working, they can pivot," was one comment from a judge. Plus, this area can go from traditional student service to a private event space and back again, which is impressive versatility. That means the donors can even use the facility for events.
The fact that this is a multilevel design and each level is well designed and executed deserves high marks. The spaces are all very accessible, particularly for a historic building, and allow for multiple revenue streams.
The project was funded through endowments, which provided a unique return on investment in that supporting foodservice was important to the donors and such a successful project allows them to feel a sense of pride and maintain a connection to the campus.
The metrics for success were good. The project is processing more than 5,000 transactions daily, which is 200% greater than what was expected.
Project Objectives
This transformational project was a response to "inspire engagement we can only begin to imagine" from the president of Yale, Peter Salovey. To achieve this objective, the university leadership convened a committee of students, artists, thought leaders, operational leaders, and behavioral psychologists in various educational stages.
Commons, built in 1901, has been a place where scholars could create conversations and build relationships for generations of students and faculty. Yale has always differentiated itself by valuing the importance of connections and breaking bread as much as pursuing knowledge. Over time, though, a renovation of Commons became necessary to preserve and enrich the facility for future generations.
Commons transformed into the Schwarzman Center, a student and community center that integrates performance art, exhibitions, dialogues, events, and culturally diverse food and beverage expressions.
What were the project's objectives, and how did the final product achieve them?
Transform the historic building into a contemporary center for the campus while celebrating its past and creating a shared space that fosters collaboration, wellness and a sense of belonging among students, faculty, staff and the New Haven community.
Expand dining and performance spaces to serve as an intellectual hub that encourages socialization, fosters relationships among the Yale community and embodies the principles of timelessness, community, nourishment, equity and belonging.
Create integrated food platforms near various gathering spaces, organically complementing multifaceted needs and experiences.
Implement intentional design for the flow of goods and material management to support efficiencies within the scullery and food traffic while not interfering with art and performance needs.
Address complex accessibility obstacles within the delicate infrastructure of a historic building with various grading.
Honor the historical heritage using materials consistent with or complementary to the original architectural intent.
Design for adaptability, maximum mobility, transportability and flexibility of furniture, fixtures and equipment to accommodate the multiuse objective of the space.
Emphasize performative foodservice, which provides the audience with a seamless and immersive experience while preparation, cooking and serving are displayed. This maximizes the throughput volume and speed.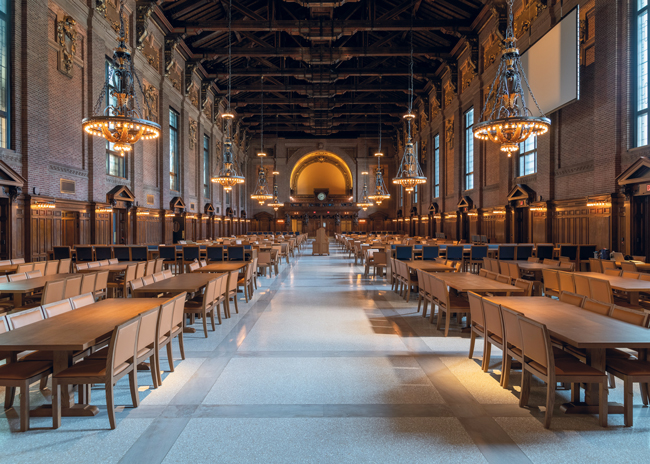 Photos courtesy of Yale University. Taken in July 2021 in accordance with Yale University's COVID-19 guidelines.
The final product successfully addressed these objectives by transforming and enriching a venerable dining and event space into a world-class center that promotes, creates and inspires generations of students, faculty and thought leaders to use their medium of choice to break bread and break boundaries in a natural and organic flow. The culinary team participates in this journey by using the best design and tools to be a symbiotic partner. The project's commitment to preserving the building's historic character while incorporating modern technology, increasing social space and expanding dining and performance areas, as well as addressing accessibility concerns, resulted in a contemporary center for the campus that fosters socialization, relationships and a sense of community and belonging.
The project preserves the historic building while incorporating modern technology, increasing social space and expanding dining and performance spaces, including the majestic Commons dining hall, the newly excavated basement area with a dance studio, a grab-and-go foodservice spot, a cafe and performance space, and a circular pub.
The project also addresses accessibility concerns by including elevators, increasing doorways and upgrading technology. Optimizing the Commons to accommodate daily dining and performance by including a new hidden HVAC system, theatrical lighting, integrated projection and a 15-foot-wide building expansion for the latest food hall showcases the commitment to delivering a contemporary center for the campus.
What's more, the project serves as an intellectual hub that encourages socializing, fosters relationships among the Yale community and embodies the principles of timelessness, community, nourishment, equity and belonging across all the dining platforms. For an overview of Yale Schwarzman Center's food platforms and more, please read the April 2022 issue of FE&S.
Best of the Best in Foodservice Facility Design
"The Yale Schwarzman Center seamlessly integrates historic preservation with modern technology and increased social space to create a vibrant, inclusive and multifunctional hub," says Rafi Taherian, associate vice president, Yale Hospitality.
Beer taps in the shape of the Bulldog mascot reside at The Well in The Underground.Commons, the vibrant dining destination, exemplifies the project's success, showcasing the building's history and traditions while incorporating state-of-the-art features.
The Yale Schwarzman Center's goal to "inspire engagement in ways we can only begin to imagine" prioritizes fostering relationships among the broader Yale community, uniting Yale students and encouraging socialization through dining, events and performances. The center embodies the principles of timelessness, community, nourishment, equity and belonging across all its dining platforms, making it an outstanding example of foodservice facility design that caters to the needs of diverse groups and promotes engagement.
This Bicentennial Building at Yale University is not just a building, but a vibrant hub of social, cultural and intellectual life, celebrating the past while embracing the future, fostering collaboration and belonging, and serving as a cross section for all members of the Yale community and beyond. "The Yale Schwarzman Center sets the bar high for foodservice facility design, seamlessly blending history and modernity to create a dynamic and inclusive space that inspires engagement and fosters a sense of community and belonging for all who enter its doors," says Adam Millman, senior director of Yale Hospitality Auxiliary Operations.
Financial Aspects and Fiscal Responsibility
The project aims to generate return on investment from two sources: donor endowment and new incremental retail revenue, which is not associated with the meal plan. Donor endowment supports programming that helps activate the space while new retail revenue addresses the operating costs. This approach makes the project financially self-sustaining and ensures it can operate effectively in the long run.
The project also was designed to offer maximum flexibility to students based on their schedules. The centrally located spaces are being utilized efficiently throughout the day, and building usage is forecasted, allowing the operations to scale labor and resources up or down based on the peaks and valleys of the demand. To minimize unproductive work, the design of all the spaces in the project allows them to function independently or as one. For instance, the three-sided cafe scales up and down through the day, and self-checkout POS units reduce dependencies on labor. Multiple dish rooms open and close as needed throughout each daypart, and the placement of cooking equipment allows it to be fired up and fired down as required.
Preparation/Cooking/Holding Area Design
"When designing this foodservice facility, we carefully considered the strategic placement of functional areas in relation to one another," Millman says. "Our object was to create a seamless circular process from receiving, storage, preparation, finishing, point of service, dining, return to the scullery and sanitizing, recycling, composting, and finally exiting the building, ultimately to reduce redundancies and allow efficient production as close to the point of service as possible."
The production kitchen serves as the heart of the hospitality operations, feeding the many arteries throughout the building. To help this come to fruition, the project team reverse-engineered the process, working backward from the point of service to receiving. A linear flow of functions was designed, focusing on employees and products.
To begin, staff locker rooms were positioned at the entrance to the kitchen, alongside refrigeration and dry storage. Refrigeration equipment was strategically placed near food preparation and cooking areas to minimize the travel distance of perishable items. This not only reduces the time it takes to retrieve items but also improves food quality and minimizes food waste. Production equipment was located adjacent to the food prep area, followed by pot washing, with proper circulation of all areas to reduce the risk of cross-contamination.
The team also strategically placed four dish/pot-washing areas throughout the building, bringing the function adjacent to production and close to the dining locations to prevent congestion and minimize the travel distance of dishes. These considerations were carefully thought out to ensure a smooth and efficient operation while maintaining the highest food safety and quality standards.
"By taking these strategic considerations into account, we were able to maximize efficiency and reduce redundancies while creating a safe hospitality facility that meets the needs of our campus community and employees alike," Millman says.
Design Challenges and Resolutions
Retaining a beloved building which was built in 1901 required thorough planning, attention to detail and a willingness to work within the constraints of the existing structure. Designing state-of-the-art hospitality operations and creating a welcoming and modern environment that meets and exceeds the needs of the Yale campus community within a historic building presented several unique challenges.
Historic preservation: It was essential to preserve the rich historical symbolism, which limited the modifications that could be made to the spaces. The project team found innovative ways to work within these guidelines to create a functional and modern space that met hospitality and programming needs.
Space constraints: Limited building envelope and available floor space to accommodate the robust program objective posed a unique challenge. A 15-foot-wide building extension was necessary to align with the forecasted throughput and program needs. Every inch of the building was designed to maximize available space while still creating a comfortable and inviting environment for front-of-the-house guests and back-of-the-house team members. In addition, the subterranean excavation allowed for extensive communal areas, including a ground entrance to the lower level, a dance studio, restrooms, a convenient location and more.
Structural issues: Uneven floors, weak walls, and low ceilings were all challenges to overcome during renovation, so structural modifications were carefully considered. The historic terrazzo floor in the dining room had to be entirely extracted, replaced and reinforced. The lower-level flooring had to be lowered by 5 feet to gain additional headroom.
Accessibility: This historic building did not meet modern accessibility standards. The project team paid obsessive attention to every finishing detail to add elevators, widen doors and ramp floors, and adjust counter heights to make the space accessible for all guests without compromising the historic character of the building.
Technology integration: The project team had to find ways to integrate modern systems from centrally managed digital displays and menus, and tap-and-go POS hardware, while still preserving the historical character of the building.
Progress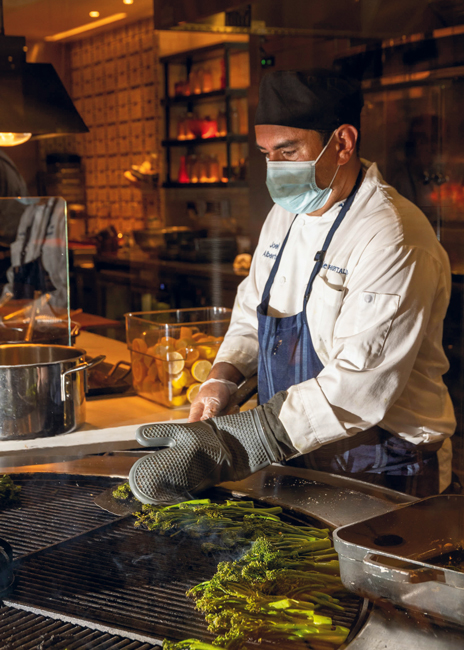 A cook contributes to the culinary action in Commons as he prepares vegetables on the rotating circular grill at Rostir.The focus on cross-training and flexibility in staffing, optimization of space usage and energy consumption, and commitment to sustainability helped the project to exceed its financial goals while creating a sense of community and meeting the needs of its users.
The project creates a sense of community through its programming and foodservice operations, resulting in a fully active center from early morning to late evening. The foodservice program meets the needs of each daypart, which has helped to increase traffic and daily usage.
The project has exceeded previous levels of daily participation by 200% (more than 5,000 daily transactions) and financial goals by more than 300%, indicating strong performance in revenue generation. The building staff is cross-trained in all areas, and they move from location to location based on demand, creating maximum flexibility and operational efficiencies. During downtime, the support staff is redeployed to clean and maintain the building when not needed in their assigned operation, further optimizing labor use.
The success has improved throughput within the building across all operations and has been able to sustain the high level of demand, indicating strong operational sustainability. The project demonstrates a commitment to sustainability by optimizing labor use, reducing waste and minimizing energy consumption.