You'll forgive Marcus Calverley if he's a bit impatient, but he's learned the hard way that life can be unpredictable and that second chances are to be seized and fully savored.
Marcus Calverley at Bandit Tacos & Coffee in Madison, Wis. Photos by Grant KesslerThe unpredictable part? Cancer, which hit him hard in the form of Hodgkin's lymphoma in 2014 at the age of 28, and even harder when it returned a year and a half after initial treatments failed. This time, it had progressed to stage 4 cancer, requiring months in the hospital and, in 2017, a grueling stem cell transplant. The second chances part? Everything, really, because the treatment worked.
In full remission for the past five years, Calverley has his life, his family and, for the past six years, a career in foodservice equipment and supplies in which he quickly emerged as a highly valued contributor to both his company's and customers' success. Driven as much by genuine appreciation for getting those second chances as by a love for what he does and the people he does it for, Calverley has wasted no time carving out a bright future for himself. Starting at Southfield, Mich.-based Great Lakes Hotel Supply Co. in 2016 with both "sales" and "design" in his title — neither of which he'd ever done — he has fashioned a hybrid role in which he has helped to define and expand design services at the three divisions of what is now Great Lakes Ventures (Great Lakes Hotel Supply, Great Lakes West and Kessenich's). And while sales and design are still his primary roles, he recently progressed into leadership as well.
Last September, Calverley and his wife, Emma, relocated to Madison, Wis., home to Kessenich's, a dealership Great Lakes acquired in 2017. Wisconsin was in his territory while based in Michigan, and Kessenich's was slated for growth, in part due to adding design services. Calverley, who'd made it clear to the leadership at Great Lakes that he wanted to grow with the company, seized the opportunity to help steer that effort. He has since led Kessenich's design initiative and has focused on business development while also establishing a personal book of business that's on track to exceed $3 million this year. This February, five months after relocating to Madison, he added vice president to his title.
The Path to Perspective
Minus the cancer, Calverley's path to success as a DSR feels familiar, being lined, like so many are, with what he assumed would be temporary stints in foodservice. His first stop on that path: a high school job washing dishes at an IHOP in his hometown of East Lansing, Mich. A lifelong Michigan State University fan, he'd later attend college there, earning a walk-on position on the football team and majoring in political science. Working on a few political campaigns but always picking up restaurant and bar gigs for income, Calverley eventually followed his older brother to Chicago, taking summer bartending internships. When his interest in a career in politics faded after spending months working on the losing side of a gubernatorial campaign, he returned to Chicago and to foodservice full time, tending bar in gastropubs and moving into management.
"Foodservice was always a constant. It's where my income was, but as I got more experience and my understanding of the business grew, I fell in love with it," Calverley says. "I spent six years in Chicago before deciding it was time to go home."
Landing an assistant general manager position with Equity Vest, an East Lansing-based multiconcept restaurant group, his knowledge of hospitality and operations continued to grow. He saw opportunities for a future with Equity Vest, but the cancer diagnosis and subsequent rounds of treatments made the operations lifestyle harder to follow. And in the midst of his diagnosis and treatments, he met Emma Fernandez, further changing his life's trajectory.
"After the stem cell transplant, which was absolutely no fun, it occurred to me that I needed to do something different," Calverley says. "I had no idea what it would be, but when you get sick you gain perspective. I was no longer willing to sacrifice my time. I'd been around the industry enough to see what the hours and lifestyle could do to relationships and wasn't willing to take that risk."
His quest for something different would soon take Calverley into the equipment and supplies arena, where he's found a happy home and where his operator experience shapes his approach to sales and design and fuels his passion for helping customers, in whose shoes he has walked.
Marc Israel, president of Great Lakes Ventures, first met Calverley through family friends. "Marcus was dating their daughter, Emma, who is a friend of my daughter's. He was going through treatment at the time," Israel says. "I met him again a year later at the annual Christmas party that we host in our culinary center, and we talked a bit more. He wasn't really looking for a job, but he asked a lot of questions about the various pieces of equipment and about our business. I learned he was a manager for some operations in East Lansing and that he had played football at Michigan State. He was such an impressive young man that I asked him to come see me in a week to talk. He did and at the end of that conversation, I offered him a position. I just knew he had the core values and the intangibles that we look for."
Selling the Value of Good Design
Initially assigned to help build Great Lakes Hotel Supply's design department — then a team of one led by Joel Schultz — Calverley spent his first four years with the company largely focused on design. In the three weeks between job offer and starting day, he trained himself at home on the basics of computer-aided design programs and building information modeling software. Working closely with Schultz and leaning on his operations experience, Calverley quickly developed his skills and, in Schultz's and Calverley's hands, Great Lakes made design a signature offering.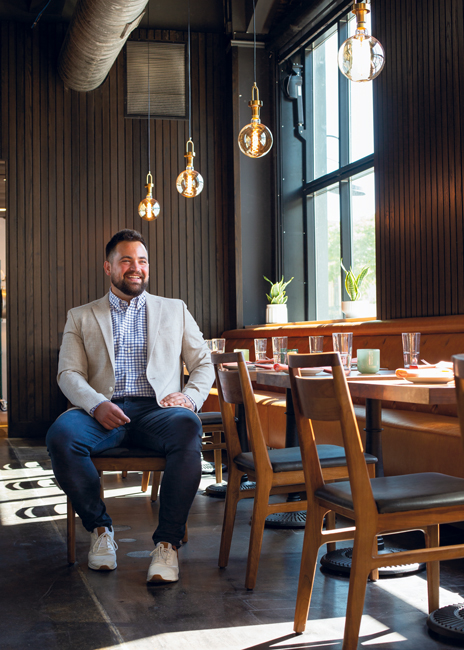 The renovation and kitchen expansion at Merchant restaurant in Madison, Wis., tapped many of Marcus Calverley's talents, from design to problem-solving supply chain to working through install issues."We were just two guys building this thing on the fly," Calverley notes. "But we now have 10 designers. It's a testament to Marc Israel's vision because we can now assist with projects from start to finish. That's the role Marc saw for me. Depending on what the customer wants or needs, I'm not only the designer working with the chef and the owner, the architect and engineers, I'm also coding and specifying the project and completing the sale through organizing procurement, installation and warranty issues."
Calverley is quick to add that in the process of building and marketing design services, the Great Lakes team has always remained respectful and protective of relationships with consultants. "Consultants are hugely important to us," he says. "But there are a lot of smaller jobs that they either don't have time for or aren't interested in. That's really our niche."
Such respect for project partners extends to manufacturer reps. Mike McCrone, regional vice president at Zink Foodservice, has seen Calverley grow into his roles in both design and sales, having worked with him in Michigan from his early days at Great Lakes Hotel Supply. Indeed, along with intelligence, curiosity and approachability, respect tops the list of attributes McCrone says set Calverley apart. "Marcus is a fast learner," McCrone says. "He listens, asks good questions and remembers everything. But most of all, he has a true understanding of and respect for everyone else's roles and value. You can tell he appreciates the job and the people who help him."
Carl Boutilier, principal at PB&J Commercial Agents in suburban Chicago, agrees. "He really does respect what each person can bring to the party," Boutilier notes. "He's incredibly busy, but somehow he always makes time for you without making you feel like you're imposing on him. That's really great to see in this business."
Calverley's willingness to make time for others isn't just a feel-good asset, Boutilier adds, it makes him a better salesperson. A case in point: Calverley recently made the two-hour drive from Madison to PB&J's test kitchen to spend a couple of hours with Boutilier's team. During the visit, he realized that one of PB&J's lines would be a better, more cost-effective solution than the 100-gallon kettles that were already slated to go into the new kitchen of a large nonprofit company.
"After visiting with Carl, I had to be honest with the client and go back and say, 'I think we're not serving you well with this design. Can we change course, bring in some specialists in this cook-chill system and let them present what it can do for you?' " Calverley says. "Ultimately, we redesigned the kitchen with cook-chill equipment. It's going to not only allow them to scale to the level that they want, but it's also giving them better HACCP capabilities and food-cost control while making life easier for their employees. It's a huge investment, but the return was a no-brainer. Just taking the time and having those conversations with Carl led to a much happier client and, for us, a much larger profit on the project."
As the design department's capabilities grew, eventually going to market as Great Lakes Culinary Design, Calverley also grew increasingly comfortable and confident in his ability to make such differences for customers. And he quickly came to understand the importance of his hybrid role, not just as a designer in those early years but also as a salesperson, essentially selling the value of good design. Having spent 12 years on the operations side, he'd experienced firsthand the consequences of being left unaware of options and the impact that poor design has on productivity, employee satisfaction and profitability. And like every operator, he'd experienced the revolving door of salespeople coming through simply trying to sell something.
"I know I was taken advantage of multiple times and sold stuff I didn't need, that didn't help my business or my staff," Calverley says. "As I began to grow on the sales side, I vowed to never do that. What I love about my job now is that I can just be myself. I don't work on commission and don't feel the need to perform as a 'salesperson.' If all a client wants is for me to be that and fill an order, I will for sure take care of them. But what's really fun and fulfilling is being a project partner, solving problems and building relationships."
For multiconcept operator Rule No. One Hospitality Group (RNO), Calverley plays all of those roles and more. The company owns and operates two Madison restaurants: Lucille, a woodfired pizza and craft cocktail place, and Merchant, an industrial-chic cafe that recently completed a $1 million-plus renovation and kitchen expansion. Late this summer, RNO was also set to open Amara, a contemporary coastal Italian restaurant.
A long-time Kessenich's customer, the company began working with Calverley via Great Lakes Culinary Design before he'd made the move to Kessenich's. They'd hit snags during the Merchant remodel and needed additional design expertise.
"We had redesigned the kitchen with an executive chef who took a different opportunity halfway through the project," recalls Joshua Berkson, RNO president. "Once we hired a new chef, we got new eyes on the project and saw that the kitchen was really just designed for the chef who'd left and not for optimum operations. With Marcus, we went back to the drawing board. Equipment had been ordered and deposits put down, but he was able to get us to a new point, even with supply chain issues, where we kept our same orders intact. He found ways to make things fit."
Another hurdle during the remodel: RNO faced a six- to eight-week delay due to additional permits that would have been required for the number of drain holes planned. "Marcus found creative ways for us to get around it," Berkson says. "He redesigned our dish pit, redid all of the water lines and found solutions so that we didn't have to put new drains in. Generally, those things would fall to the plumbing engineer or architect, but he was able to help faster and more efficiently than any of them because he knew how everything we wanted in the kitchen functions. He also understood operations and cleaning protocols, which architects and engineers usually don't. Every time we've asked for something that's probably on the fringe of what his job is, he steps up and goes the extra mile, communicating with everyone on the project team," Berkson adds. "We've never once felt like his goals don't align with ours."
Calverley has gone the extra mile at Lucille as well. A prime example: Last year, on Dec. 30, with a multi-thousand-dollar ticketed event booked, both of the restaurant's fryers went down. Calverley fielded a desperate call from Tim Williams, RNO's executive finance director, hoping for emergency replacements, but he couldn't deliver: Kessenich's didn't have compatible fryers in stock. Williams hung up to start calling other vendors.
"Five minutes later, Marcus texts me to tell me that he'd called a competitor and they had what we needed," Williams says. "He apologized for not being able to help us out and make the sale but assured us that they could. That speaks volumes about the mindset that he has as a salesperson, and it's why we go to him for everything. We don't even see Marcus as a salesperson. He's a problem solver, and he just happens to sell us things that fix those problems."
No matter what role he's playing for customers, Calverley takes a visual, design-forward approach. Even in cases of straightforward equipment sales, he spends time creating a design to go over with the client. He believes it shows competency and professionalism, and it's his way of guarding against surprises and unforeseen costs to clients later on.
"Someone might ask us to ship a three-compartment sink and a dishwasher, for example," Calverley says. "They have an idea of where they want them to go, but without a visual representation drawing attention to the fact that they'd need a floor drain here or a faucet there, they could face headaches and a lot of extra expense once that equipment is delivered," Calverley says. "Now, you're part of the problem and not the solution that you want to be for them."
Marcus Calverley reviews a design with Kessenich's teammates BIM technician Franklin Gómez and president Adam Israel.
Customer Needs First, Sales Second
In his current role as sales and design lead at Kessenich's, Calverley works closely with division president Adam Israel on business development, company culture and positioning Kessenich's for growth. The makeup of his own client base — roughly 50 active accounts as of this summer — ranges from the smallest of startups to buzzy local multiconcept operators, brewpubs, schools, nonprofits and corporate dining accounts. It's the independent restaurant and bar accounts, however, that make up the majority, and Calverley loves nothing more than working to help them succeed.
Shelby Olstad and Therese Merkel, 25-year-old friends who left their corporate jobs during the pandemic to pursue their dreams in the food business, are among them. Initially working from shared kitchen facilities, Olstad operates Miggy's Bakes, a specialty bakery, while Merkel is building her business, Tricky Foods, on charcuterie. Calverley discovered Miggy's on Instagram and reached out to congratulate Olstad on the growth of her business. That outreach led to a phone call a week later from Olstad. She'd won a contract to supply baked goods at University of Wisconsin-Madison athletic events and was preparing to lease her own storefront but had little knowledge of how to get set up. During that conversation, Calverley suggested establishing a timeline and assembling a project team, recommending contractors and architects that Kessenich's has worked with and trusts. There was no talk of sales, no mention of quotes — just advice shared and support offered.
A week later, Merkel called. At the same stage as Olstad in her business' development, she reached out to Calverley for advice and both women ultimately requested quotes on the equipment packages they'd need to get launched.
Instagram, in fact, is among Calverley's favorite ways to unearth potential new clients. "It's a great way to connect with chefs and operators and stay up to date on what's happening in the marketplace," he says. "You don't want to be the weirdo who's like, 'Oh, I saw your stuff online,' but social media is how many younger chefs and operators communicate now. It opens the door to reach out and offer support. It doesn't have to lead to a design project or a sale for it to be worthwhile. Of course, the end game is to sell; that's what I'm here for," he acknowledges. "But nobody wants to be sold to. They can buy their stuff online or from a million other places, so why buy from me? Because I make it a point to listen, understand, take time and basically give a damn about their business and the risks I know they're taking."
Gilbert Altschul, owner of long-time Madison favorites Grampa's Pizzeria and Gib's Bar, this spring opened his third concept, Bandit Tacos & Coffee, and attests to Calverley's dedication and design chops. Altschul had started development on Bandit a couple of years ago, before Calverley moved to Madison. Knowing the location would be challenging to convert, he brought potential project partners in early for input.
Housed in an old train depot that had been renovated into a mixed retail space, Bandit occupies a former coffee shop that had no foodservice infrastructure. "I needed to build a ventilated prep kitchen in a not-straightforward basement in order to take it from coffee shop to restaurant," Altschul recalls. "Most of the local restaurant supply groups didn't seem interested in finding solutions, only pointing out why things couldn't be done. But Kessenich's elevated my case to their Great Lakes Culinary Design team, and I was introduced to Marcus. He had some history of working with unique spaces. He was creative, optimistic and determined to find solutions where others dismissed my needs."
Such dedication to taking care of customers comes naturally to Calverley, in part because he wishes salespeople would have done the same for him during his years as an operator. And he's always looking to save clients money. "He's not just some guy selling stuff. He's incredibly personable, he knows what they need and what needs to get taken care of," notes Kessenich's president Adam Israel. "Whether it's in our best interest or not, his mindset is to always go with what's best for the customer and figure the rest out later. That's what drives him, and his customers know it. It's why he's so successful."
Calverley Close-Up
Housed in an old train depot that was renovated into a mixed retail space, Marcus Calverley transformed the equipment infrastructure so this space can now operate as a restaurant.
Age: 36
Projected 2022 sales: $3 million
Best career advice received: "Be comfortable in your own skin and resist the urge to play the role of salesperson. Most customers don't want to be sold to, they want a resource and a partner they can trust to fight for their interests and treat their dollars like their own."
Worst career advice received: "Assume most clients are ignorant to the risk they are taking by chasing success in this business. I promised myself I would default to the exact opposite. I'd be empathetic, supportive and respect the risk they're taking to chase a dream."
One lesson learned the hard way: "Good intentions are no replacement for full transparency. A difficult conversation is often going to happen one way or another, so the best way forward is to have it early and often."
Best book read recently: "Essentialism: The Disciplined Pursuit of Less"
Favorite podcast: "Gastropod. It examines food through the lens of science and history."
Favorite cuisine: "I'm a vegetarian, so it's a tie between Indian and Ethiopian."
Personal heroes: "Fellow cancer survivors and current cancer patients. I find strength and clarity in sharing their experiences and try to be a resource for them."
Family: Wife, Emma, and 5-month-old daughter, Susan "Suzy" Elizabeth Calverley. "She's named after my mom, who passed away from cancer in 2005."