With consumers remaining hungry for frozen desserts, a growing number of foodservice operators continue to add these sweet treats to their repertoire. And like other segments of the foodservice industry, restaurants offering ice cream and frozen yogurt continue to use locally sourced and sustainably produced ingredients to appeal to customers' complex palates.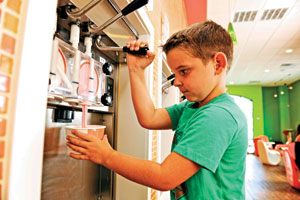 Orange Leafe Frozen YogurtIn an industry that has seen tough times, the frozen dessert segment has remained steady, although the market is somewhat stagnant, showing little, if any, growth.
Among Chicago-based research firm Technomic's Top 500 restaurant chains, frozen dessert segment sales are essentially flat, down 0.1 percent in 2011, and units are down 1.3 percent. On a brighter note, among all the Top 500 LSRs, sales are up 3.7 percent, and units increased 0.8 percent. Within the total industry, which includes other chain restaurants with more varied menus, frozen dessert sales are up 0.5 percent, although units are down by 2.7 percent.
Dairy Queen, which makes up 40.5 percent of the frozen dessert segment, reported essentially flat sales that increased just 0.2 percent in 2011. Baskin- Robbins' sales were down more than 10 percent, and Cold Stone Creamery sales decreased more than 5 percent.
Unlike ice cream, frozen yogurt has experienced a resurgence. "We are seeing frozen yogurt sales growth of about 11 percent," says Bonnie Riggs, restaurant industry analyst with NPD Group, based in Schaumburg, Ill. "Consumers of these products perceive it to be a healthier alternative. Plus, increased availability has been a big driver."
Quick-service chains like McDonald's, which added smoothies to its menu, have helped to propel the popularity of potentially healthier desserts. "The top-growing product for the year has been [traditional] yogurt, which is touted as the food of the decade," Riggs says. "This has had a halo effect with frozen yogurt, and that's why we're seeing a reappearance of these products."
Oddly enough, healthy food did not come into play as part of an NPD Group study on what consumers look for in restaurant menus. "They were not looking for food low in fat, calories or sodium," Riggs says. "People want fresh ingredients, quality food and good portions. This is what frozen yogurt offers, and people will pay more for it."
While supermarkets and convenience stores make ice cream readily available to consumers, soft-serve frozen yogurt tends to be available only at foodservice outlets. "The problem with this segment is that it is very regional," Riggs says. "Operators need to do their homework in terms of where these concepts should be located and how to expand."
While people in the South and Midwest are more apt to eat ice cream, frozen yogurt is more popular on the West Coast, according to NPD Group. "Frozen yogurt has the most appeal to women in the 18-to-34 age range," Riggs says. "It's a newer concept that doesn't yet have the widespread appeal of ice cream. Although it has expanded to the East Coast, most of the growth has taken place in the West."
Key Equipment
Blast freezers
Ice cream machines
Walk-ins
Refrigerators
Freezers
Prep tables
Sinks
Blenders
E&S Considerations
Size: Space is tight in ice cream and yogurt shop kitchens, so footprint is a key factor when choosing equipment
Flexibility: Menus, concepts and volume are constantly evolving in these operations, so equipment that can be easily moved and can adapt to changing needs is preferred.
Ease of use: The frozen dessert segment is labor intensive, so operators seek equipment that simplifies production and offers ease of use.
Case Study: Bi-Rite Creamery and Bakeshop, San Francisco
Case Study: Sweet Republic, Scottsdale, Ariz.