The campus of the College of William & Mary (W&M) in Williamsburg, Va., is big on historic charm. Chartered in 1693 by King William III and Queen Mary II of England, it's the second oldest college in America, it touts the oldest college building in the United States, and its Colonial Campus section has been restored to its eighteenth century appearance. But it's also a modern, progressive campus in every sense, including its dining program, which stands out in part for its firm commitment to serving students with food allergies and other special dietary needs.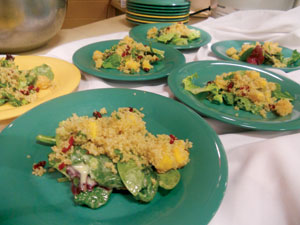 Outside of the Box menu items, such as this quinoa and baby spinach salad, are free of gluten, lactose and other allergens that the school estimates some 15 percent of its student population either must or chooses to avoid. Specialty items are produced in one central location, packaged and distributed to units throughout campus for finishing on-site.Last fall, ARAMARK at W&M took that commitment even further with the debut of a new program called Outside of the Box to better serve students, particularly those who are gluten- and lactose-intolerant. Overseen by Chef Arnie Preib, who serves as the school's dedicated special diet & allergen chef, and Executive Chef Denis Callinan, the program offers special allergen-free menu items and a dedicated Outside of the Box station in the two residential restaurants and food court.
"The College of William & Mary has a large population of students that have some kind of special dietary need or allergy, including vegan, vegetarian and gluten-free diets. We estimate approximately 15 percent of our student population has a special dietary need, thus making our allergy-free resources and program and general awareness a necessity," says Larry Smith, director of operations. "We utilize a number of tools to spread awareness about what food items are vegan, vegetarian, nut-free and so forth. We've seen the highest demand for gluten-free and vegan/vegetarian items in the past few years and that has really aided in directing our program to new innovations, including Outside of the Box, bringing Arnie on as dedicated special diets chef, designating vegan/vegetarian stations, increasing signage and supporting additional creativity in our menus. We're very pleased with how these initiatives have been received from the campus community and have served more than 2,000 meals from the Outside of the Box station alone since it was added last fall."
Smith adds that the program has not only received rave reviews from W&M students, but ARAMARK's other businesses are taking note of the dedicated station as a best practice for its core menu of allergen-free items. Sample gluten-free entrées include mixed vegetable curry with mung bean sprouts (also vegan), hearty beef stew over egg noodles (also lactose-free) and spaghetti and meatballs (also lactose-free).
Having a senior-level chef dedicated to the needs of special-diets students helps set the program apart and is one way W&M has been able to overcome some of the challenges inherent in catering to special diets. His role isn't limited to recipe and menu development and execution. He also serves as the college's point person and expert for consulting with customers who have special dietary needs. He and other senior members of the dining services management team work one-on-one with students and parents to ensure any needs are addressed and accommodated.
W&M also places strong focus on staff training to ensure the safety of its students with food allergy issues. Every dining employee and every dining location on campus receives specialized allergen training and is equipped with an allergen management plan. Posters in English and Spanish mounted in every kitchen area constantly remind employees, managers and vendors to be aware of food allergens and to avoid cross-contamination during production and cooking.
To that end, the college has also implemented a separate production process for Outside of the Box entrees. "We purchased a Cryovac machine through a green fees grant from the college," Smith explains. "It has allowed us to streamline the process, making it easy for Chef Arnie to prepare the specialty entrees at one centralized location and distribute them across campus so that unit chefs can simply prepare them to order on request. He really spearheaded this initiative and manages the logistics for distribution and par levels at each unit."
So far, Smith says the Outside of the Box program has run virtually seamlessly. "Managing the par levels at each unit could have been a slight challenge, since all products are housed and Cryovaced centrally and distributed to our other units. But Arnie has done a great job of communicating with the units on trends, product usage and unit needs to establish set par levels, and we've not found it to be an issue."
He adds that beyond the Outside of the Box program the school uses a number of other tools to highlight "allergy-friendly" items. These include color-coding at all stations to indicate what special dietary need is being met, publishing a special dietary brochure that outlines all resources available to students, and making the management team readily available to students to discuss any dietary needs or concerns. "We also hold chef demos, food forums and have ARAMARK Regional Nutritionist Sherie Sheran visit our campus several times per semester to hold workshops and facilitate other programs that inform students of what's available," Smith says.
Before the students return to campus this fall, the Outside of the Box menu and menus throughout campus will be refreshed to include new 100 percent gluten-free entrees as well as a mixture of vegan, vegetarian and lactose-free items.
Campus Dining Snapshot
College of William & Mary, Williamsburg, Va.
No. Students: 6,100 undergraduate, 2,100 graduate
Operation: ARAMARK
Profile: 2 residential dining halls, retail food court, 4 coffee houses, 3 c-stores, lunch café
Staffing: 300 department employees, including senior managers, 7 chefs, 5 foodservice directors, marketing department
Average meals served per day: 5,000
Key Players
Mathew Moss, resident district manager
Larry Smith, director of operations
Denis Callinan, executive chef
Arnie Preib, special diet and allergy chef
Sherie Sheran, regional nutrition and wellness coordinator
Jose Villa, catering manager
Faren Alston, marketing manager