A responsive, efficient room service program is bringing compliments from patients, staff and visitors and changing their perception of what patient foodservice can offer.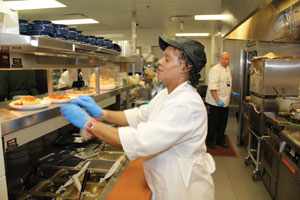 At the hot food wells, Brenda Dendy plates food and positions it under heat lamps where it stays for a very short time before going onto the tray and into the cart. Steve Savage, executive chef, supervises production. "Equipment is set up like it would be in a restaurant, which shows that this is not your typical healthcare institutional system," says Lori Kent, RD, director of food and nutrition. Images by Dan Branyon, director of public relations at Self Regional HealthcareStaff members in the food and nutrition department at Self Regional Healthcare in Greenwood, S.C., were exasperated. They had tried everything they could to improve scores on the Press Ganey surveys that measured patient satisfaction at the hospital — but their efforts weren't enough.
"The patient meal system had always been the traditional trayline with a select menu, using the spoken menu system to take patient menu selections via a hostess program," says Lori Kent, RD, director of food and nutrition. "We made improvements in choices and quality of food, including bringing in branded coffee, and the operation did fairly well in the Press Ganey surveys. However, though scores occasionally reached the 90th percentile, we couldn't sustain the goal from month to month, and scores hovered around the 80th to 85th percentile. But the patient satisfaction goal for all departments providing services to patients was consistently in the 90th percentile."
Though some patients shared positive compliments, others complained of bad coffee, lack of choices, too much food served and too little food served. The food and nutrition department also dealt with problematic challenges such as second trays, delayed trays, noncompliant menu selections and excessive menu write-ins.
Kent and her team believed that room service might help improve patient satisfaction, so they called on room service consultants from DM&A Webb to help explore a potential move to room service. DM&A's team of room service specialists conducted a needs assessment, determined the estimated return on investment and recommended planning, implementation and training strategies. After collecting and analyzing the data, it was clear to Kent that room service was indeed the way to go. So Kent, her team and the consultants presented their findings and recommendations to the hospital's top administrators, who gave the project an immediate green light.
The room service project encompassed several areas: equipment design and specifications, software selection, menu design, diet compliances, staffing, reorganization, phone systems and an extensive 63-day room service training program by DM&A Webb's room service coaches. In addition, Self Regional implemented an overall department-wide performance improvement process to help the whole team get ready for the room service changes.
"Self Regional had a highly enthusiastic and engaged management team," says chef Ron Sabatini, DM&A room service coach. "They listened to us — their coaches — very well and followed the game plan and therefore avoided all the mistakes and pitfalls that other room service startups can experience when that doesn't happen."
Room service planning began in June 2011 and the system debuted in November 2011. In October 2011, the hospital stopped using Press Ganey because of the national adoption of Hospital Consumer Assessment of Healthcare Providers and Systems (HCAHPS), a government survey that measures patient satisfaction at hospitals. Though food per se is not on the HCAHPS surveys, patient foodservice experience does affect the overall satisfaction score. The food and nutrition staff collects data by asking patients, staff and visitors to rate service on a scale of one to five. "The response has been overwhelmingly positive, and we are getting mostly fives," Kent says of the transition to room service. "People stop us in the halls and tell us how much they like the food, the service, the presentation, flexibility, more options for patients on restricted diets, and the professional look of the hostesses in their uniforms. We also have a whiteboard in our kitchen, and team members write patient feedback on that. We couldn't be more pleased."
When patients want a meal, they pick up a phone in their rooms and dial the room service call center. A call center associate answers questions, takes the order and types it into a computer software program. The order proceeds to the room service line in the kitchen where three tickets print out at the following stations: starter, cold food or deli, and hot food.
The actual tray makeup begins at the room service starter station where staff place serviceware and condiments onto each tray. Staff then slide the trays to the cold station where facilitators add their items. The trays then move to the expediter who takes food from the hot food station that has been placed on heated plates and covers each plate with an insulated dome. The expediter then places plates of hot food on each tray with the other cold and ambient items already there. The expediter also checks the trays for quality and accuracy.
Staff place complete trays onto a cart, which can carry up to eight patient meals at one time. "As soon as the first tray goes into the cart, a timer begins," says Steve Savage, Self Regional's executive chef. "A buzzer goes off after 10 minutes, and a hostess takes the cart up to the floors with one or more trays."
Once on the floor, the hostess delivers the meals to patients. Hostesses and dishroom associates conduct floor sweeps about every hour in order to collect used trays. Hospital staff place used trays in carts parked in a kitchen area on each floor. (These carts were used in the past to deliver meals prepared using the more traditional trayline service previously in use at the facility.) When carts are full or close to full, staff take these carts down to the cart-washing area in the kitchen. "Dirty plates are never placed in the same carts as freshly prepared food," Kent says.
A key feature in the software allows staff to track trays' progress during production and delivery. "Because we have a 45-minute window from order to patient delivery, we must know if there are problems so we can correct them quickly," Savage says.
The expeditor clicks on a green tray icon (which shows the ticket number, room number and nursing unit) to indicate which room service cart the tray has been placed in. The click on the green tray icon turns the icon pink. Once the cart is full or the timer goes off (whichever comes first), the cart is assigned to a hostess for delivery.
Before the hostess leaves the kitchen with the cart, she stops at the second touch-screen monitor and clicks on the pink tray icon to indicate the trays in the cart are in route to the unit. The pink tray icon then turns blue.
As the trays are promoted through the process, the system times their passage by way of squares on the tray icon in the upper and lower right corners of the screen. The upper right corner tracks how much time has passed since the order printed (and turns yellow after 15 minutes, and then red after 20 minutes). The timing stops once the tray is placed in the cart. The lower right corner tracks the entire process until the tray is delivered.
When the hostess delivers the tray to the patient, she registers the delivery of the meal on a handheld device, which ends the timing process. "If there are any problems or the patient says the food did not arrive within the 45 minutes we promise, we can track to see what happened," Kent says.
Though room service tray assembly begins the moment a patient places an order, only some of the actual food production takes place in a la minute style like in a restaurant kitchen.
In the kitchen, food deliveries arrive at a loading dock. Staff distribute products into a walk-in freezer, a walk-in meat and dairy cooler, a walk-in produce cooler, and dry storage.
Room service preparation begins in the ingredient control room — equipped with sinks, tables, a slicer and scale — where staff cut vegetables and slice meats. If these products need further processing, staff take them to a hot prep area equipped with combi ovens, a charbroiler and kettles. Once staff members cook the food they take it to a blast chiller for rapid cooling for up to four hours until it reaches the proper temperature. After food is chilled properly, staff take it out, cover it, label it and place it in the walk-in refrigerator.
The next day, staff working in the ingredient control room take food out of the walk-in refrigerator. They prepare it for the room service line, which may mean slicing and portioning meat so it is in proper size for the room service line. Staff also place portions of menu items such as mac and cheese into casserole dishes, while other menu items might be placed into small bags. Staff then store these items at the room service line in refrigerated drawers or cold rails, depending on the item and its role in the menu. "The only items that do not need portioning are cornbread dressing, rice, gravy and sauces for dishes such as steak Diane," Savage says. "This system significantly decreases the time needed to plate up orders."
At the room service line, the hot station's equipment includes two convection-microwave ovens to quickly bake french fries, golden-crusted chicken, cornmeal-crusted catfish, pizza and chicken fingers. A flattop griddle with four zones allows staff to cook eggs on one side and hamburgers, chicken breasts, and dishes such as steak Diane in the other zones. A charbroiler is currently inactive.
A wall separates the room service area from the retail and catering hot prep area, which includes combis (used also by room service and bakery), a charbroiler to mark chicken breasts (used also by room service), convection ovens, two tilt skillets, a steamer, four fryers, a double-stacked convection oven and a six-burner stove.
Room service production for the culinary staff begins at 5 a.m., though patients begin ordering at 7 a.m. The operation continues until 7 p.m. Two room service cooks man the line at all times. At lunch the crew overlaps, so four work at the station together. Some recipes were reformulated to fit the room service format, and some were added by DM&A Webb.
Implementing room service required extensive training because many of the staff members were long-time employees. While well versed in the previous system, many employees had to be trained in new jobs that they hadn't done prior to the implementation of room service. "One DM&A chef stayed here for a week to train employees," Kent says. "Over time, skills improved, and those who hadn't cooked before received more training," Savage adds.
Kent estimates that her department saves money with the room service system. For example, her fiscal year 2012 budget is lower than before thanks to $200,000 reductions in food and paper as a result of decreasing floor stock, delay trays, second trays, leftovers, 10 a.m.-2 p.m.-8 p.m. nourishments, and washing of wares and pots and pans. Because the program reduces waste by using less food and supplies, room service is by definition more "green" than using the old traditional trayline model.
Another benefit of migrating to room service is happier employees. "Some have matured and are more responsible. They found their niche," Kent says.
From Savage's point of view, satisfaction has improved among staff, as well as patients, due to better food quality and presentation, as well as more choices from a restaurant-style menu.