Operating from an 80-year-old, 48,000-square-foot central commissary was not only becoming inefficient and expensive, but it also posed a significant challenge for the foodservice staff at the Granite School District in Salt Lake City.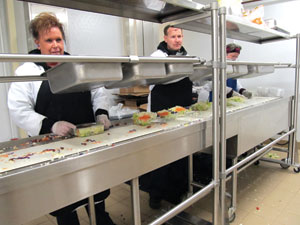 In the cold-production area, staff prep salads, slice meats and build sandwiches before transporting these items to the various schools in the Granite district.The ancient equipment was difficult to manage. Pre-existing steam kettles required an extensive amount of labor to operate. Food was being shipped to schools in airtight containers, so temperatures, though safe, were not ideal for maintaining quality and taste.
With 16 delivery routes running twice daily to 93 schools, the logistics were tangled. Production cross traffic was coming in from two warehouses, which impacted the flow of food. Delivery trucks were forced to load and unload at different docks, further complicating food transfer.
"We needed to increase our capacity, create a safe, climate-controlled environment and basically improve the quality of our production," says Rich Prall, general manager for Sodexo, the company that manages the district's student nutrition program.
To address these issues, the Granite School district opened an 84,000-square-foot central commissary to better serve the district's more than 68,000 students on July 1, 2011. The warehouse, production floor and docks were designed from the ground up, with efficiency as the goal.
Not only has speed of production significantly increased, but state-of-the-art food safety monitoring and recording has been incorporated. Food is now shipped in hot and cold boxes, which better maintain ideal temperatures for optimum quality.
Sitting on five acres, the new facility also offers better security. Trucks enter and leave through controlled access gates. Thanks to 16 doors and docks, the facility features more streamlined shipping and returns.
The commissary produces a total of 600 meals a day. Elementary school students choose from seven lunch entrées, while junior high and high schools offer 18 selections, including a salad or sandwich of the day. A majority of the district's schools serve breakfast and lunch.
"In our five-week menu cycle, we have a total of 70 choices for our students," Prall says. "These range from ethnic dishes to comfort foods and traditional menus."
In choosing equipment for the commissary, the most important aspect was the adaptability within the existing schools. "We needed to make sure our hot and cold boxes would work within the schools when food was sent out," Prall says. "Maintaining good quality and safety standards during the transport phase was a big consideration."
Automation within the commissary also was an important factor. The old equipment required a substantial amount of lifting and bending to use. Now, staff use a hoist to feed the 220-gallon kettles.
Because only high school sites include production kitchens, most food items for the elementary and junior high schools have to be shipped hot or cold and finished on site. "We decided to install modified cook-chill systems since not all items are shipped cold, like in a traditional cook-chill commissary," Prall says.
When food arrives, staff take it either to the dry storage area or the walk-in freezer, which accommodates pallets stacked six deep and four high. Next they move the food items to the production area in the center of the building and place them in thaw, ingredient or holding cooler rooms.
Staff prep salads, slice meats and build sandwiches in the cold-production area. "We go through a lot of sliced meat, such as turkey, ham and roast beef, that needs to be sliced, portioned and sealed in vacuum bags," Prall says. The facility also features a special-diets kitchen for preparing meals free of gluten, peanuts and other allergens.
In the hot-meal production area, staff use two 220-gallon kettles and four 80-gallon kettles to heat food and then pump it into a reduced-oxygen packaging system. Staff then send out, chill or freeze items, depending on the product. Two time- and temperature-controlled pressure cookers rethermalize food, accommodating as much as 600 pounds of roast turkey at a time. Four combi ovens heat vegetables and bake entrées.
The commissary's full-production bakery produces yeast products, cookies, cakes and muffins. It includes a proofing area, four revent double-stack baking ovens and two 60-quart mixers for producing cakes and cookies. A spiral mixer with bowl lift can prepare more than 200 pounds of dough at a time.
Two full-sized blast chillers handle six upright carts simultaneously for chilling and blast freezing packaged product. Foodservice staff monitor this process electronically, and the system records time and temperatures.
Staff clean the racks in an area that includes two flight-type machines, a pulper and two power wash sinks. "Between our two shifts, we have about 100 staff members in the commissary," Prall says.
The new facility makes it easier for the school district to adhere to the evolving USDA National School Lunch Program guidelines. School districts that take part in the lunch program get cash subsidies and food from the USDA, but they must also serve lunches that meet the federal requirements for free or reduced-price lunches served to eligible children. Regulations also establish a standard for school lunches to provide one third of the recommended dietary allowances of protein, vitamin A, vitamin C, iron, calcium and calories.
"We're actually ahead of the curve with the new regulations," Prall says.
The new commissary was also built with future needs in mind. "We left space for more equipment in the future, and the major storage areas can be enlarged," Prall says. "We also built the commissary so it can operate 24/7 and 365 days a year, if needed. The ability to change and having a facility that adapts as the market changes is important."
K-12 Foodservice Goes Back to School
Case Study: Granite School District, Salt Lake City
Q&A: Dennis Gomez, district manager, and Tom Hoagland, general manager, operations, Rhode Island School District