When Phil Burke and his wife Debbie opened the first Scrambler Marie's Breakfast Bistro 22 years ago in Toledo, Ohio, the plan was to create a family restaurant with limited hours so the owners and staff would not have to sacrifice family time.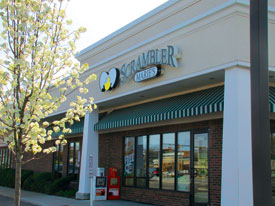 In the past five years Scrambler Marie's opened seven new restaurants, and the chain has plans for five more. Finding a space that will generate the right amount of guest traffic is a critical factor in site selection."The restaurant closed at 3 p.m. because Phil wanted his employees to be able to enjoy their families," says Jiovanni Valentino, regional manager. "His children worked in the restaurant, waiting and bussing tables and cooking."
Now a modern chain with more than 20 company-owned and franchised locations, the focus on family continues in its dining rooms and kitchens. Although Phil Burke still cooks at his original restaurant on Sundays, sons Shane and Brandon, who serve as president and vice president respectively, run the business. Their cousin Tim Troutman also helps run the company as a vice president. Tony D'Agostino, franchisee of the five Cleveland locations, is a partner with Burke in the business.
Scrambler Marie's is reaping the rewards of the popular breakfast/lunch segment. In the last five years, the chain opened seven locations, including its first out-of-state unit in Detroit, and is building five more sites.
"We're seeing more of these concepts popping up everywhere," says Valentino, a 13-year veteran of the foodservice industry, who worked his way up from line cook to kitchen manager to general manager in just four months.
Each location employs 20 full-time and 20 part-time employees. "The biggest difference with this type of foodservice concept is the labor," Valentino says. "We don't have to split into a day and night crew, since we only have one shift."
In the last two years, the restaurants have undergone a major overhaul in terms of dining room updates. Handmade woodwork, including trim and screen separators, has replaced fake flowers to accent the space. Big green globe lights were swapped with brighter, more contemporary egg-shaped lighting. Lighter colors, including light yellow, green and orange, were incorporated throughout the front of house.
In creating one of its newest locations, Scrambler Marie's gutted a space previously occupied by a restaurant and reconstructed it from scratch. "We ran all the plumbing and installed new woodwork," Valentino says. "We were two days away from opening, and the walls still weren't painted, the floors weren't completed, and the chairs weren't put together. Miraculously, it all came together on time. Watching the restaurant being built was one of the coolest things I've ever seen."
The family-friendly atmosphere reflected in Scrambler Marie's décor extends to its menu, which pays homage to Burke family members. From Phillip's Golden Waffle to Brandon's Benedicts, its message and mission are clear: This remains a family-run operation that caters to its customers. "We will make whatever a customer asks for," Valentino says. "Our portions are huge, but we also offer smaller versions for seniors and those looking to eat lighter. We can also supersize a meal."
The chain is known for its all-you-can-eat French toast, pancakes and waffles. The menu features 20 omelets, in addition to skillets, burgers, sandwiches and salads. All dishes are made from scratch. According to the menu, "every egg is cracked by hand straight from the shell. All cheeses are shredded in house. All pancake and French toast batter is made from scratch using a secret family recipe."
"We go through 10 cases of 30 dozen eggs a week at minimum," Valentino says.
Kitchens in each location, which are approximately 10 feet wide by 30 feet long, have identical equipment packages. Scrambler Marie's uses five flattop grills, including two for pancakes, two for eggs and one for hash browns and potatoes. The chain's one fryer cooks French fries and chicken tenders, while staff use the oven to cook bacon. Two salamanders melt cheese on omelets. Two coolers hold prepped product on the line, which also includes a prep table. A walk-in cooler and freezer provide cold storage. Seven toasters are constantly in use, as is a 10-gallon coffeemaker on the weekends.
When it comes to equipment, durability supersedes energy efficiency. "We look at how long the unit will last," Valentino says. "We have a dual side line with gas equipment. Typically, only half of our equipment is in use at one time, so we turn on only what we need."
Scrambler Marie's has built some of its locations from the ground up and also has taken over former restaurants. Its newest Cleveland location is at one of the busiest intersections in the state of Ohio. A hospital is across the street, four tower apartment buildings are nearby, shopping malls surround the spot and there are a number of churches in the area. Seniors represent the primary clientele for this 178-seat restaurant, which is open every day from 6:30 a.m. to 3 p.m.
"The biggest challenge in opening this type of concept is making sure the location is right," Valentino says. "It's important to have the traffic. We do a great business from 9 a.m. to 2:30 p.m., but would like to get more people in at 6:30 a.m."
Q&A: George Gebran, owner U.S. Egg Restaurant, Chandler, Ariz.