When Bull City Burger and Brewery opened its doors in March of last year, the goal was not only to serve burgers its customers would come back for, but also to play an integral part in the cycle of energy from the farms it sources.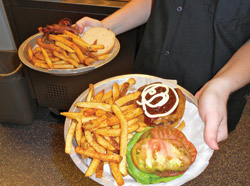 The entire Bull City menu, including the buns, is made from scratch on-site by staffUnlike traditional casual burger joints, Bull City is positioned as part of the farm-to-fork movement. Its pasture-raised beef is sourced from North Carolina farmers that are part of the Farmhand Foods Network.
"Those involved in this new program sign a two-page agreement verifying that animals are raised humanely and fed no hormones or antibiotics," says Bull City's owner Seth Gross. Grain left over from the restaurant's brewing process feeds locally raised pigs that are used to make Bull City's bacon.
Gross, a graduate of the Culinary Institute of America, has more than 25 years of restaurant experience. He also professionally brewed beer for Chicago's Goose Island Brewery.
FE&S: Describe your menu.
SG: Our burgers come with a choice of 26 toppings and sauces. There are more than 67 million combinations. Best sellers include the Over Easy with a farm-fresh egg and house-cured bacon and the Green Monster, which combines roasted poblano chiles, Gruyére cheese and shaved red onions. We also have a daily burger that lets us get creative. Recent favorites have included Bacon Marmalade, Spicy Baba Ghanoush and Butternut Squash. Because we're more of an upscale burger joint and we've all worked in fine dining, we wanted to create burgers that are beyond cheese.
FE&S: What sets your operation apart?
SG: We don't know any other casual restaurants that are doing what we're doing. Our menu uses 100 percent pasture-raised beef. There is enough evidence in our food supply that there's too much hormones and artificial ingredients. We're not trying to reinvent the wheel, but want to do burgers and beer differently. We need to know what is in everything we serve. Most of our condiments, including mayonnaise and mustard, are made from scratch. This transparency extends to our kitchen, which is completely exposed.
FE&S: What is the key equipment in your operation?
SG: We don't have a large freezer or can opener, because everything is prepared from scratch. Our five-burner griddle is the heart and soul of the kitchen. It's the only major cooking equipment used for our burgers, and it works all day. We had a long debate about whether to use a charbroiler or griddle, but realized the griddle was more flexible for our needs. We also use it for cooking off mushrooms and caramelizing onions. The only other equipment we have are fryers and a convection oven. Our kitchen is roughly 450 square feet, and the restaurant is about 3,600 square feet with 120 seats inside and 40 seats outdoors.
FE&S: What do you look for when purchasing equipment?
SG: The equipment needs to be solidly built. We make a point to kick the tires and pull door handles, so to speak. If doors feel flimsy, we know the unit won't hold up in our restaurant. We have no backups, so if the griddle goes down, we are in trouble. It needs to be durable and reliable.
FE&S: Discuss you labor and production requirements.
SG: We run a lean kitchen with only four people on the line. This is the case even on weekends, when we're pumping out 600 to 700 burgers a day. We bake all of our bread for the buns in-house. Our two bakers start production at 7 a.m. every day, and we have two baking shifts on the weekends.
FE&S: Discuss your focus on sustainability.
SG: Our goal is to be environmentally friendly while being fiscally responsible. We go beyond recycling. Every restaurant I ever worked in had a kitchen hood that operated continuously all day. Bull City utilizes a state-of-the-art hood that has smoke and heat sensors that power the fans automatically when needed. All of our furniture is refurbished and recycled. We also have a high-energy-efficient hot water system, low-flush toilets and two Energy Star-rated dishwashers. Solar panels may also be in our future.
FE&S: What are your biggest challenges?
SG: The biggest challenge and goal for us, as well as our key to success, is consistency. When we opened eight months ago, we told the chefs that there will be no changes to the menu or our production for at least six months. We don't want our customers to ever be disappointed with our product. Everything down to the color of our buns needs to stay the same every day, no matter who the baker is. We measure all of our ingredients down to the gram so anyone can make our food and it will be exactly the same.
Grilling Opportunities in the Burger Segment