Although in the convenience store business since the early '60s, family-owned Rutter's Farm Stores started as a retail dairy operation in the 1920s. Now with 56 stores in five south-central Pennsylvania counties, the chain has distinguished its operations with an extensive foodservice offering.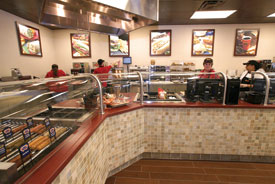 "We got into food early in the '60s since the Pennsylvania c-store business model did not have beer and we needed to look for alternatives to replace margin dollars," says Jerry Weiner, vice president of foodservice.
Weiner came on board in 1997 to help further develop the food side of the new Rutter's prototype store, which was then rolled out in 24 locations and operated until 2007. The company rolled out another new prototype store in 2008. There are now 16 stores fitting this new model.
"Rutter's had a head start in creating the foodservice culture for convenience stores and changing customers' perception of this channel," Weiner says.
FE&S spoke with Weiner about the Rutter's operation and the unique aspects of the growing convenience store foodservice segment.
FE&S: How have you set your foodservice operation apart from your competitors?
JW: What has always been typical in our channel is what everyone sells — cigarettes, snacks and candy. Having a competitive advantage is not necessarily in the offerings, but how these products are priced and presented. It's all about location with c-stores. Offering a variety of prepared foods has given us the opportunity to become a destination and helps set us apart.
FE&S: Has your foodservice operation undergone any major changes in recent years?
JW: From 1997 to 2007, when we started working on our newest prototype, I had put in place four different food concepts. These included bakery, deli, grill and pizza operations. We then consolidated the winners from all four concepts, which were the best-sellers, into one Rutter's brand. To support production, I added ovens for baking fresh bread and fryers to expand our appetizer offerings. We also included an induction wok station, which allowed us to enter the dinner daypart for the first time.
FE&S: How has the c-store foodservice segment evolved in recent years?
JW: We've entered a time where customers want personalization and to create their own food. Our menu is extremely large and includes a lot of items that can be mixed and matched. The benefit of having a system like ours is that customers can customize dishes. I've seen people mix and match items I wouldn't dream of making, such as adding Caesar dressing to a ham and cheese sandwich that already had mayonnaise on it.
FE&S: What are the biggest challenges in c-store foodservice, and how do you overcome them?
JW: We have many of the same challenges as all foodservice operators, including finding qualified, trained employees and delivering a quality product. Our customers are typically looking for a restaurant alternative. They can get a value price at a c-store, and the quality is equal to, or better than, restaurants.
FE&S: Please describe your foodservice offerings.
JW: We offer made-to-order stir-fry plates and 10 dinner entrees. Dishes include grilled chicken alfredo, meatballs and spaghetti, and pot roast with mashed potatoes. I am a big believer in menu development, so we are constantly rolling out new food items. Our full menu is available 24 hours a day. Snacks also are a big growth area for us, as people seek them out for different dayparts. We offer approximately 14 appetizer-type foods, including french fries, onion rings, fried pickles and fried green beans. We recently rolled out chicken wings and sloppy joe sandwiches. We increase frequency of visits because customers can come in the store and always see something new.
FE&S: Describe your production process.
JW: With our small footprint, we have only so much space to allocate for foodservice. As a result, we do all food production out in front of customers. This helps enhance our fresh-food image. There is nothing but storage and sanitation in the back room.
FE&S: What is the key equipment in your operation?
JW: With our oven, grill and fryer, we can offer almost any food item. We do most of our baking and heating in an oven. We just started providing fresh muffins and also offer five types of bread, biscuits and stromboli. Our stir-fry station is really a fancy grill with wok bowls, where we cook up fresh sautéed vegetables. Our menu includes many items people don't see in a typical c-store and even in some restaurants.
FE&S: What equipment innovations have had the biggest impact on c-store foodservice?
JW: Although the oven, by far, is the backbone of our foodservice program, the wok station has allowed us to expand our daypart offerings dramatically. The induction heating is the most remarkable equipment I've ever worked with, and it's extremely safe. But what has offered us speed of service are hot-holding drawers. These units allow us to hold product hot and assemble food to order. It really speeds up the assembly process. For example, we offer a 1/3-pound Angus burger, which takes seven minutes to heat. By storing hot burgers in the hot-holding drawers, we can assemble a burger fresh, made to order in two minutes.
FE&S: What do you look for when purchasing foodservice equipment?
JW: Our equipment has to deliver. There is no item on our menu that cannot be produced in four minutes or less. I've turned down great menu items that can't be delivered in this time period. Speed of service is what we offer and what customers expect. Also, safety and functionality are important aspects of our equipment.
FE&S: What are your plans for the future?
JW: Our long-term goal is to focus on the dinner daypart. We do it well but are not yet where I think it can go. We want our customers to have us on their minds for dinner. Rutter's also will constantly build its snack offerings. In addition, I'm looking for healthier food alternatives — this is definitely where the trends are headed.
---