Future Foodservice Leeader: Michael Berard, Commercial Kitchen Consulting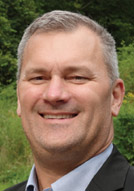 Name:
Michael Berard
Company Name: Commercial Kitchen Consulting, LLC
Title: Managing Member
Age: 53
Years in Foodservice: 27 (started in 1984)
Educational Background: AAS Construction Technology, BS Industrial Technology
Industry Involvement: FCSI and New York School Nutrition Association
What's the best career advice you have been given? Perfection pays off. I learned a long time ago that the devil is in the details, and if you don't pay attention to the details it will come back and haunt you. Hard work pays off. You have to be driven to succeed; followers will continue to follow and remain stuck in a rut, but the leaders take charge and forge a successful career.
What excites you most about the foodservice industry? Foodservice equipment manufacturers are finally getting the "green" concept and starting to develop equipment that brings true cost savings and a return on investment to the end user in the form of reducing electricity and water consumption and generally reducing waste. I get excited about educating end users about the features and benefits of manufacturers with green initiatives vs. manufactures without green initiatives.
If you could improve one thing about the industry, what would it be? Continue to push the manufacturers to think out of the box and be proactive with green initiatives and cost saving ideas for the end user. I would also like to promote FSCI's professional consulting services by educating design professionals through the American Institute of Architects (AIA) Provider program.
What has been your proudest accomplishment? Serving in the USMC/Navy Seabees as a CWO4 for more than 32 years. In the food service industry: being selected for a national design award by Montague.
Describe the biggest challenge you have overcome: In the military it was serving in Iraq for eight months! In foodservice it is starting a consulting company during one of the most difficult financial economies America has seen in decades.
What's the most important lesson you have learned? Continue to challenge yourself and remain positive in the face of adversity.
What attracted you to the industry? I love the foodservice industry. As an architectural draftsman right out of college I had the opportunity to design restaurants and generate MEP rough-in drawings. It was a perfect fit for me. It's such a small industry that I loved the idea of being part of a few select people that knew they could design food facilities
What makes you want to stay in the industry? The challenge to succeed and be an industry leader someday and to get more involved with FCSI. I love the people in the foodservice industry and really can connect with the end user when it comes to developing a design concept to fit their specific needs.