Future Foodservice Leaders: Jameel Burkett, Burkett Restaurant Equipment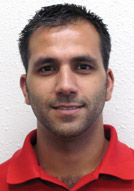 Name:
Jameel Burkett
Company Name: Burkett Restaurant Equipment
Title: President and CEO
Age: 31
Industry Involvement: NAFED, FEDA, Ohio Restaurant Association
Years in Foodservice: Nine
Educational Background: BA in Business Administration, with a major in Information Systems, Minor in Finance and E-Commerce from University of Toledo
What's the best career advice you have been given? My dad and my grandfather have often said "your profitability is in your buying not your selling," and as I have gotten more involved with the business that has come to make more sense. We could either buy from a lot of manufacturers or consolidate our purchases with a few. As MAP pricing became more common in our industry that made so much more sense because the factories see you are being loyal to them and they want to partner with your company even more. The other piece of advice is always listen to other people, no matter what position you work in. Being a company leader does not mean you know everything. It means you are a good listener. When I was a warehouse guy working for my dad I listened a lot and offered a lot of advice about how the company could grow. In my position now, I find myself reaching out to our employees because they are doing the work. Of all the things we have implemented, very few have been my ideas. We have done them because of a suggestion from an employee or a customer or to address a problem we have had.
Describe the biggest challenge you have overcome. In 2008 two top employees left the company in June and then the market crashed in September. As a result, our business declined by 30 percent over the course of six months. So we had two choices: downsize or expand what we were doing. We spent time evaluating our business and the clientele we had and made changes in our company. As a result, we ended 2009 up 30 percent.
What's the most important lesson you have learned? Never become complacent and always plan for the future, continuing to drive forward.
If you could improve one thing about the industry, what would it be? Probably the technology. When we hire employees from outside the foodservice industry they bring with them ideas about technology that have made it in other business arenas but have yet become industry standards here.
What has been your proudest accomplishment? Getting our company into FE&S' Distribution Giants as one of the top 100 companies. It shows that all of our hard work is paying off.
What attracted you to the industry? Family and the opportunity. My father was and still is in the business. Growing up I had no interest in the business or the industry. When in college I interned with a couple of companies but did not like what I saw. Then my father was looking to grow the business and he asked me to join the company.
What makes you want to stay in the industry? The thrill and passion for the future. I see how far that we have come along and realize there are many opportunities ahead.
What excites you most about the foodservice industry? It's so dynamic each and every day. You never come to work to do the same thing twice.