Future Foodservice Leaders: Greg Christian, Greg Christian Consulting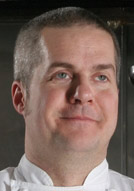 Name:
Greg Christian
Company Name: Greg Christian Consulting
Title: CEO
Age: 50
Industry Involvement: FCSI, SFM, National Middle School Associations
Years in Foodservice: 30
Educational Background: Associate's Degree from CIA
What has been your proudest accomplishment? Five years ago, I would have talked about various events I catered in different parts of the world. But now it is starting the Organic School Project. I am proud of putting my shoulder into helping change the way we feed kids in schools.
What's the best career advice you have been given? Someone once told me it is acceptable to change careers and you can change a little or a lot. So I have gone from being a chef and a caterer to being a consultant and the founder of a non-profit organization. I am still working around food but I have transitioned from making food that tasted good that would lead to customers calling me back and now everything I do is about working toward creating a food system that works for everyone. The gift I was given was the ability to make food taste good but now I see something bigger and that's helping to heal the food system.
Describe the biggest challenge you have overcome. I had a full ride to Northwestern University but dropped out after a couple of years. It looked bad and people around me were not happy. But I just did not know what I wanted to do. So for the next year and half I worked in a stock exchange in Chicago and I fell into cooking. It was like a miracle to find what I was supposed to do and that unlocked my abilities.
If you could improve one thing about the industry, what would it be? Getting people in the food system to embrace change more. People need to consider that the way they are doing things does not work for everyone. The food system uses more resources than other industry. Our industry has a lot of short-term solutions but they don't take into consideration the impact this would have on future generations by using less water, less energy and better food. And the first step to accomplishing this is taking a long look in the mirror and acknowledging that what you are doing does not work for everyone and you need to change.
What's the most important lesson you have learned? My chef identity was who I was for a lot of years. I am good at it and people respected my abilities but recently I have learned it is not who I am. My identity is broader than that — it is one of service to mankind. So I have separated from [my] identity to learn more of who I am.
What attracted you to the industry? A friend said he needed someone to make omelets on Sunday mornings. I had another job but also had energy and needed the money. So I took the job and eventually the chef offered me a full-time job. It was one of the five busiest restaurants in Chicago and I felt like I was home. One day, I cut myself and the chef took me to the hospital. On the way, he told me that he saw my passion for this and suggested that I go to school for it.
What makes you want to stay in the industry? The vision I have for our food system is different than the current reality. So I am going to spend the rest of my life moving the food system to a more sustainable one. We have to respect the current reality of the system and work with the existing players to help create a new reality. That's what keeps me excited, enthusiastic and engaged.
What excites you most about the foodservice industry? I feel the high leverage point of moving the food system forward is through school foodservice. So having the ability to make this kind of change is right in front of most of us and it is going to happen pretty quickly. This is about a variety of issues like creating jobs, urban farming and more. And it converges with so many other areas affected by the food system that need help. So in the end it touches everyone.