Future Foodservice Leaders: Gene Clark, Clark Food Service Equipment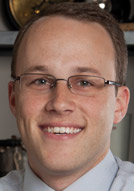 Name:
Gene Clark
Company Name: Clark Food Service Equipment
Title: VP Equipment & Design
Age: 26
Industry Involvement: FEDA
Years in Foodservice: Five
Educational Background: Franklin & Marshall College
What's the best career advice you have been given? A few years ago, I was given something my grandpa made when he was a teenager. It's an old stereo cabinet that he rebuilt to store things in using a dozen wooden Velveeta cheese boxes that slide in and out using pulls fashioned out of old radio knobs. Every time I look at it, it reminds me of how the best approach is often simple, resourceful and creative.
Describe the biggest challenge you have overcome. Anyone would be remiss not to mention the difficult economy we've all been dealing with the last few years. I think what's unique about my generation is that we entered the workforce when things started to go downhill. This time period has been business as usual for us, and we've been able to forge ahead without reminiscing about "the way things used to be."
What excites you most about the foodservice industry? I'm fascinated by how large and diverse the market is. Spending a couple years on the inside, I can really start to see how it all fits together and how much opportunity there is for growth.
If you could improve one thing about the industry, what would it be? The resistance to change. At times it almost seems like this industry will do anything to try and prevent it.
What has been your proudest accomplishment? It's been wonderful to see our company grow in recent years through sound strategy, ingenuity and hard work on the part of many. Passing the CFSP exam was not bad either!
What's the most important lesson you have learned? There are so many, but one I try and keep in mind is that you can't win all the time. You have to let some things go, especially the little things.
What attracted you to the industry? Let's be honest, my last name initially drew me into this niche industry. What I've learned in retrospect though is that I've been given a tremendous amount of latitude to learn and grow in a way that I don't think I would have had in larger corporations.
What makes you want to stay in the industry? Having only been in the industry a few years, I feel like I've only scratched the surface of what I'd like to achieve. There is so much more to learn and accomplish.