Developing innovative and successful restaurant concepts is nothing new for Chris Newcomb. As one of the founders of McAlister's Deli, along with partners Don Newcomb and Debra Bryson, he has a keen insight into the fast-casual restaurant segment.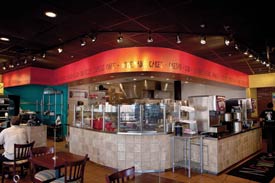 After selling the successful chain, the team sought to develop a culinary-driven concept. "We looked around at sandwich and salad trends and decided to break down the barrier between the front and back of the house," Newcomb says. The result was a sandwich/salad/pizza concept that is heavier on equipment than similar operations of its type.
In 2004, the three opened the first Newk's Express Café location in Oxford, Miss. Fast forward six years and the sites at press time number 28—five corporate owned and the rest franchised—with seven locations under construction. In addition to Mississippi, the restaurant chain has expanded into Texas, Louisiana, Alabama, Tennessee, North Carolina and the Florida Panhandle.
The made-to-order menu choices are prepared using a streamlined production method that requires minimal labor and efficient preparation.
FE&S spoke with Chris Newcomb to learn more about his operation, including how his business has continued thriving during a down economy and how his team has set Newk's apart in the competitive sandwich segment.
FE&S: What was your initial vision for Newk's?
CN: Our focus is culinary driven, with made-from-scratch foods. We grill all our meats, and make our own salad dressings and pasta salads. We even take great care with our lettuce, which is our number one purchased item produced after chicken and bread. It goes through a whole process of chopping, shocking, spinning and chilling. We sell a lot of salads.
FE&S: How has your operation evolved?
CN: We have approximately 65 items on the menu, including lots of sauces, cheeses and ingredient combinations. We use what we already have on hand in the kitchen differently to create new menu items. We've only added four or five items to the menu since we opened. We did offer a shrimp remoulade as a limited time offer and it was so popular we kept it on the menu permanently.
FE&S: What is the most unique aspect of your operation?
CN: Our open kitchen is unique for our type of operation. Customers can see the activity of their food being made. We also have a big round table in the middle of our dining rooms that provides free condiments like hot sauce, bread sticks, croutons, capers, roasted garlic, jalapenos, bread and butter pickles, and cherry peppers. Guests can help themselves.
FE&S: Please describe your menu and its inspiration.
CN: Many of our sandwiches are based on family recipes, like our chicken with white barbecue sauce from my dad and the chicken salad, our top seller, created by my mom. We look around to see what the trends are and incorporate these ingredients into our menu items. We offer a veggie sandwich with portabella mushrooms, goat cheese, pesto and peppers. Our steak sandwich includes caramelized onions. Our pizzas are a California style with a 10-inch New York-style crust. Pepperoni and sausage toppings are the most popular. Our salads are hand-tossed and served in a chilled bowl. The Newk's Salad, which includes romaine, gorgonzola cheese, pecans, dried cranberries, chicken, artichokes and homemade croutons with a from scratch sherry vinaigrette dressing, is a favorite. We also sell a ton of soup, with loaded potato selling the best.
FE&S: Describe the major equipment used in the food's production.
CN: Our restaurants are about 4,400 sq. ft. with kitchens between 1,600 and 1,800 sq. ft. We have lines for pizza, sandwiches and salad, which are all in a row and flow toward the expediter station. Our grill is 6 feet and is used to prepare between 400 and 500 lbs. of chicken each week. It also is used for steak, salmon and portabella mushrooms. We have a food processor for slicing and dicing fresh vegetables. A two-compartment oven is used for heating sandwiches and pizzas. Other main pieces of equipment in our kitchens are walk-in refrigerators and freezers, ice makers, sandwich tables and pizza prep tables.
FE&S: When purchasing equipment, what attributes are most important for the sandwich segment?
CN: We're all about speed as well as even and consistent cooking. When we open the bread and put the sauce on both sides with the chicken, cheese and bacon, we want the heat to go consistently throughout the product. For pizza, we need equipment that heats the product on top and provides a crisp, but not burnt, crust on the bottom. Our sandwiches are prepared in two minutes, and our ticket times average eight minutes or less.
FE&S: If you could create a perfect piece of equipment, what would it be and what qualities would it include?
CN: A self-cleaning grill would be ideal. After we cook a couple hundred pounds of chicken and steak, it's a mess that takes an hour to clean up every day.
FE&S: Are there any aspects of your business that have or will change?
CN: We're not looking to change our equipment or kitchen design. We'll add new menu items using ingredients we already have in house.
FE&S: What are your goals for this year?
CN: We plan on opening five restaurants by the end of 2010 and next year we'll have 15 locations on the books. Our growth is going back to where it was before the recession. We're looking to add digital menu boards to our company restaurants. We can do a lot more with these compared with static menu boards, and they have a nice appearance.
FE&S: What do you predict for the future of this segment?
CN:
Sandwiches are unlimited like
pizzas
, which have been reinvented. Consumers are looking for food that offers value, is fresh and tastes good. Some sandwich chains will try to reinvent themselves, but I'm not sure how. Operators in this segment need to change and bring something new to the table. Today's sandwiches have to be evolving and on the cutting edge, because the younger generation has a shorter attention span and is always looking for new things.