As bowl concepts rapidly expand and near maturity, operators are finding new ways to keep their restaurants fresh.
Name a daypart or a food style, and chances are, there's a bowl for that.
What started out as a niche menu item primarily at Asian eateries has morphed into a full-fledged concept that spans all hours of the day, countless cuisines and a variety of flavor profiles. Bowls have grown from a 10% presence on restaurant menus in 2013 to 23% as of the first quarter of 2023, per Datassential. Over that same time period, the number of bowls offered on menus has almost doubled — from an average of 2.8 to 5.4 bowls per menu. And the data shows an increase in the availability of just about every type of bowl. For example, menu mentions of rice bowls grew 18% during the past 4 years; acai bowls increased by 54%.
Datassential also notes some specific trends to watch for in bowls: a rise in Mediterranean and Middle Eastern-style bowls; diet-specific bowls, such as keto, meatless or plant-based; and traditional dishes, like pizza or Philly cheesesteak, converted into bowls.
A Learning Experience
At Carnegie Mellon University in Pittsburgh, students at the Tepper School of Business perceived their weekend dining choices as limited, with little variety and few healthy dining options. A team of business students, headed by David You, used a research-based approach to solve the problem.
Students at Carnegie Mellon created their own bowl concept: Capital Grains."Students were most vocal about [wanting] healthy options during weekends," says Mike Tokarek, resident district manager for Chartwells Higher Education Dining Services at Carnegie Mellon. In cooperation with Chartwells and after conducting more than 230 potential customer surveys, the team of students developed a concept, which, after some tweaking, opened in February 2023 under the name Capital Grains. Open from noon to 3:00 p.m. on Saturdays and Sundays, the operation has grown in popularity and now serves about 200 students each day. Students can build their own bowls with a base of rice, quinoa or vegetables; tofu or chicken for protein; and a variety of vegetable and cheese toppings.
The campus executive chef occasionally had to bring the students' menu and ingredient ideas back down to reality, Tokarek says. "The students would voice what they wanted, like wagyu beef, without having any [idea] of cost or menu development behind it," he explains. In collaboration with the chef and the operations director, the students were able to define the right labor model and menu mix.
In keeping with the limited menu and crew experience, equipment at Capital Grains was kept fairly simple, Tokarek says, consisting of "nothing more than a combi oven, a food processor, a speed-cook oven, some cold wells and a couple of rice cookers."
Not only does Capital Grains fulfill the need for a healthy dining experience on weekends, but it also gives the students a sense of ownership. "The ideology behind it is that a 21-year-old student came up with this on his own, backed by Chartwells and Carnegie Mellon University," says Tokarek. "It's a good product; it's student made. Students see their friends doing it [and think], 'I could even do this at home.'" The fact that Capital Grains was developed and is run by students also helps with staffing issues, he adds. Students who normally wouldn't think about working a foodservice job find that "working with another fellow student, even as a manager, is kind of enticing."
Keeping the Focus on Fresh Bowls
The Westminster, Colo.-based Rush Bowls chain has made its fortune by offering bowls — and pretty much only bowls. The 41-unit chain's sales mix is 80% bowls to 20% smoothies. "You can't be good at everything," says founder and CEO Andrew Pudalov. "We're not getting into sandwiches or this and that." That focus means that the chain's stores operate from a comparatively small footprint, with a typical unit ranging between 800 and 1,200 square feet.
The menu at Rush Bowls is presented in three sections: Endurance, Destination and Wellness.The Rush Bowls menu divides into sections entitled Endurance, Destination and Wellness, with a variety of bowl options that fit into those categories. While it's often assumed the typical healthy bowl customer is female, Pudalov says the female skew isn't that lopsided. The typical Rush Bowls customer is "late teens to early thirties," he says, "55% women to 45% men, or even closer to 50-50."
Pudalov says that Rush Bowls has staked its reputation on fresh ingredients and preparation of each item to order. "We make everything fresh in front of you," he says. "We make our own jam and grind our own peanut butter." Along with that, flexibility has been key to the chain's success. "We carry every milk known to mankind," he laughs. "And I'm always amazed what a big percentage of business that is." He adds that working with fresh ingredients and making each bowl to order means the chain can handle almost any allergy or dietary restriction, such as gluten-free or dairy-free.
Even with the emphasis on freshness and healthy ingredients, "we're not preachy," Pudalov says. The stores do carry a few "splurge" items such as Nutella and chocolate chips. "We're not judgmental. If you want chocolate syrup or Nutella, we can make you whatever your heart desires. We want people to have a taste of health but on their terms, not our terms," he says.
The equipment at Rush Bowls stores is fairly basic. Pudalov says that much of the fruit the chain uses is individual quick-frozen, so it comes already cut. "We have freezers, blenders and refrigeration, and that's about it on the major equipment," he says. There are a few other smaller pieces, such as a peanut grinder to make peanut butter in-house, as well.
Pudalov sees growth opportunities for his type of product. "I don't think [the category] is mature. I think there's a lot of growth as more and more people become aware of what bowls are and [we reach] communities that may not have focused as much on health," he says.
Going Automated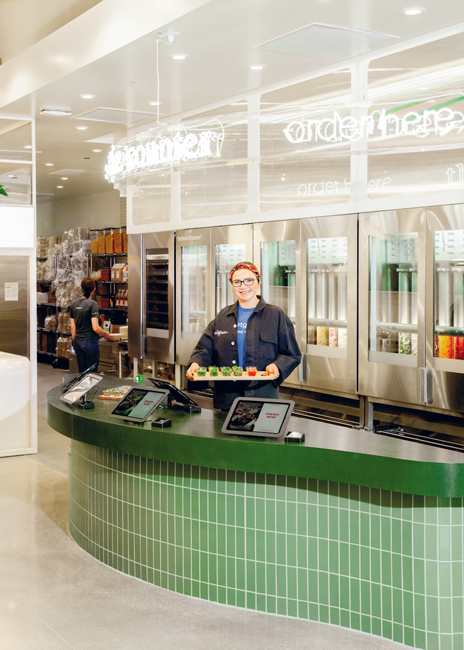 Sweetgreen's Infinite Kitchen concept taps machines to dispense ingredients and mix salads.While one of the selling points of most bowl concepts is made-to-order preparation, the latest concept from the sweetgreen chain takes the human element out of the equation, at least partially. The new concept, dubbed the Infinite Kitchen, opened in Naperville, Ill., in May. It features machines that dispense ingredients and dressings and then mix the salads. Customers can order at kiosks, through the app or at a host station inside the store. The machines assemble the salads in front of the customer, and a team member can put any finishing touches on them before they're delivered. The chain claims that the automated system will provide a "frictionless experience" with increased speed and efficiency.
The 3,800-square-foot store also has a different design compared with other sweetgreen units. The decor features specially commissioned artwork and wallpaper. A "tasting counter" lets customers sample menu items before buying, and the store is also selling merchandise based on the new concept.
The Infinite Kitchen concept is based on technology sweetgreen acquired when it purchased the tech startup Spyce in 2021. In a press release announcing the Naperville restaurant, sweetgreen co-founder and CEO Jonathan Neman said that the new concept will "unlock efficiencies that will enable us to grow more quickly as we scale."