The first two documented Indian restaurants in the United States were established more than a century ago in New York City.
Tikka Masala Naughty Naan — a traditional Indian dish with fresh paneer cheese, served atop naan flatbread — is billed as an Indian pizza at Curry Up Now.Since the increase in immigration from South Asia in the mid-1960s, Indian and South Asian eateries have popped up with greater frequency. Until recently, these restaurants were overwhelmingly independent, full-service, often mom-and-pop places, primarily in larger cities and suburbs. Indian food never quite took off as a mainstream ethnic cuisine the way Chinese, Italian or Mexican fare eventually did. Now, that seems to be changing.
Indian menu items and flavor allusions on U.S. menus have risen by 10% in just the past year, according to Lizzy Freier, director of menu research and insights at Technomic, and by two-thirds since the final quarter of 2019. Technomic follows Indian food terms and tracks food and flavor menu mentions — from popular restaurant dishes like tikka masala and biryani, to sides like naan bread and amba (mango pickle) — in its Ignite Menu database.
Technomic's Ignite Menu data also shows that Indian flavors are no longer limited to dedicated Indian restaurants. Instead, flavors have proliferated in a number of on-site foodservice segments: Indian flavors mentioned on menus rose 65% year-over-year (2021-2022) in college and university dining, 29% in supermarket foodservice departments and 24% in recreation venues.
Additionally, 65% of consumers report that they've tried Indian food and enjoyed it, per the "2022 Global Food and Beverage Consumer Trend Report" from Technomic, while another 20% haven't sampled Indian fare but say they would like to. More broadly, one-third of consumers expect to see an overall increase in global food offerings and want more variety in such offerings.
To underline the menu's emphasis on Indian street food, this unit of Curry Up Now features an impression of a street mural in urban India.
Why South Asian Flavors Fit the Moment
"I think Indian food is finally reaching the point of mass acceptability," says Akash Kapoor, founder and CEO of the San Francisco-based fast-casual chain Curry Up Now. "The American pantry has really evolved. What's available from grocery stores is hugely different from even a year ago — now Safeway, Albertsons, Kroger all offer Asian foods and spices."
Vikram Singh, founder and chef of independent casual-dining restaurant Kama Bistro in LaGrange, Ill., also believes Indian fare is the next big thing. "Every town in our county has a Chinese or Asian restaurant, a pizza place, something Mexican," he says. "Indian food isn't there yet, but it's not far from it — one in every three or four towns around here has an Indian restaurant. The trend line is the same as it was for Chinese, Italian, Mexican."
But Indian fare offers nutritional advantages beyond its intriguing flavor profile, Singh says. "Most of it, except for the naan bread, is gluten-free," he says. "The lentils, vegetables, charcoal-grilled meats are very keto-friendly. It's plant-forward and an easy choice for vegetarians and vegans. The cuisine has a lot of spices and bold flavors, but it's the fresh ingredients that give healthy undertones and add to the flavor intrigue."
Rahul Vinod (left) and Sahil Rahman founded the Washington, D.C.-area fast-casual chain RASA after growing up in the restaurant industry—their fathers co-owned a full-service Indian restaurant in the city.
Open to Interpretation
Translating the nation's new hankering for Indian cuisine into success for a particular restaurant concept isn't easy. Singh handles that task by training waitstaff at Kama Bistro to brief diners on the food's spices and their heat levels and explaining how the staff can customize any dish by spicing it up or down. The menu, which specializes in traditional North Indian fare, South coastal seafood and Kama-infused Americana, highlights the dairy-free, gluten-free and vegan-by-request options, as well as an extensive adult beverage menu. The wood-filled interior and rows of hanging lamps offer a warm and stylish ambience.
While Kama Bistro is right on point as an independent restaurant in the casual-dining sector, Curry Up Now is expanding as a fast-casual chain with a menu that includes Indian street food and some unique interpretations. "As we move out of the San Francisco Bay Area, we're going to attract a broad, diverse audience," Kapoor explains. "To be successful, we can't be an Indian-only restaurant. So we have a chicken tikka masala burrito because everybody knows what a burrito is." Other items easy for U.S. diners to understand are Indian taco plates and Naughty Naan pizzas. "Often, acceptance by customers is based on how the menu is written," Kapoor observes.
In accordance with the street-food esthetic, Curry Up Now's interiors are bright and airy, and walls and columns sport a murals-and-graffiti vibe (including phrases in Hindi script). Some more upscale locations include a spacious bar area offering local microbrews, specialty wines and handcrafted cocktails. The unit design is flexible enough to accommodate conversions of variably sized spaces from other restaurant or retail brands. It's also adaptable to on-site locations. The chain currently has two units at universities — at Stanford and the University of California San Diego.
Curry Up Now isn't the only chain betting on Indian fast casual as the next growth segment. Another is RASA, with four units in the Washington, D.C., area, all styled with bright primary colors, lots of wicker (including hanging lamps caged in baskets) and a menu of bowl foods with names like Tikka Chance on Me and Aloo Need Is Love.
Another chain called Tandur Indian Kitchen, with just one unit so far in Knoxville, Tenn., has ambitions to grow as it ramps up the energy level with yellow-and-magenta color accents, an assortment of street-food snacks like spiced okra fries and an emphasis on menu items prepared in the namesake equipment — an urn-shaped clay oven that reaches temperatures as high as 900 degrees F. Culinary staff use a tandoor to roast meats and vegetables and to bake naan and other flatbreads. The flatbreads are plastered directly on the oven's interior wall to cook, and then they fall to its floor once baked to perfection.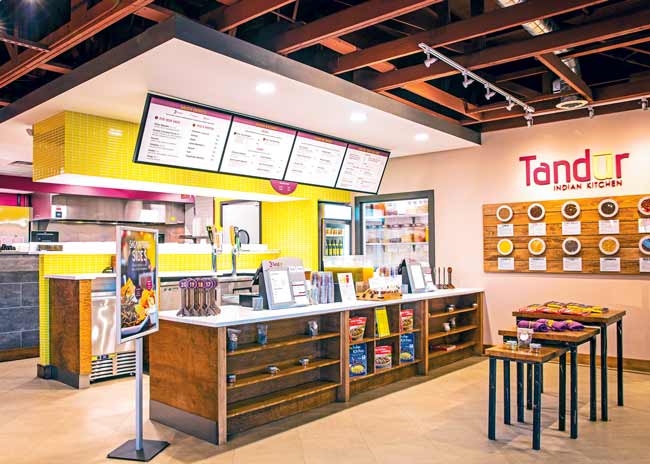 At fast-casual Tandur in Knoxville, Tenn., customers order at the front counter, opting for Tandur Chicken or a variety of kebabs cooked in a tandoor clay oven.
A Labor-Minimizing Kitchen
The kitchen of an Indian restaurant can be simple or complex, depending on the menu and the extent of scratch cooking performed. Curry Up Now, established 14 years ago as a single food truck, has always emphasized takeout-friendly fare like curry bowls and rice. "Very early on, we started making sauces and products in a commissary, so that they're ready to go to the stores, be refreshed with the protein added and taste as if they were made right now," Kapoor says. "The supply chain is very, very important." Spice mixes are formulated in India and imported under the Curry Up Now brand.
It's different from the traditional way of doing things, Kapoor acknowledges, "The typical Indian restaurant has somebody managing the tandoor oven, a curry chef, an executive chef, a sous chef, a salad chef. I couldn't make the numbers work like that." Instead, he says, Curry Up Now uses a meal assembly system so basic that the chain can train both back-of-the-house and front-of-the-house staff in most tasks necessary to finish the food.
Curry Up Now uses open kitchens, Kapoor explains, because "we want guests to look into the kitchen, and we want employees to look out at the guests." The chain's assembly system requires a simple but efficient equipment package — a high-end combi oven, a high-speed oven for finishing and reheating, top-of-the-line fryers, a plancha, a bain-marie and the typical steam tables and makeup tables. Now, the chain is moving toward fully automated equipment. "As much as we can get into one-touch cooking, that's where we want to go," Kapoor adds.
A Kitchen for Scratch Cooking
While Curry Up Now has moved batch cooking off-site and only does the finishing touches in-store, Kama Bistro is a strictly from-scratch operation; absolutely everything, including mixing the spices, occurs in-house. Indeed, Singh prides himself on never opening a can. A tandoor oven fired by charcoal — not natural gas — has pride of place. Not only is the clay oven an expensive piece of equipment, Singh says, but also just running the tandoor requires two bags of charcoal a day. Charcoal cooking in the tandoor oven, as well as on the kitchen's charcoal grill, requires a separate ventilation system in addition to a grease hood.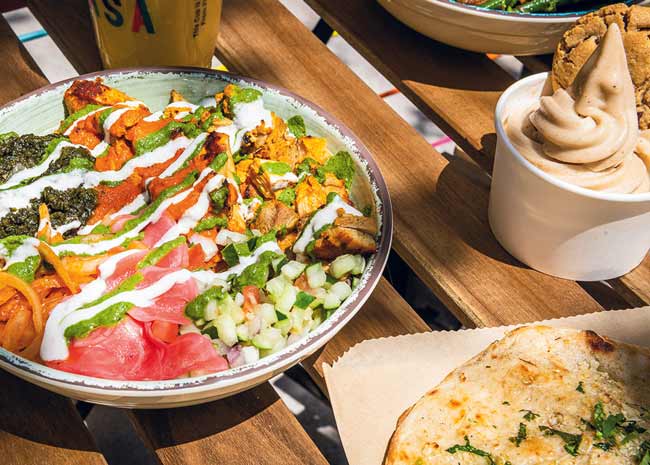 RASA makes its bowl-food menu fun and accessible by naming traditional dishes with playful puns, such as Tikka Chance on Me, its version of the well-known chicken tikka masala, shown here.For Singh, charcoal cooking is definitely worth it. "A charcoal tandoor cooks with a higher proportion of radiant energy than one fired by natural gas," he explains. "Faster cooking means the meat doesn't dry out so much. It comes out juicy and soft, with a smoky flavor imparted by the fat." Kama Bistro uses the tandoor for about 40% of the items on the menu, Singh says.
However, one mainstay menu item that many Indian restaurants cook in a tandoor — naan flatbread —is instead assigned to a specialized rotating oven. "To bake breads in a tandoor safely, you need a person with skill," Singh explains. "The rotating oven makes naan more consistently at the right temperature." Also pressed into service for industrial-scale production of naan and samosas are a dough mixer, a sheeter, a rounder and a blower. "The labor shortage is an issue, so you sometimes have to use simpler, automated equipment, more of an industrial production method," Singh adds.
Other important pieces of equipment include large tilt skillets, used for a variety of tasks, from simmering curries — 50% of the Kama Bistro menu — to warming milk to make paneer (Indian-style fresh cheese) every day.
Braising pans are used for stir-frying meats and vegetables. Pressure cookers quickly cook lentils for dal and chickpeas for chana masala. The combi oven is used to steam rice in bulk, to steam or roast vegetables and to roast chicken. A taba, an Indian-style griddle with a slight incline, is the go-to equipment for quickly heating flatbreads and other items. The fryer also gets a lot of use.
The Kama Bistro kitchen utilizes sous vide cooking for a number of dishes, Singh says, including its signature lamb chops. "We marinate the raw meat, seal it, keep it in vacuum for a day, cook it under sous vide on the day it's needed, then put it on the charcoal grill, where it becomes very tender and gets a nice smoky char," he notes.
Sous vide is also employed for a dish of lobster in butter, as well as for kabobs and meat patties. The sous vide system plays an essential role in Kama Bistro's catering operation, which can serve groups of up to 200. "We have a decent-sized vacuum machine that can do many packets quickly," Singh explains.
Another specialized item is a dehydrator, used to dry sliced fruits — tomatoes, lemons, limes, grapefruit and blood oranges — to create garnishes for finished dishes.
In addition to the cooking equipment, the kitchen features a battery of commercial blenders and food processors; spice grinders; a slicer and dicer used specifically for raw chicken; and a commercial tomato milling machine, which Singh is particularly excited about. "It's one of the most timesaving items we have," he says. "I'm always experimenting with equipment that takes labor off, so our guys in the kitchen can do more interesting things than peeling, seeding and pureeing 1,000 tomatoes a week or manually dicing chicken."
The amount and variety of cooking that takes place in Kama Bistro's kitchen requires a lot of refrigeration for ingredients. In addition to the walk-in cooler, there's plenty of undercounter refrigeration with easy-open drawers, as well as a refrigerated prep table for each station. "We have coolers everywhere," Singh brags.
As Deep as You Want to Go
Even before they co-founded RASA with the goal of making Indian "fine fast casual" accessible to the American dining public, Sahil Rahman and Rahul Vinod had spent their lives as ambassadors of Indian food — their fathers jointly owned an Indian restaurant in Washington, D.C., and both often treated their school friends to meals there. When the two restaurant-industry scions conceived RASA, they began their planning with a foodie trip to India — the homeland they had left as small children. Even with their lifelong immersion in the restaurant industry, they were transformed by the chance to "reconnect with our roots to be able to speak confidently about the beautiful country we're from," Rahman says.
"What's awesome about Indian food is that it's so diverse," Rahman adds. "People think it's just spicy, but there are so many delicious, sweet dishes, so much variety of flavors from north to south."
"We explored this vast country of 1.3 billion people, traveling around different cities and sampling different types of cuisine, from street carts to high-end modern restaurants," Vinod says. "But we only scratched the surface. Our biggest takeaway from the trip was how deep Indian food culture really is."