Jonathan Nikiel, project leader at Reitano Design Group, admits that on the surface, school foodservice might not be as glamorous as other projects that often come with higher profiles and bigger budgets.
Since moving to the K-12 segment of the industry, though, he notes the rewards of working on school foodservice projects are just as great — if not better — other segments.
"Lunch is the kids' one true break in the day," Nikiel says. "If we can give the operator a well-equipped and functional space, they can provide a great meal in an inviting dining environment and really impact a child's day. In thinking about how many thousands of kids are affected by our designs on a daily basis — that's really powerful."
For a long time, it has been easy to overlook school foodservice, but Nikiel says that's about to change. "We're on the cusp of everyone redoing their school thought processes from 50 years ago," he says. "The educational model is changing and so is the concept of what school nutrition can be. Everyone is pushing the boundaries in every other corner of the school, why not with the foodservice program? Once the school system realizes foodservice design doesn't have to be crazy expensive, but enough of an initial equipment investment and in partnership with the right operator will suffice, they can have a quality program. Foodservice doesn't have to be a burden on the district; if done the right way, it can be a selling point for the district and even a revenue generator, not the burden of an afterthought that it once was."
Today's foodservice industry remains rife with key solutions that make it possible to offer quality food, even on a tight budget and with limited labor. Here, are five lessons learned in K-12 foodservice design.
Brownsburg High School in Brownsburg, Ind.

Lesson No. 1: Serve People Where They Are
Most operator segments must contend with less labor and the need to consolidate high-volume cooking operations. The classic commissary plus delivery is akin to catering works at the school level. Nikiel calls it "distributive dining."
"We have technology to have a central kitchen that allows the operator to cook food to 75%, blast chill it, transfer it cold and retherm it or finish the cooking process in a simple, small on-site kitchen line," says Nikiel. "That's where we're headed from a labor perspective. Most of the prep and cooking can be done at a central location so you don't need full-service kitchens and as many individual staff members at each school."
When going with this approach, designing a good commissary kitchen becomes key. "You want to have enough prep table space — standard veggie prep and food prep but also plenty of space for packaging if you're going to make bento boxes or prepackaged salads and other fresh food," Nikiel says. From there, it's good to have a decent battery of high-volume equipment that includes combi ovens and large-format blast chillers. Another key component are transport ready carts staff can load with food from the blast chiller, store in a walk-in cooler dedicated to hold prepared food, and then wheel out directly to delivery vehicles for end-to-end chilled transport.
With precooked, properly chilled food prepared this way, the receiving end does not have many requirements, Nikiel says: a small landing area for deliveries, a small walk-in cooler to store the prepped food onsite, a small prep area and even a single combi oven is enough to finish the cooking process before service.
Lesson No. 2: Create a Perception of Fresh
Though it's not always possible or even practical to prepare food from start to finish all on-site, a perception of freshly cooked food has to be there, Nikiel says. Design-wise, the solution for that is to push the cooking equipment out to the front of the line and otherwise have it very visible. In middle and high school, you might have induction burners finishing food. Operators can easily finish pizzas in a high-speed oven or toast up freshly made sandwiches in a rapid-cook oven."
And then of course, there's the salad bar. "Now it's 'fresh food bars' with more grab-and-go items like prepackaged salads, baggies of veggies and preportioned fruit," Nikiel says.
Position these fresh food bars so kids can't get out of the space without passing by it and they're more likely to take the healthier items.
Lesson No. 3: Bring Back that Human Connection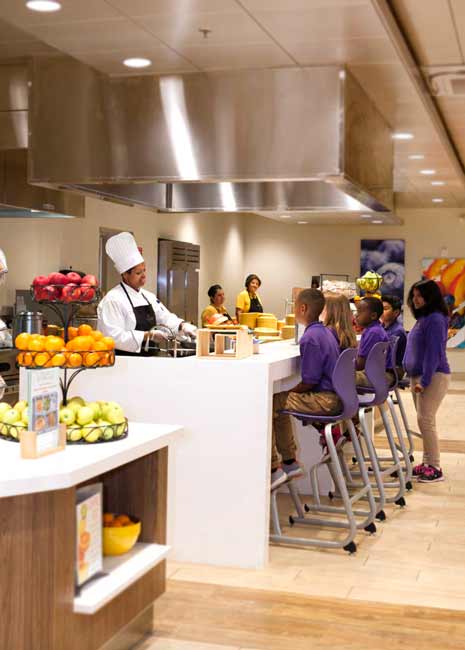 Legacy Charter School in Greenville, S.C.Largely gone are the plexiglass separations from the height of the pandemic. "We're getting back to that human connection," says Nikiel. "That's the request from operators. They want the lunch servers to be able to talk to the kids so we're bringing things down to their level." That might call for narrowing the serving line which, in turn, brings the operator and the students closer together — quite the opposite from the pandemic.
Lowering the serving and counter lines helps, too. "At the younger grade level, there's often staff needing to help the kids with condiments and other things," Nikiel says.
There's also a return to more communal areas, especially in high schools. "There are more opportunities now to tie the cafeteria or servery into the heart of the building, and have it be a multifunctional space where students can work together. From a design perspective, collaborating with the architect to open things up and then design the flow of the space to work with that is important for this to work.
Lesson No. 4: Flexi-vise Concession/ Coffee Bars
Those basic concession stands from the past now present an opportunity for a wider variety of foodservice offerings. Nikiel calls them "flex lines" that can offer coffee and pastries in the morning, additional grab-and-go items at lunch and pizza and sandwiches during after school sports and activities.
What's needed to equip them are some basic coffee equipment or even an espresso machine, a rapid-cook oven for sandwiches and pizza and quick switch hot/cold countertops to hold food like a buffet if outside food is brought in.
Lesson No. 5: Manage Inventory and Storage Effectively
Amidst continuing labor and supply chain challenges, Nikiel's actually seen a return to freezers because operators need to stock up.
Dry storage needs to be larger than in the past as well, but it needs to be well-organized. "Too often we go into kitchens where people are just throwing boxes in the dry storage areas with no rhyme or reason and the rotating of product is suffering," Nikiel says. "Inventory is a nightmare when storage areas are not effectively organized."
Plenty of dunnage shelving and racks for cans and condiments helps create better organization and allows operators to see more easily what they have on hand. Nikiel will also build in some cage shelving units to create separate holding areas, so for example, if a group wants to store products for an after-school program they have their own space with their own keys.