Is it Tuesday? If so, you may be headed to your local restaurant or on-site foodservice facility to order up the Taco Tuesday special. So ubiquitous and beloved have tacos become in the United States, thanks in part to mainstream chain restaurants and in part to the fact that we share a border with Mexico, that they have their own day of the week.
Tacos even have their own holiday. Celebrated annually on Oct. 4, National Taco Day puts the spotlight on this traditionally simple street food, which, for reasons that span portability, craveability, versatility and affordability, continues to evolve and grow in popularity.
According to nationaltacoday.com, Americans now consume more than 4.5 billion tacos each year. Mexican-concept chain restaurants get much of the credit. The NPD Group data shows visits to "major" Mexican QSR concepts increased by 3% in the 12 months ending September 2022 compared to the prior year, showing total traffic volume of 3 billion visits for the period. Visits to "smaller" Mexican-concept chains were up 5% in the same period compared to the prior year, with total traffic volume of 115 million visits. Overall, servings of Mexican food in the QSR segment (including at non-Mexican-themed concepts) were up 4%, to 3.9 billion, in the 12 months ending September 2022 compared to the prior year, per NPD.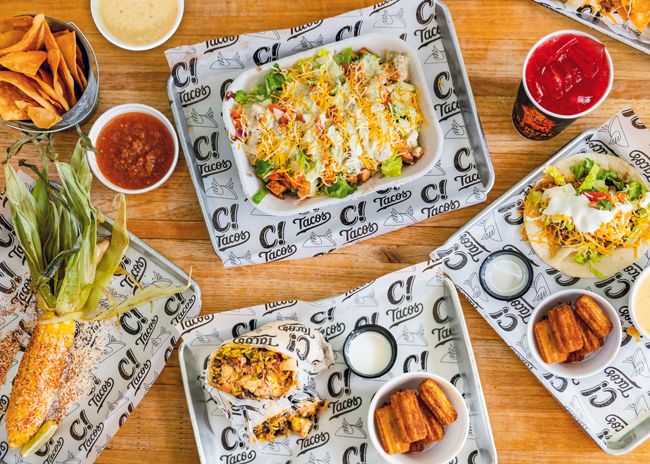 The menu lineup at Capital Tacos centers around 13 signature flavor combinations customers can order in a taco, burrito or bowl format. Photo courtesy of Capital Tacos
Big Brands Get Bigger
When it comes to the major players in the taco-centric QSR segment, no brand holds a candle to Yum! Brands' Taco Bell in terms of units and volume. Since its founding in the early 1960s, the chain has grown to more than 7,000 domestic and nearly 800 international units, the vast majority of which are franchised. Annual sales exceeded $13 billion in 2021 and CEO Mark King has set a goal of reaching 10,000 restaurants and $20 billion in annual revenue. Much of that growth is expected to come from international expansion, as well as through mobile platforms and digital channels.
More known for its burritos and bowls than tacos, per se, Chipotle Mexican Grill owns its unique corner of the market. In 2021, the chain reported systemwide sales of $20.5 billion and has grown to more than 3,000 units. Chipotle's 2022 annual report notes that a previous target of reaching 6,000 units in North America has been upped to 7,000. With digital orders accounting for nearly 40% of sales, according to Chipotle's Q3 2022 results, the brand's digital order drive-thru pickup "Chipotlanes" are included in most new units.
After those two behemoths? Plenty of white space. No. 2 in the taco-centric QSR category, Del Taco has 600 units in 16 mostly western U.S. states, posting systemwide sales of $918 million in 2021. No. 3, Taco John's, has roughly 400 restaurants across 22 mostly Midwest and Mountain states and $410 million in 2021 sales, according to Technomic, Inc. Both chains, however, are in growth mode.
Value-priced tacos remain central to Fuzzy's Taco Shop's model, but the brand is also introducing new premium offerings as it ramps up menu innovation post-pandemic. Photos courtesy of Fuzzy's Taco Shop
Del Taco's new owner, Jack in the Box, last November launched a refranchising initiative as part of an asset-lightening drive to position the brand for rapid expansion. Company-owned units — roughly half of existing locations — are being sold to new and existing franchisees committed to developing additional restaurants. As of the end of its third fiscal quarter of 2022, Jack in the Box CEO Darin Harris noted that agreements had been signed with franchisees to open 79 new Del Taco units across 11 states.
Del Taco also unveiled a new Fresh Flex prototype, the first unit of which opened last January in Orlando, Fla. Part of the brand's "Menu of Venues" strategy, which expands real estate opportunities to help lower investment costs for franchisees, the new design offers an elevated brand experience, maximizes convenience and improves operational efficiency, according to the company. Fully tech-enabled, it features options such as remote-order pickup lockers and double drive-thru lanes with dedicated lanes for mobile orders and delivery drivers.
Taco John's, meanwhile, in August 2021 signed the biggest development deal in the brand's 50-year history. Meritage Hospitality Group, the largest Wendy's operator in the country, agreed to build 50 new units across several states by 2026, with exclusive options to develop an additional 150 restaurants. It's one of several new agreements with large franchise groups expected to contribute more than 122 new openings over the next four years.
The brand, which lays claim to starting the Taco Tuesday tradition in 1989, rolled out a refreshed prototype, new graphics and "bigger. bolder. better." tagline, as well as a 950-square-foot drive-thru-only format. Taco John's touts average unit volumes of $1.69 million, up from $1.14 million in 2021. Additionally, the company reports that same-store sales grew by 6.2% in 2021, including a 15.8% increase in breakfast sales. As of June 2022, same-store sales were tracking up 8.64%, according to Taco John's franchise website.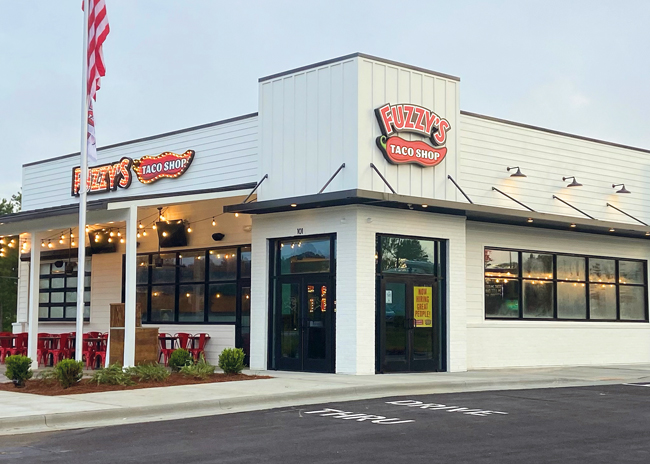 Fuzzy's Taco Shop's new Leesburg, Ga., unit is the chain's second location to feature drive-thru service. It's part of a new franchisee's agreement to develop 50 stores across the Southeast.
Menu Innovation Sizzles
From Taco Bell's Nacho Cheese Doritos Locos Tacos to Del Taco's Ranch Crispy Chicken Taco, menu innovation helps drive growth in the segment. "Traditionally, a taco was meat, onion and cilantro, maybe salsa, in a tortilla — very simple, tasty and usually cheap," notes Darren Tristano, CEO of research and consulting firm Foodservice Results. "But U.S. restaurants have Americanized the taco, adding lettuce, tomato, sour cream and guacamole, for example, and, more recently, really treating the taco as a blank slate. That's true both for the big QSR chains and, even more so, in the smaller, emerging fast-casual segment."
Indeed, a look at the menus of players in that emerging segment bears out the fact that, while classic tacos and value pricing still drive the category, operators are going bold with inventive and pricier variations on the theme.
Consider Dallas-based Velvet Taco, which doubled its units to more than 30 from 2021 to 2022. Operating in Texas, North Carolina, Georgia, Illinois, Tennessee and Oklahoma, the fast-casual chain makes nontraditional, globally inspired tacos its calling card. Its menu features some 20 takes on "liberated" tacos, most of which, beyond being served in flour or corn tortillas, bear scant resemblance to the iconic Mexican dish. Examples include Nashville hot tofu with Napa slaw; shrimp and grits with Creole remoulade; spicy chicken tikka with raita crema; pork and shrimp egg roll with crispy wonton strips; and Kobe bacon burger with smoked cheddar.
Tampa-based Capital Tacos has launched a franchising drive that the chain expects to more than double its footprint within a year. Photo courtesy of Capital Tacos Velvet Taco pushes the global-fusion envelope further with its cheeky "WTF" (Weekly Taco Feature) limited-time offers. Priced between $5 and $6, on average, recent examples include the Brie LeBoeuf, featuring grilled flank steak, brie, roasted grapes, crispy onion strings, arugula, lemon and garlic oil on a flour tortilla; and the Italian Pizza, featuring sausage, pepperoni, mozzarella, pizza sauce, queso blanco, mushrooms, green peppers, parmesan and oregano in a flour tortilla.
Fuzzy's Taco Shop, based in Irving, Texas, continues to ramp up menu innovation, too, strategically positioning itself to go up against fast casuals like Velvet Taco and other up-and-comers. These emerging concepts include 100-plus-unit Torchy's Tacos; 39-unit Condado Tacos; 35-unit Chronic Tacos; 30-unit Rusty Taco (part of Inspire Brands); and 9-unit Capital Tacos.
"Like many concepts, we streamlined and pulled back during the pandemic. But now, innovation and menu expansion are back," notes Scott Shotter, chief operating officer at Fuzzy's. "We're value-focused, which is great in this inflationary environment, but our niche is fast-casual-plus. Our traditional units, which run 3,500 to 4,500 square feet, have full bars, patios, and space for groups and families to hang out. On the menu, we're still rocking $3 tacos, but we're adding some premium offerings."
Fuzzy's new Primo Baja Tacos, for example, menu for $4 to $5. They include the California Heat Taco, featuring tempura or grilled shrimp, bacon, avocado, feta, shredded cheese, pico de gallo and chile-lime sauce on a soft flour tortilla; and the Saucy Brisket Poblano Taco, featuring shredded brisket drizzled with "Butt Burnin'" sauce blended with Dr. Pepper and topped with roasted poblanos, pickled onions, avocados, garlic sauce, feta and cilantro on a flour tortilla.
Shotter says Fuzzy's expected to have 140 units open by the end of 2022. Last year, the chain debuted its first two drive-thru restaurants, part of an agreement with a new franchisee committed to building 50 Fuzzy's Taco Shops throughout the Southeast. And the brand recently introduced its new Fuzzy's Taco Shop Taqueria prototype, with the first unit opened in Minneapolis in April 2021. It's a scaled-down, off-premises-oriented model designed for urban markets, according to Shotter. "It has a smaller footprint (1,200- to 1,800 square feet), but it incorporates the core menu and bar," he says. "As of November, the Minneapolis unit is looking to hit $2 million in 2022 sales, above our traditional average unit volume."
Innovation and growing interest in the taco category helped drive Joel Bulger's decision to join Tampa-based Capital Tacos as chief marketing officer last October. A veteran of big-name brands — Zaxby's, Moe's Southwest Grill, Olive Garden and Coca-Cola Company among them — Bulger says upstart Capital Tacos, which has garnered multiple national and local awards, is primed for rapid expansion while staying committed to scratch-made, cooked-to-order operations.
Menu innovation continues to drive growth in the taco segment.
With nine units open in Florida as of November 2022, including one express and one ghost kitchen, Capital Tacos touts average unit volumes of $1.26 million. Locations range from 2,300 to 2,800 square feet, with 65 to 100 seats. The brand opened its first franchised unit, in Trinity, Fla., last fall and in late November announced its first agreement outside of the Southeast, a three-unit deal in Denver. Additional target markets include Atlanta, Nashville, Charlotte, N.C.; Miami and Orlando, Fla.; and Bulger expects the chain to more than double its footprint over the next year.
Tacos, of course, are the draw at Capital Tacos, but so, too, is flexibility. Guests can customize their orders if desired, but the chain's culinary team has created 13 signature flavor combinations that can be ordered in taco, burrito or bowl format. Among them: Andre 3001 (fajita chicken and bacon tossed in "Texican" BBQ sauce, with chihuahua cheese, corn salsa and chipotle BBQ sauce); Mean Verde (fried avocado with crushed chips, lettuce, pico de gallo, shredded cheese, queso dip and poblano ranch); and Chapel's Cheesesteak (shaved grilled steak in a melted three-cheese blend with onions and peppers, garlic mayo, cilantro and cotija cheese).
Maeve Webster, CEO of consultancy Menu Matters, feels the buzz around tacos — authentic and nontraditional, alike, and concepts built around them — will only continue to build. "They're evolving," she notes. "There's more innovation, higher quality ingredients and a shifting mindset around what a taco is or can be. Some of that is driven by interest in regionalized, authentic Mexican ingredients and preparations. But, as these emerging chains are showing us, it's also driven by ethnic fusion and culinary mash-ups and a million creative iterations of a food that's already beloved. It makes for a very exciting segment of the industry."