Correct placement and proper organization represent critical success factors for these spaces.
There's no turning back the clock on pickup and delivery from restaurants. These services, which in most concepts grew exponentially during the pandemic, are here to stay, and they account for a significant part of operators' revenue.
What makes a pickup or delivery area in a restaurant successful? Where is the best place to locate this station? What does it need to contain? First, it's important to commit to a dedicated pickup and delivery area.
Schlotzsky's Design 1000 prototype features a drive-thru on one side of the building and a pickup lane on the other side."The success of your pickup and to-go area depends on how much you invest in it," says Jeremy Kittelson, director, Ricca Design Associates in Denver. "You need to have proper flow and adjacencies and have the staff designated to it."
An ideal pickup station is well organized, with a home for everything a staff person may need to assemble an order, says Steve Starr, AIA, NCARB, FCSI, president and chief at starrdesign in Charlotte, N.C. It should house containers, condiments and silverware. "The organization needs to be very thoughtful and ergonomic so staff can use both hands and work on packing multiple orders at once."
A thoughtful labeling system also plays a critical role in any successful pickup station, Starr says. These don't have to be complicated or expensive, they just have to be well thought-out to make it easy for staff to quickly identify each item in an order, who the order is for and how many packages (bags and boxes) are in the order. Taking these steps can help ensure a guest or third-party delivery driver receives the entire order.
"We also like the labeling system to clearly communicate that the order was checked at the restaurant and 'sealed,' especially when third-party delivery is involved," says Starr.
Ideally, pickup areas should have separate storage/shelves for third-party delivery pickup and direct-to-consumer pickup, says Rick McCormack, founder, Studio McCormack in Costa Mesa, Calif.
Starr prefers pickup stations that have a tiered shelf system with the dine-in expediter station 36 inches off the floor and the to-go expediter station at 30 inches, which allows employees to look down into the bags and verify their contents.
It's vital that pickup areas are simple for guests to navigate, says Kittelson. He describes the ideal makeup as consisting of shelves that fit with the concept's aesthetics and include racks housing condiments and silverware. Additionally, the condiment area should be large enough to accommodate several guests, he says, so customers are not leaning over each other. "If there is enough space and demand, two of everything is preferable," he adds. "Anytime you can eliminate crossover or steps, that's preferred, but space isn't always available."
Every Jersey Mike's Subs has a pickup tower placed close to the end of the line and the front door.
Dual Cooklines
Successful pickup and delivery start in the kitchen, though opinion is divided on whether two cooklines or expediter stations are helpful.
Having a second cookline dedicated to to-go and delivery orders can help restaurants function efficiently, says McCormack. However, the operator also then needs to have packaging at the expediter station and a good place to store it, he points out. "Ideally they're hiding that above or below a counter," he says.
Starr says he sees restaurants retain one cookline but have it split off to two expediter stations at the end.
Michael Salvatore, CEC, senior director at Ruck-Shockey Associates, a foodservice and hospitality consulting firm in Truckee, Calif., is not a fan of dual cooklines unless off-premises business is more than 50% of sales. Two cooklines, he says, "mean duplicate inventory — humans, equipment, supplies."
Ideally, bartaco places pickup stations close to expediter stations to keep food warm.McAlister's Deli has made its cooklines double-sided, with food for on-premises dining prepared on one side and off-premises meals on the other. When food for to-go orders comes off the line, it goes to a dedicated off-premises expediter station — out of the traffic flow to the dining room "because you're trying to minimize traffic patterns getting in the way of each other," explains Shelley Harris, restaurant category president at Focus Brands, the concept's parent company. At this station, staff package food and place it into bags along with condiments, napkins and so on. The expediting team and the pickup window employee "work in lockstep," Harris says.
Black Bear Diner has seen off-premises sales jump by 25% to 30% in the past few years, and to accommodate this growth the company turned a back-of-the-house prep area into a dedicated off-premises makeline. "We redesigned that area to include additional equipment," says Jeff Guido, chief operating officer of the 184-unit, Redding, Calif.-based chain. "We added in a POS, a grill, a toaster, a microwave, a fryer, a steamtable, a cold table, and it already had a hood." The restaurants also added some worktables and power, "but we had the space for it," he says.
New-builds now include this design approach, and the chain has retrofitted most existing diners.
It's not much more expensive to add this second line, Guido points out. "If we already have the hood vent, it's negligible. The increase is [mostly] in the cold table, the additional grill and the fryer." Having two cooklines improves the speed of service for both the in-person diner and the off-premises business, Guido says.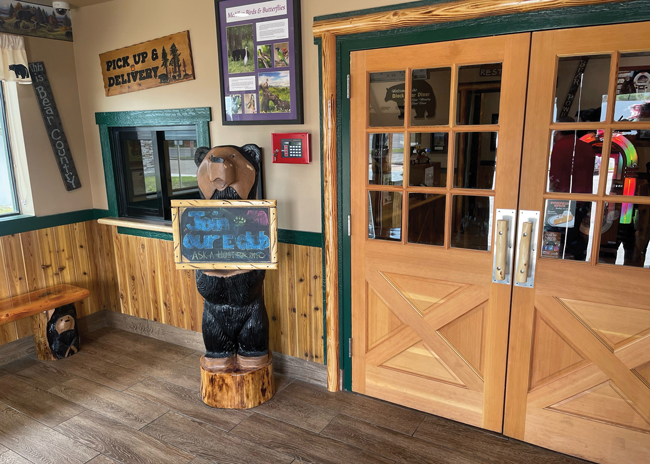 Black Bear Diner's pickup spots are in vestibules to keep this traffic away from dine-in customers.
Front-of-the-House Pickup Areas
Pickup and delivery stations in the front of house have many homes. Some operators like to place them by the front door, others closer to the kitchen.
Each new pickup tower at Jersey Mike's Subs sits at the end of the front-of-the-house makeline and replaces a fountain beverage machine. It's proving so popular that the Manasquan, N.J.-based chain is retrofitting all stores to add it since off-premises sales have jumped from around 10% to closer to 37%.
The placement of these pickup stations coincided with a few other changes at Jersey Mike's. The concept added a second makeline to its front of house so off-premises orders are made behind the original, customer-facing counter — off-premises orders are prepared with the employee's back to the restaurant, says Caroline Jones, senior vice president, Jersey Mike's Franchise Systems. The orders make their way down the line, to finish at the pickup station, where they're placed for customers to grab. "The key is having everything flow down there," says Jones.
Jersey Mike's Subs has seen a bump in off-premises sales, which now sits at closer to 37% of sales.Jersey Mike's originally considered the lobby for this tower, but placing it near employees allows customers to interact with staff when necessary. It's also just a few steps inside the front door. The pickup tower consists simply of a metal shelving rack with a big vinyl "Pick Up" sign above.
Starr prefers to place pickup stations close to the kitchen to make it easier for employees to move food from the expediter station. "When they're close, the two stations can easily talk to each other," he says.
Rick Conrath, principal at GTM Architects in Bethesda, Md., agrees. Ideally, he says, in a full-service restaurant a spot close to the bar area allows bar staff and hostesses help with off-premises orders.
Placing them closer to the kitchen also reduces steps for the kitchen staff, increasing efficiency, says David Shove-Brown, partner at //3877, a design firm in Washington, D.C. It also helps combat theft.
Salvatore says placing pickup in the middle of a restaurant, halfway between the entrance and the kitchen, is the best spot. He suggests putting up a demi-wall that directs customers to the pickup spot and keeps them from disturbing dine-in customers.
Fast-casual concept Genghis Grill revealed a new restaurant prototype this fall, with pickup stations just to the left of the front door. They feature cold holding areas and warming cabinets, though most food is cold. Limited seating is to the right, and in between the two is an ordering counter and a kiosk. The chain is considering adding pickup windows designated for third-party pickup to keep in-store traffic down even further, according to Gregg Majewski, CEO of parent company Mongolian Concepts Restaurant Group in Irving, Texas. It's important, Majewski says, "to change the layout to serve [off-premises business] so it's not an afterthought."
The kitchens in the new Genghis Grill prototype only have one cookline, and the company has streamlined it. The concept has eliminated a giant round grill that sat in the center of the kitchen and switched to traditional flattop grills and pushed them against the walls, with prep tables opposite so staff can simply pivot instead of walking 20 feet. This means one employee can man the restaurant during off-peak hours.
Fast-casual chain bartaco places its pickup areas close to the expediter station in the kitchen so food stays as hot as possible. This area sits to the side of the bar, making it easily visible from the front door when customers enter, says Amanda Stengel, director of design for bartaco. Each pickup area has a big sign above it, hand-painted on reclaimed wood, usually heart pine. In fact, the chain uses this wood throughout its restaurants.
The design of the pickup stations allows them to "feel like they're part of the restaurant, not an afterthought," says Stengel. They feature reclaimed wood, displays of bottled sauces, and sometimes merchandise. The back of the station consists of shelving to hold off-premises orders.
At bartaco's newest location the pickup station was designed differently. In this second-gen location, it would be too far for customers to walk through the restaurant, so Stengel placed it up front, near the door and the hostess stand but featuring the same hand-painted sign. This pickup area also has a window to the outside, to offer even more convenience to customers, she points out.
Pickup windows work well for off-premises orders, says GTM Architects' Conrath, and prevent customers walking through dining rooms. Ideally, they're just off the kitchen and have everything needed for to-go orders just inside, including storage shelves, condiments and a dedicated employee.
Pickup windows should be functional and ergonomic with nothing tucked away in drawers or even a few steps away, says Shove-Brown. Everything needs to be close so tasks don't take multiple people or multiple steps.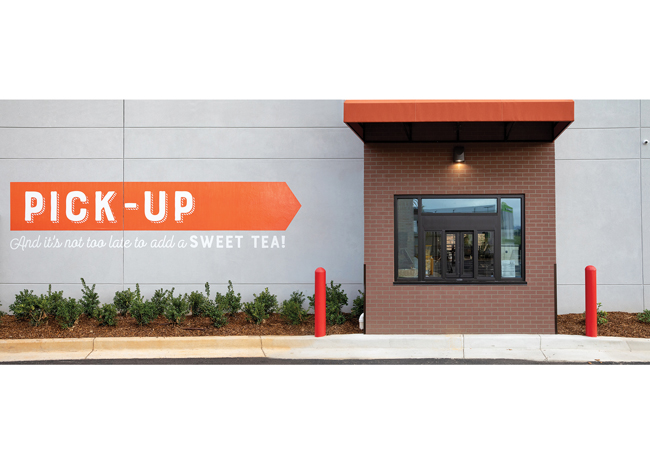 McAlister's call-ahead pickup window only requires one lane since service is speedy.
Call-Ahead Windows and Vestibule Pickup
Restaurants can also create small pickup spaces, accessed through a door at the side of the restaurant, says Salvatore.
For pickup spaces with their own entrances, customers access a small area that simply features bags of to-go food. Having a few menus available in holders is a good idea too, says Salvatore, but beyond that, a little branding on the walls and maybe some signage featuring loyalty rewards information, is sufficient. These areas are very close to the kitchen and are designed to be functional "with no decor, no plants, not comfy because people need to get in and out," Salvatore says. And since orders are prepaid, no employees are needed.
McAlister's Deli offers what it terms "frictionless convenience" through its call-ahead pickup windows, says Harris. Drive-thru is tricky for McAlister's, because it offers so much customization and a pickup window lends itself much better to the chain's menu, she explains.
Virtually all of McAlister's new-builds will open with a pickup window since "off-premises has been a growing sales channel," says Harris. "As the consumer has gotten smarter about using the technology for moving ahead, the pickup window has grown."
McAlister's only needs one lane for its pickup window because service is so fast, Harris adds. "Being able to execute quickly is really important. This requires being very organized inside."
In its new Design 1000 prototype, McAlister's sister brand Schlotzsky's features a pickup window on the side of the building opposite its drive-thrus. Schlotzsky's opened the first restaurant using its Design 1000 prototype in May.
Once orders get to the pickup window from the expediter station, the employee there prepares any drinks and adds straws to the bag if needed. Backup condiments are also held at this station. "The operational complexity at a window is very similar to a drive-thru. [Employees] need to push out the drinks and the bag and hand the guest a completed order," Harris points out. At busy times a second employee works the beverage station, but when it's quieter the pickup-window employee can handle them.
Black Bear Diner puts its in-house customers first and didn't want pickup customers and third-party delivery drivers passing through its restaurants. So the chain created a pickup area in its vestibules with a clearly marked wooden sign. Now, off-premises customers and drivers enter the vestibule, where they approach a clearly marked window to pick up orders. "The big thrust for that was to reduce congestion in our lobby," says Guido.