Keeping takeout and delivery customers happy is even more important than it once was.
"Once, everybody accepted that if you were getting takeout or delivery, it wasn't going to be as great as eating in the restaurant," says Tom Roberts, design specialist at Rapids Foodservice Contract and Design. "But now, some people are writing nasty notes on Yelp about poor service or food. So, one of the biggest problems we have is trying to figure out how we can keep takeout and delivery as close to sit-down restaurant quality as possible."
Consumers today are eager to enjoy dine-in experiences at restaurants, but they also remain determined to continue with their takeout and delivery orders, which skyrocketed during the pandemic shutdown. Consumers' off-premises dining habits are changing: The NPD Group reports that from February 2020 to February 2022, digital orders were up 117%, delivery orders increased 116% and drive-thru ordering rose 20%. Some of this period, notably, was during the pandemic.
Still, of the adult consumers interviewed for the National Restaurant Association's 2022 State of the Industry Report, 54% (including 72% of Millennials and 66% of Gen Zers) affirmed that purchasing takeout and/or delivery is essential to the way they live.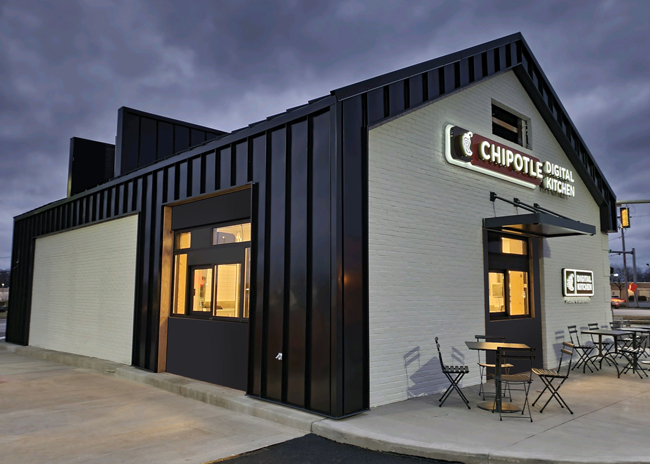 Chipotle's Chipotlane Digital Kitchen format caters to patrons who have pre-ordered their food online, by app or through a delivery service. It features both a drive-thru and a walk-up window for order retrieval. Customers have no access to the interior.
How to Adapt Right Now
Even those not on the cutting edge of digital takeout and delivery likely have an awareness of these offerings and may be considering taking the leap and investing in this area. Before thinking about reorganizing the front of the house or back of the house, operators pondering how their restaurant can thrive in this takeout-focused world should ask themselves, "Where do I land technology-wise? What is my package? Am I going to do online ordering? Most operations think they have to," says Laura Lentz, FCSI, design principal with Culinary Advisors. Whether to partner with third-party delivery services, and how to do so, are also part of decisions on mobile ordering. "These are still somewhat new decisions," she says. "They're not automatic."
Chipotlane staff face digital screens showing the exact components of each order for quick assembly. Photos courtesy Chipotle Mexican Grill The COVID-19 pandemic forced utilization of ordering technology to advance faster than it otherwise would, says Amber Hartman, managing partner and vice president of restaurant operations at Third House Hospitality. "The evolution to make the ordering process connected — more tech, more automation, seamless QR code ordering, ways to use technology to stagger kitchen production times — will continue at a rapid pace," she says. "Honestly, it's hard to keep up with."
Choosing the right POS system can mean speeding up takeout and delivery without overwhelming the fulfillment system or negatively affecting dine-in business, says Hartman's colleague Seth Roskind, Third House Hospitality's vice president of concept development. "You can see the delivery window shorten by up to 20 minutes, and you can handle a higher order volume with current staff and within the current layout," he says.
Integrating POS and mobile ordering with other technologies is paying off for Rise Southern Biscuits & Righteous Chicken, which opened a 960-square-foot "digital store," its smallest unit yet, in March. Customers are encouraged to order via the Rise website, the QR code, in-store kiosks or the newly launched Rise Rewards mobile app. "This smaller Rise footprint works perfectly with our standard mix of technology and equipment, which includes self-ordering kiosks, online ordering, order ready screens and a heated food locker system," says Ken Priest, the chain's chief financial officer.
Separating On-Premises and Off-Premises
In one recent design project for its client Soul Bowl, where the kitchen was also being used as a hub to prepare food for other Minneapolis-area units and for catering jobs, Rapids Foodservice funneled people picking up online orders for takeout, delivery or catering to a separate building entrance. A dedicated area for these customers was equipped with hot holding cabinets, heat lamps and refrigeration. "We wanted that area removed to speed up order fulfillment without interrupting the traffic flow of the dine-in space," Roberts explains.
In a similar vein, Daniel Kwon, project manager at Cini•Little, believes in separate front counter lines for those who have preordered their food. "They want to have fast food," he says. "They don't want to wait while other people are ordering."
Kwon notes that self-service temperature-controlled food cabinets, where delivery drivers and those who have preordered carryout can pick up their own food, are a labor-saving alternative to having a second staff member behind the counter to cater to those who have preordered.
Roberts says these hot and cold boxes are a major trend in both restaurants and corporate dining environments. They offer the simplicity and convenience of self-service — you walk up to a bank of lockers, enter a code, and the screen tells you what hot or cold locker your food is in — as well as a solution to the problem of maintaining quality of the food until it's retrieved by the end user or delivery driver. Steep initial prices have limited the adoption of this technology so far, Roberts says, but adds that it is a perfect solution for fast-food brands, pizza restaurants or Chinese takeout places with high traffic and takeout volume.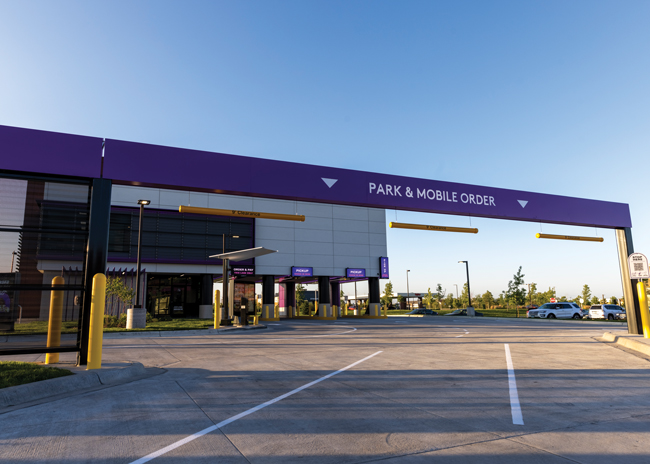 The drive-thru and parking lot of the Taco Bell "Defy" prototype.
New Thinking
Ordering kiosks have been a boon for food halls, Roberts notes, since they allow customers to order and pay for all of their dine-in or takeout food from a central location even though it may have been prepared in different areas by different concepts. Kiosk ordering can also be combined with other labor-saving technology for even greater speed and efficiency. Rapids Foodservice designed a system for its client Urban Wok that combines kiosk ordering with a label maker that prints out a sticky label featuring details of the order. Staff then affix the label to an oyster pail takeout container before placing it on a scale and starting it down the makeline.
A prep person assembles the recipe ingredients; then, the cook removes the ingredients from the container, stir-fries them in a wok and returns the completed dish to the same container for serving to the customer. "I watched this process over the lunch rush in two suburban and two downtown units," Roberts says. "The whole process takes less than seven minutes, no matter what the customer has ordered. And there are only two people working in the kitchen."
Roskind says the secret is to "lean into what you do well" and design the food fulfillment process from that starting point. "To achieve quality and volume in a small kitchen requires being thoughtful about the flow of production, the food ordering schedule and flexibility in how ingredients are used," he says. "And the other part is being more flexible in your cooking techniques."
Yet another approach is to take some elements off-site. Rapids Foodservice worked with Soul Kitchen to create a food preparation hub in one of its Minneapolis units. The kitchen will do catering for local areas and fulfill online and delivery-service orders. The food is staged from a dedicated area with refrigeration and hot holding. Drivers pull up to a dedicated building entrance instead of the unit's front counter.
Wherever it's done, centralized prep and cooking not only can save the brand time and money, but also can ensure consistency in the food preparation process. As Lentz points out, "Instead of seven restaurants having to train someone to chop tomatoes a certain way, the chain can potentially train one individual in one commissary to chop tomatoes."
Second Makeline: Yes or No?
Just as it's preferable that dine-in and takeout customers be shunted to two different areas in the front of house, back-kitchen prep could be set up to serve both of these customer segments separately and effectively. "Resetting the kitchen space for preparing and packaging takeout orders has changed the kitchen dynamic," says Lentz. "If you've reduced the menu and repurposed the space — maybe by switching out some equipment or turning an area with moveable tables into a work counter — you can continue to use a 25-foot chef counter and make room for takeout without a second makeline." And, she points out, a more compact kitchen is easier to clean, meaning staff have more time to devote to actual food prep.
Lentz doesn't believe adding a second line is the way to go in most cases. "I struggle with how that works, from a labor and throughput perspective, to help a restaurant through its peaks and valleys," she muses. "Some places have outgrown their seating, need or want takeout, and adding a makeline is all they can do; a lot of them are opening and closing the second line based on forecasted sales volume."
Roskind feels much the same way. "With our clients, we would be hesitant to recommend building a second makeline, which complicates equipment and staffing," he says. "And if you're only replacing in-person sit-down business with takeout orders, you don't necessarily need more in the kitchen."
However, Roskind says, it can be a challenge to land takeout orders into a holding area even while in-person orders are being prepped for the dining room. He recommends creating a dedicated secondary expo area for pickup, delivery and catering. "Sometimes we can reimagine the expo and prep area to handle a lot more orders," he says. "Most kitchens can be rethought to handle a higher order volume, maybe adding a staff member to be a second set of eyes."
Reorganizing the flow of production so that a single employee can staff multiple workstations is important in a small, short-staffed kitchen, says Shane Lupis, vice president of Clay Enterprises Food Service Design. For example, "The fry cook can also be in charge of salads, so you'd want to put both functions in the same area," he explains. That means arranging different types of equipment close to each other for a multifunction workstation, which also means staff take fewer steps during the day.
In a lightly staffed kitchen, lines of communication are more important than ever, Lentz notes. That includes sightlines since the expediter needs to be able to check on everyone in the kitchen.
Defying Expectations
Perhaps the boldest experiment yet, however, is the new "Defy" Taco Bell prototype, an idea brought to the chain by its franchisee Border Foods. "Taco Bell's partnership with franchisees has always been the 'secret sauce' to test new concepts and lead in innovation for restaurant development," says Lee Engler, CEO of the 230-unit franchise.
The Defy design — born during the pandemic, when it became clear consumers were demanding the convenience of digital ordering and pickup — is immersive, interactive and unique, says Mike Grams, Taco Bell's chief operating officer.
The design solves many of the challenges of traditional drive-thrus with its four lanes, three of them reserved for digital preorders and delivery-service orders. To keep the footprint compact, the kitchen operates from the second floor; customers can communicate with those fulfilling their orders through an A/V link. "From digital check-in screens for mobile order customers' unique QR codes to two-way audio and video for real face time with team members on the second floor, having multiple points of access is key to Defy's success," Engler says. Although the staffing level is similar to that of traditional Taco Bell restaurants, "back-of-house kitchen technology and deployment of roles are far different," he points out. "Defy guests can expect to see team members — and more of them — upstairs in the kitchen, with fewer at the counter."
An important part of the technology is the proprietary vertical lift that delivers food orders from the kitchen to the waiting driver below. The Defy lift transports food and drinks in an enclosed stainless-steel tube that self-levels to avoid spillage. Border Foods and Taco Bell teams are now looking at retrofits of existing restaurants to incorporate some of the Defy innovations.
Energy Star equipment and grease extraction technology are among the sustainable features of the Wingstop Restaurant of the Future kitchen.
Reinventing the Format
All this year, restaurant chains have been announcing plans to reinvent their formats for a new high-tech, high-throughput reality in which walk-up carryout, drive-thru and delivery take precedence:
Smart equipment, overhead kitchen display systems and a more compact footprint increase efficiency. Photos courtesy WingstopAfter seeing its off-premises sales rise 200% over pre-pandemic levels, Chili's has a new to-go- and delivery-only unit under construction; the chain is planning for a second. The 1,500- to 1,800-square-foot format is far smaller than the chain's typical 6,000-square-foot freestanding dine-in location. Chili's parent Brinker International also opened an urban ghost kitchen in New York City to prepare orders for Chili's and its chicken wings dark brand, It's Just Wings. The company sees both formats as ways to expand its reach in urban areas in the U.S. and abroad.