Some may view a table in a restaurant simply as a place to enjoy a meal with clients, family and friends, with knives, forks and plates just serving a basic purpose.
Nothing more, nothing less.
Multiconcept operator King's Seafood Company adjusts its tabletop from one restaurant to the next to not only suit the menu but also to enhance the visual intrigue of the food presentation. Photo courtesy of Edward Don & CompanyFor others, however, a well-designed tabletop is like a blank image for an artist. "The art of plating is just that — an art. The plate has always been and will always be the canvas for a chef to create a masterpiece," says Melissa Greenwald, president of Columbus, Ohio-based Greenwald Sales. "Right now, in addition to traditional ceramic items, chefs have the ability to use other mediums for their canvas like wood, metal, melamine and glass. Embossments, glazes, colors and shapes are all design elements that are created strategically with the goal of making chefs' dishes pop."
And pop they do.
Unlike traditional artists who may rely upon clay and paint, chefs can use their tabletops as an avenue to fully display their originality. "It is so fun to see the creativity flow," says Janet Jones, a territory sales representative for Edward Don & Company. "With different textures, colors and shapes, chefs can look at an empty plate and find inspiration for new dishes or bring an updated element to a classical favorite."
No longer is just a white plate on a white tablecloth enough to showcase culinary creativity. "Many are continually looking to refresh in one way or another, be it a complete overhaul or a few specialty pieces. I believe this has always been true and always will be," says Julie Pandl, business development manager for Milwaukee-based Boelter. "Tabletop is the first thing customers see, so most restaurateurs understand the need to make it engaging as well as appealing.
"Tabletop still makes 'the statement' about the operation," Pandl adds. "Details here let the customers know operators are not only defining themselves but also paying attention to every detail and trying to provide the best experience possible."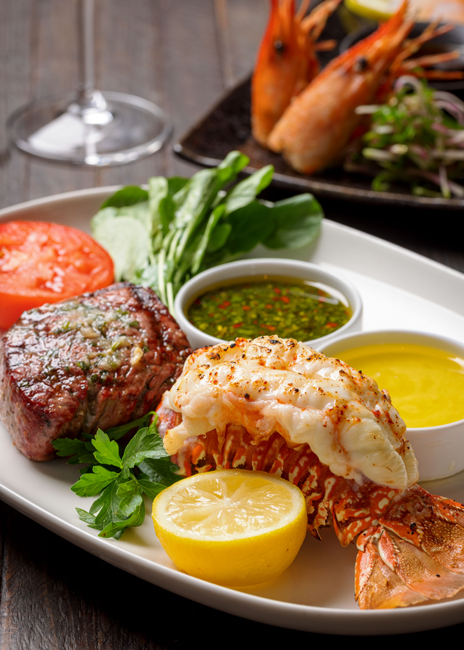 This trend was gaining traction prior to the pandemic and shows no signs of slowing down. As guests gradually return to restaurants on a more consistent basis, they continue to encounter distinctive and enlivening colors on their table that may fondly take them back to the box of 64 crayons they had as a child.
"I'm still seeing a lot of white [larger, or unique-shaped, presentation pieces], but chefs continue to gravitate to color and shape for specialty dishes," Pandl notes. "Again, independents have been doing this since pre-COVID, but [we are] now seeing it in many country clubs as well. It's a great way to make a change and create a new/unique look without making a huge investment in new china."
Though guests may not be dining on plateware that is burnt sienna or magenta, and there isn't a crayon sharpener to be found, guests continue to encounter quite a spectrum of hues. "While I'm deeply partial to greens, there is a ton of blue coming into the market this summer," says Morgan Tucker, vice president, marketing of Singer Equipment Company, based in Norwalk, Ohio. "Blues have been trending for quite some time, but it seems we're doubling down instead of pulling back in 2022. I'm also seeing some burgundy collections that are surprisingly complementary to almost all cuisine styles. And grays. Moody grays will carry us into winter 2022-23."
Whether bright green or moody gray, tabletop tints certainly have an impact on diners. According to Jones, some installations pair semi-matte black and smoky gray hues on the same tabletop with ombre (shadow) and spring-inspired colors like pastels.
Indeed, creativity is the trendiest of menu options when it comes to tabletops for an obvious reason: "Colors can make dishes pop, and different shapes can really complement the food being served, adding that Instragrammable element," said Amy Witt, regional account manager, Southwest Region, for The Wasserstrom Company. Witt is based in Albuquerque, N.M. "I've seen a lot of interest in blues and am currently working with a chef to find the perfect green and pink dinnerware. But my most recent installations have been gray, black and muted whites with a matte finish."
A creative menu that includes seafood, charcuterie and even salads, like the one at Dauphine's in Washington, D.C., requires diverse tabletop as seen here. Photo courtesy of Singer Equipment Co.
Adding Intrigue
The creative and elevated presentation of both food and drink are part of the experience at Whiptail. Photos courtesy of The Wasserstrom CompanyAfter taking into consideration the color of the plate, operators can start to explore various designs and shapes to further enhance the visual intrigue of their tabletops. And, once again, variety is the spice of life — or, in this case, the tabletop. "The trend I see is operators aren't sticking with one look," Witt says. "If mostly round plates with clean lines are being used, restaurateurs are much more open to adding a plate that is more organic to their inventory. They are allowing their chefs to have more creative license and letting the food decide what plate it should be on instead of vice versa."
Buoyed by that ability to use their own imagination in plating, do the chefs stick to basics or decide upon shapes that remind diners of their high school geometry class? Parallelograms, anyone?
"There is an element of intrigue to the new designs out there, where even the standard white dish has been elevated with a modernized edge, a square well or ripples in the plate itself," Jones says. "Organic shapes continue to show popularly, and flat, straight-walled plates as opposed to coupe styles allow chefs more versatility in plating."
The use of different shapes, colors and textures allows the diverse menu at Whiptail in Rio Rancho, N.M., to really stand out. Photo courtesy of The Wasserstrom CompanyTucker believes plateware designs from the past will also play an integral role in future dining. "I'm extremely excited to see a more elegant version of scalloped-edge detail hit the market," she says. "Drawing inspiration from vintage collections that many relied on during challenging financial times, cottage ware will continue to adorn tabletops across the country now that major dinnerware players have commercially developed patterns to complement this trend. Natural is also not going away — raw, unglazed pottery will continue to have its moment across many market segments."
Texture represents a third emerging trend, according to Tucker. "China manufacturers that are using new technology to create texture on the plate are having great success leading the trend to mimic hand-thrown pottery but with the manufacturing efficiency of high-volume production," she says. "Texture is also on trend with glassware. This trend has been in effect for the past several years and continues to carry on, mimicking the vintage glassware styles of the Roaring '20s. This looks like cut crystal and uses traditional shapes like coupes for cocktails."
Finely etched glassware serves as an excellent background for this elegant dessert at S.O.B. Steakhouse in Cincinnati. Photo courtesy of Greenwald MarketingCreating intriguing tabletops plays a critical role in providing excellent dining experiences. "For every diner ordering takeout or delivery, there's someone who cannot wait to get inside your dining room — and they're hungrier than ever for something they cannot make or prepare at home," says Tucker. "They also appreciate you more — it may have taken a pandemic for us to be kinder to those who commit their life to service, but thankfully, there has been a shift and guests are more appreciative of the dining experience.
"Every investment one makes to elevate the dining experience will pay dividends," Tucker adds. "There's also a huge opportunity to carefully curate your diner's at-home experience, from unique batch cocktail vessels or creative storytelling on your packaging. Every tabletop purchase, whether reusable or disposable, should consider the ethos of the operation — does this item add to our story?"
Even when paired with delicious food, excellent service and high-quality drinks, the tabletop installation continues to maintain its importance in determining whether the meal was truly a success. "Absolutely," Greenwald says. "The trends we are seeing, combined with the pent-up demand for resupply and the desire to create a unique dining experience that is far superior to the competition, makes this the best time in the history of tabletop specifications. Creating beautiful tabletops that combine all of the trending design elements and incorporating all of the colors, shapes and mediums is at a peak for those of us who are passionate for the category."
And then, of course, there's the obligatory taking of the pictures of the tabletops to share with family and friends. "Social media continues to be a main marketing method for many restaurateurs," Jones says. "With imagery being at the forefront of their marketing campaigns, an eye-catching tabletop is key."
Chefs like Michael White of the Lambs Club in New York, use various forms of china to create visual intrigue for their highly curated menus.
Navigating Supply Chain Issues
One hindrance, though, to updating and refreshing the tabletop experience is the acquisition of items due to supply chain issues. "The majority of tabletop comes from overseas, so yes, items are getting hung up during shipping or just sitting on the water in ports," Pandl says. "In addition, specialty pieces and custom decorating [especially gold/silver-banded items] are not as readily available as they used to be. Lead times on custom have increased significantly. Pricing is obviously going up as well, and labor shortages continue to be an issue."
Plating by chef Jacob Benavides of Green Goat in OhioAs for the lead times, just how lengthy are they? "The answer is, it depends," Greenwald says. "Many items are in stock and are shipping at somewhat normal lead times of around 7-10 days. I say 'somewhat normal' because the labor challenges and freight challenges that we are seeing — even if product is in stock and available — are impacting lead times negatively. If an item is not in stock, tabletop item lead times can range from 30 days to 150 days depending on the country of origin and the production schedule."
"It really depends," Pandl agrees. "Manufacturers are still trying to keep up with sudden demand from last spring when restaurants reopened. Some manufacturers are still having trouble on specific lines, while others are clawing their way back to normal stocking levels. I have seen lead times vary from one week to six months."
Despite the supply chain challenges, there is still cause for optimism. "Operators and dealers have returned to pre-COVID era purchases when it comes to tabletop," Greenwald says. "The Manufacturers' Agents Association for the Foodservice Industry's Business Barometer is reporting sales increases that are outpacing other foodservice categories significantly. Of course, I would go on a limb to say that tabletop was the most impacted segment during the COVID shutdowns, and so the increases we are seeing now are just leveling up to pre-pandemic numbers, as opposed to growth.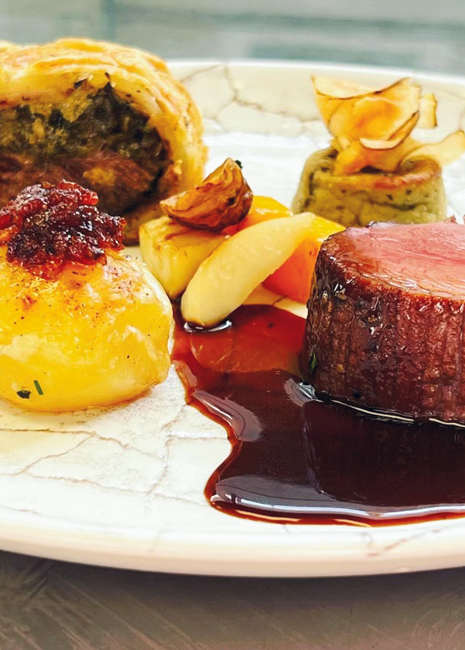 Plating by chef Ryan Scott of The Country Club in Ohio"The future is bright as operators are making investments in tabletop to set themselves apart from their competition," Greenwald continues. "They are making the investment and understanding the way that a unique tabletop experience will innately enhance their guest's experience in a subtle but impactful way, more than they ever have before."
While there's lots to be said about the convenience of consuming restaurant-quality food in the home, the fact remains there's nothing quite like a well-thought-out restaurant dining experience. "People renovated their homes, and now they want experiences. Compound that with the fact that people are more culinarily educated than ever before … they spent the pandemic learning how to make bread!" Tucker says. "They understand clean eating and regenerative agriculture. Every restaurateur is serving a more discerning and distinguished guest in 2022."