For college dining services, it's a brave new post-pandemic world
Every form of foodservice was wildly disrupted by the pandemic, but retail and residential dining in colleges and universities faced their own sets of unique challenges. In 2020, dining halls closed. Some students living on campus picked up to-go meals and took classes online in their dorm rooms; others simply left. The personal isolation that followed left collegians unhappy and even depressed.
With campuses filling up again, how will dining services approach the future? Will longer-term trends toward takeout, delivery, mobile ordering and nontraditional forms of foodservice continue to accelerate? Or will colleges double down on dining halls and food courts as a social experience that adds a sense of belonging to students' lives on campus?
Many campuses have returned to some self-service in dining areas, as well as visible food prep behind counters, as with the remodeled Top Cafe residential dining hall at Florida A&M University. Photo courtesy Metz Culinary Management
College Dining Trend #1: To-go or not to-go
Experts who watch trends in college and university dining see a dichotomy in how much focus different colleges and universities put on dine-in versus takeout service.
"There's no one clear direction. It depends on the college culture," says Rob White, president of foodservice consultancy Envision Strategies. Many universities improved and expanded their dining locations, he says, including, in some cases, significant capital expenditures made at the height of the pandemic when the dining halls were closed. White cites the University of Maryland at College Park as one example. The university was able to move ahead on construction of a new 60,000-square-foot, 1,000-seat dining hall (called Yahentamitsi in honor of the state's Piscataway tribe and featuring tribal art and artifacts) that was planned in 2019. This spring marked the transition back to a fully in-person campus dining experience and the dining hall no longer offers takeout.
Other institutions used the pandemic to inaugurate or expand takeout service and mobile ordering, White says. The STEM-focused Rochester Institute of Technology in upstate New York implemented multichannel access to dining information and online/mobile ordering from 13 different coffee shops, bakeries and restaurants. Now, some 40% of all dining orders are made on mobile phones, and takeout far outpaces dine-in.
To save on labor, speed up the ordering line and improve order accuracy, more colleges are adding onsite ordering kiosks to supplement mobile preorders and in-person ordering. Photo courtesy University of North DakotaMany campuses continue to add on-site ordering kiosks as an alternative to both smartphone pre-ordering and walkup orders. Unstaffed self-checkout cashier stations may also help ensure speedy, contactless transactions.
One example of a rethink to accommodate both in-person dining and carryout in a single facility is a gutted and reconstructed retail food court at Palm Beach Atlantic University, for which John Barja, president of Foodesign Associates, provided consulting services. His firm not only created new menu stations including a sushi bar, a bakery and an ice cream counter, but also specified a coffee shop and grab-and-go station outside the main dining area to conveniently serve takeout customers.
Chuck Schuler, associate project manager at foodservice design consultancy Cini•Little, notes a trend toward students dining alone together. He describes this as more students sitting in dining areas for hours at a time, attending classes using video calls on their laptops rather than going to lecture halls.
Kevin Rettle, global vice president of product development at contract management provider Sodexo, also sees the idea of social bonding over food evolving. "Traditional resident dining and social interaction are certainly important for students' success," he says. "But now, students are also creating social hubs of casual collision. You could have food through delivery, shared by groups of friends in a building lobby."
Sodexo takes a leadership role in one of the hottest trends in college foodservice — delivery robots — via partnerships with two different robot providers and servicers. Ad hoc social gatherings over shared food are far from the only uses he's seen. Robot delivery is particularly popular for students in dorms craving late-night meals and snacks, Rettle says.
College foodservice directors and consultants serving the C&U sector see other ways the trend toward more satellite foodservice all around the campus is playing out. Barja cites the proliferation of self-contained pop-up mobile kitchens — basically food trucks without wheels — that an operator can position temporarily or permanently in areas of campus with no other convenient dining options. These small, self-contained kitchens are also easy to integrate into a retail food court with branded concepts.
White and Schuler mention the growth of unstaffed, self-checkout, 24-hour convenience stores and micromarkets on campuses as other iterations of satellite foodservice. While traditional vending may be available, the use of showy technology such as self-service espresso makers or milkshake machines, pizza robots, salad dispensers and so on continues to show tremendous potential.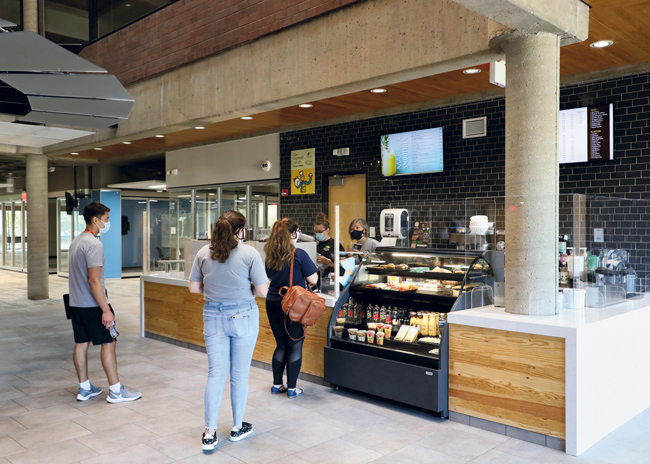 Partnerships with local restaurants and food purveyors are an important part of branding on today's campuses. Stacks Café at Johnson County Community College sources its coffee from The Roasterie, a widely known roaster based in nearby Kansas City, Mo. Photo courtesy Johnson County Community CollegeSelf-service convenience markets remain a key foodservice feature for the University of Alabama. These "have been a great option for us across campus for expanding service without adding to staffing struggles," says Kristina Patridge, director of university dining service and president of the National Association of College and University Food Services (NACUFS). The university operates five unstaffed markets, including locations at a bus hub, in the nursing school and music school, and in a wellness building.
Technology "is expanding opportunities for college dining to deliver service, whether it's mobile ordering or robots or other automated ways of serving students," says Patridge. Her campus inaugurated a new takeout-enabled POS system during the pandemic and partnered with Grubhub for delivery service. Now, she says, mobile ordering is taken for granted, in-person dining is back to pre-pandemic levels, and on-campus delivery is no longer offered.
Campuses experiencing upticks in takeout and mobile orders may have to make some pricey investments. Dining services directors "are wondering if they need to rethink how their facilities are set up to better accommodate mobile," White says. "The same serving platform now has to handle orders that have already been called in and need to be picked up, along with people walking in and looking up at the menu board. Those are two very different order fulfillment processes, and most platforms were not designed with that in mind." Linear serving counters, pickup windows and stations, holding areas and storage shelves all must be rethought.
Takeout is "only going to grow," says Orlynn Rosaasen, director of dining services at the University of North Dakota and immediate past president of NACUFS. On his campus, takeaway represented only about 5% of dining hall orders in 2019, but about a third of meal plan participants now take their food to go. To facilitate the takeout orders, the university rolled out a mobile ordering app as well as campus delivery service from retail concepts and residential dining locations via Grubhub. In the student union, self-order kiosks and limited cashier stations allow for faster customer throughput. Satellite retail cafes have been closed and are in the process of transitioning to unattended micromarkets with a vending component.
To meet demand for convenient takeout around campus and further save on staff counts, campuses are adding unstaffed 24-hour mini-marts with automated customer checkout. This autonomous grocery was installed at the University of Denver. Photo courtesy Sodexo
College Dining Trend #2: Coping with the Labor Shortage
C&U dining services departments, like almost every other business in the country, are struggling mightily to hire, train and retain enough staff.
Labor issues have led to a good deal of back-of-the-house automation — everything from high-efficiency slicers and mixers to robotic assistance in food production (such as salad robots) or packaging (such as filling and sealing machines for sandwiches and snacks).
Operators continue to rethink old-style commissary kitchens as ghost or dark kitchens, producing menu items for a variety of retail concepts. Some dining departments look at operational costs and decide they can do better partnering with a private bakery or salad production center off-campus. Other institutions opt to open production bakeries and invest in equipment like sheeters, rollers, dough-handling machines and high-end ovens.
"Universities are looking to technology to help them mitigate labor issues," says Kip Serfozo, director of design at Cini•Little. "We've seen a lot of ventless cooking, preprepared items that can be quickly heated up, items that can be gotten in from a commissary and finished off in a speed oven. Campuses are going back to self-service. Grab-and-go is even more popular — packaged items that are quick and easy. There are smaller menus with fewer items, with an emphasis on quality over quantity of choices."
A more plant-forward and freshness-focused menu in college dining means more labor, equipment and storage dedicated to vegetable components of menu offerings. Photo courtesy University of North DakotaFor many the focus is not about the labor they don't have but rather repurposing what labor they do have to ensure the greatest impact regardless of staffing levels. "We want to focus on customer service and the guest experience," says residential dining executive chef Frank Turchan of the University of Michigan. "If someone is spending time cutting vegetables, that's time not devoted to taking care of customers."
Turchan sees self-service menu items as an important way to save on back-of-the-house labor and refocus a diminished staff on customer service, but he points out the importance of balancing these labor cost savings against food costs. Over the pandemic, the university was serving plated dishes, which helped control waste and food costs while ensuring sanitation. Today, dining locations serve pre-prepped and reassembled plated foods, especially when expensive whole-muscle proteins are involved; self-service is used for a rotation of simple, intrinsically portion-controlled items like salad-bar selections, a choice of pizza slices, or a pasta station with a selection of sauces from portioned ladles.
To promote back-of-the-house labor efficiency and food cost savings, touchscreen digital displays at every station show chef- and dietitian-approved recipes and preparation steps. "Technology can really help us, from HACCP logs that can be read and recipes that can be programmed off-campus, to the smart-temperature refrigerator we just installed, to electric stoves that reduce kitchen footprints," Turchan says. Also invaluable are smaller, more versatile combi ovens that can prepare several foods at different temperatures utilizing different cooking methods at the same time, all in the same compact footprint.
But there are less obvious ways to enable labor savings as well. Turchan mentions the dish room. "A lot of foodservice labor is in the dish rooms," he says. "The culinary part requires the dish room, so automating the dishmachines is key."
College Dining Trend #3: Fulfilling New Food Demands Efficiently
Efforts to serve students' new food demands at reasonable cost have brought about many types of accommodation and innovation. Here, a roundup of a few of those things happening in the C&U segment.
Smaller menus. Given the labor shortage, menus continue to shrink. "We have to look at scaling back menu offerings, simply because we're not going to have the labor to do what we were doing in the past," says Rosaasen of NDU. "It takes less labor to make 4 items instead of 12." Chefs will cope by using tricks that commercial restaurants know well, such as utilizing sauces and toppings to create a sense of menu variety. And favorite items that were previously menued daily may still be offered but perhaps on a weekly rotation.
The food court at Johnson County Community College is typical in including a mix of national brands and self-branded stations. The college is using a $450,000 CARES Act grant to update back-kitchen equipment to support the servery. Photo courtesy Johnson County Community CollegeNew thinking on branding. Many colleges and universities still offer classes online, and meal plan participation has yet to reach pre-COVID levels. To offset these challenges, some dining departments are forging more licensing agreements with national brands to lure students to spend dining points at familiar chains. Others are spicing up branded retail foodservice by mixing in locally owned or self-branded concepts.
Johnson County Community College in Overland Park, Kan., has no residence halls or residential dining, so the food court serves as the center of student life. The anchor concept is Chick-fil-A, with which the college has had a 21-year partnership. It's so popular that dining services plans to install two remote-order kiosks outside the food court to speed up the ordering line. Johnson County's dining options also include a third-party sushi concept, a self-branded hot bar and salad bar, and a separate coffee bar that uses beans from a well-known local Kansas City company, The Roasterie. "We do what we do well, and mix in the other outside concepts," says Jay Glatz, director of dining services and a NACUFS trustee.
The key to successful customer engagement with branded concepts is variety, says Sodexo's Kevin Rettle. Ghost kitchens work well with specialty food brands, he believes, because a single facility can produce items from several brands simultaneously — grill items, wings, pizza, Mexican fare and more — for dine-in, takeout or delivery. Ghost kitchens also enable campuses to add virtual concepts, like Sodexo's new brand partner MrBeast Burger. Rettle says his company is rolling out other virtual concepts for campuses, including a dessert category.
More sophisticated local specialties and ethnic fare. "Gen Z is looking for more flavors and expanding its palates," says Jeffrey Nice, vice president of operations for foodservice contract management firm Chartwells at Louisiana State University. "Demand for ethnic foods is emerging, but so is a need for authenticity." To help meet students' expectations for varied and authentic fare, LSU offers national and internal brands but also partners with Baton Rouge restaurateurs for outlets of favorite local concepts like City Pork, Zippy's and CC's, as well as pop-ups serving ethnic cuisines, including Puerto Rican, Lebanese and Ethiopian.
The University of Alabama utilizes food trucks in partnership with local business owners to vary its menu offerings in high-traffic locations around campus. Like LSU, it emphasizes local brands (Urban Cookhouse) and ethnic specialties (La Mexicana), along with more standard food-truck fare like a smoothie concept and a grilled-cheese-sandwich outlet. The food truck partnerships change every semester; each term's partners are also offered a spot in the student union food court. Purveyors are required to purchase POS equipment that allows them to accept the university's Dining Dollars.
Front-of-the-house action stations have even more impact in an environment in which every foodservice employee must make a maximum impression on customers, say college foodservice directors and consultants. Controlling serving sizes behind the counter is even more important when center-of-the-plate proteins are involved, especially during the current supply chain crisis. Photo courtesy Chartwells/ Louisiana State UniversityPlant-forward eating styles. A growing proportion of college students choose vegetarian or vegan meals, and this market is no longer satisfied with brand-name frozen veggie burgers or a limited selection of stereotypical nonmeat dishes like vegetarian chili or tofu stir-fry. Instead, they expect creative scratch-made meals assembled from ingredients like lentils, chickpeas, grains, fresh vegetables, and authentic ethnic herbs and spices. Offering a plant-forward food selection without taking shortcuts requires more labor-intensive prep work in the kitchen.
"We need more food processors, more slicers and dicers, because we're using more vegetables and legumes, making more 'real food' from scratch rather than convenience items that cost more," says Turchan of the University of Michigan.
Dealing with food allergies and intolerances. Students who can't eat certain foods are no longer left on their own to steer through a minefield of menu choices.
Louisiana State University has dedicated "Pure Eats" sections in its five dining halls, where the menus on offer are free of the top eight allergens (milk, soy, wheat, peanuts, tree nuts, fish, shellfish and eggs) as well as gluten-free. Students with special dietary needs are urged: "Don't be shy, self-identify." Those who do so meet one-on-one with a member of the dietary staff to discuss special accommodations and tailor an individual eating plan.
University of Alabama students who require allergy accommodations have their own portal within the university's mobile ordering app, enabling them to purchase meals that meet their special needs, such as a nut-free or gluten-free meal. A new dining hall has a station called "Glutinus Minimus" with dedicated equipment to produce meals free of gluten or specific allergens. That station is open to all, but in addition, diners with identified allergies and sensitivities will soon be able to access a locked prep area where they can put together their own meals. Dedicated space and equipment will be set apart for avoidance of each specific allergen or food intolerance.
Sensitivity to students' religious requirements. Today, colleges and universities must understand and serve the needs of a culturally diverse group of students and staff — something that isn't always easy in a mass feeding environment but is a differentiator for colleges that succeed. The University of Michigan offers both Jewish kosher and Muslim halal meals. There's a full, separate kosher kitchen, and all dining halls offer some halal items cooked utilizing designated ovens and grills that are cleaned and maintained according to halal practices. Louisiana State University, which accommodates kosher and halal needs year-round, offered precooked halal meals to students celebrating Ramadan this year; the packaged meals could be taken home to eat after sunset and before sunrise, or they could be eaten in dining halls that were kept open late.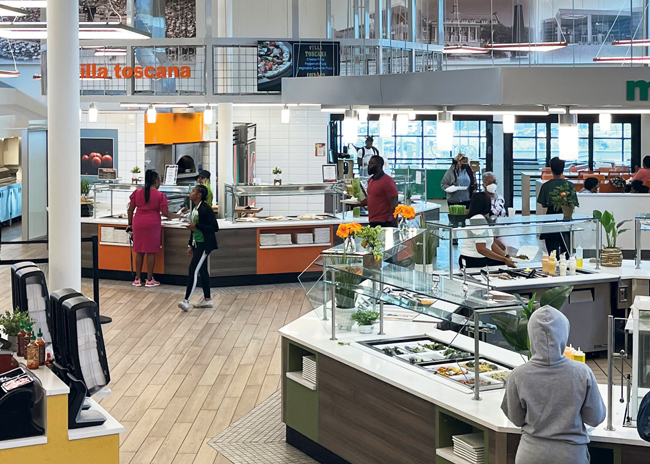 To cope with a labor shortage, speed throughput and satisfy customer cravings for choice, many campuses have returned to self-service for salad and condiment bars. Shown here is the Market Street Deli and Green Salad Bar at the Top Café residential dining hall at Florida A&M University. In partnership with Metz Culinary Management, the hall was remodeled in 2021 with new food stations and seating. An indoor hydroponic growing system for fresh herbs is the focal point of the dining area. Photo courtesy Metz Culinary Management
Sustainability. Compared to almost any other group of diners, collegians know and care a great deal about the role of food and foodservice in wastefulness and pollution or in creating a sustainable, less carbon-intensive future. Students appreciate campus dining services that go above and beyond in this area.
At Johnson County Community College, students get beverage discounts for bringing their own cups; plasticware and containers are composted at the campus farm, which then sells fruits and vegetables to dining services.
Louisiana State University has received Green Restaurant certification from the Green Restaurant Association for one of its residential dining halls and is applying to certify others. Farm shelves are being brought into dining areas, allowing students to see fresh herbs and lettuce being grown for their meals. Takeout customers are offered a choice of compostable or reusable takeout containers. Pre-consumer kitchen food scraps are sent to farms for animal feed, and post-consumer food waste is sent to a program that uses fly larvae to turn it into fertilizer.
The University of Alabama recycles used oil, composts food waste and buys local produce whenever possible. Patridge was also involved in the creation of NACUFS' new sustainability toolkit for college campuses, as well as its benchmarking effort to gauge and compare efforts in different C&U dining departments.