As in other industry segments, trends already at work reshaping senior living foodservice prior to the pandemic have intensified in strategic importance over the past two years.
The segment, which encompasses independent and assisted living, memory care and so-called continuous care retirement communities (CCRCs), is emerging from lockdowns and severe restrictions with renewed emphasis on several key themes: community building, wellness, resident engagement, flexibility, variety, personal choice and tech-based solutions, all of which have implications for the future of senior living foodservice.
That future, based on demographic trends and increasing life expectancies alone, seems bright, with the segment primed for major growth. Market research firm Grand View Research reports the U.S. assisted living market size was valued at $83.2 billion in 2020 and projects it to expand at a compound annual growth rate of 5.3% to reach $119.2 billion by 2027. Plante Moran Living Forward, a senior living development advisory firm, projects that in the next two decades senior housing units will increase by 1 million at a 4.7% annual growth rate, effectively doubling senior housing demand from 2020 to 2040.
: Vasco's, a fine-dining restaurant at the new Atria Newport Beach, exemplifies the company's commitment to meeting Baby Boomer's expectations for high-quality restaurant-style dining. Photo courtesy of Atria Senior Living
It's a growth story driven, to a large degree, by the ever-influential Baby Boomers. Some food for thought, based on 2020 U.S. Census Bureau data: By 2026, the oldest of the Boomers will enter their 80s, beginning a wave that will see the 80-plus population surge from 13 million in 2020 to an estimated 28 million in 2040.
Grand View Research points to other key factors fueling the segment's growth as well. Top among them: traction being gained by CCRCs and technological advancements in senior care. CCRCs, which typically cater to seniors age 50 and above with high disposable income, offer aging in place, with progressively higher levels of care available as residents' healthcare needs change. Technological developments, meanwhile, continue to make it easier for seniors to thrive in independent and assisted living scenarios longer, in many cases avoiding or postponing transition to nursing homes.
The upshot: Demand for senior living and care options is about to surge. And despite the pandemic's major toll, Datassential data compiled for the International Foodservice Manufacturers Association, published in February 2022, shows senior living operators maintained most of their foodservice revenues over the past two years. The segment is also one of three, along with supermarket foodservice and limited-service restaurants, pegged by Technomic Inc. as the strongest leaders in the industry's recovery.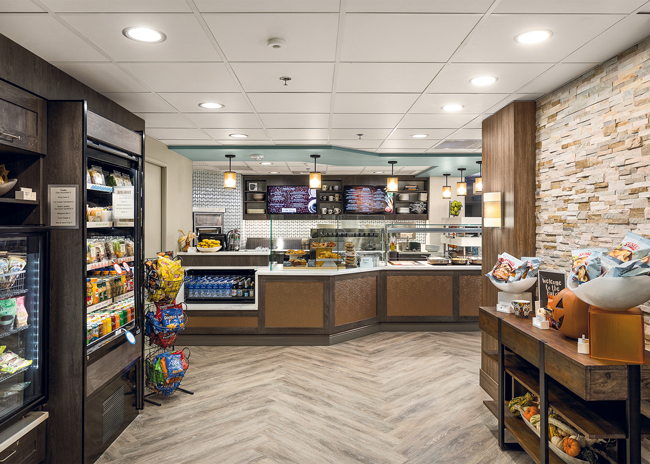 At Judson Park, a senior living community in Des Moines, Wa., SCOPOS Hospitality Group designed the recently renovated lobby bistro to include a cooked-to-order menu and expanded grab-and-go offerings. Photo by Eugene Elikh
Much of its strength comes from shifts well underway to enhance senior living communities by integrating more lifestyle, community-building, wellness and dining elements designed to appeal to its new, younger and more discerning customer base, says Matt Schuler, director of culinary development at SCOPOS Hospitality Group in Ephrata, Pa. "Even before COVID-19, there was a big transition underway in terms of how senior living operators feed their residents and in how they're looking towards the future," Schuler says. "The pandemic demanded big pivots and a deep dive into how we deliver food and keep residents safe. Much of what we learned and shifted to, including systems for remote order entry, virtual events, enhanced meal delivery and takeout systems, will remain. But moving forward, we're also very much focused on the younger generation of Baby Boomers moving in. We have to make sure we're providing the types of foodservice experiences they want. They're more educated. They've traveled a lot. And they're foodies. They have a stronger focus on wellness and sustainability. It's a transition that much of the industry hasn't adequately prepared for, so there's a lot of work to do."
SCOPOS, a foodservice consultancy that specializes in the senior living segment, offers design, programming, branding and operational support services to communities across the country. Schuler says the company is helping clients implement more restaurant-style foodservice options. Operators are retiring old-school dining rooms serving pre-prepared "scoop-and-serve" foods from 28-day cycle menus and replacing them with multiple-venue programs that utilize space more efficiently and offer greater menu, concept and hours-of-service flexibility. Much as in higher education and business dining, foodservice serves as a strong recruitment and retention tool for residents and staff alike.
"Today, instead of one big dining room that operated basically just to get everyone in, fed and out, we're developing branded coffee shops, bars, fine dining and casual dining options," Schuler says. "We have to mimic what the restaurant industry is doing and bring that into the community. We need to be offering a wide variety of cuisines that cater to the very diverse needs of these new residents moving in. Doing so brings them in and improves their satisfaction while they're here."
From a design and equipment standpoint, Schuler adds, flexibility and efficient use of space has become paramount. For new builds, multiple venues can be designed in from the start and, in best-case scenarios, the foodservice consultant has an opportunity to assess needs and collaborate with the architect and community developers.
Meeting changing foodservice needs can be trickier but is nonetheless critical for operators seeking to reposition existing, aging assets to remain competitive, Schuler adds. Typically featuring one dining room served by a large, and largely inefficient, kitchen filled with big, often single-function equipment, he says the challenge is to transition to multiple venues with varied concepts while improving efficiency and flexibility. To that end, he says, kitchen technologies in high demand are multi-function, programmable cook-and-hold and rapid-cook ovens.
RiverWoods Durham, opened in 2019, integrated high-end finishes, exposition cooking and a restaurant-style wine wall into the design of its main dining commons. Photo by Alise O'Brien Photography
A Multilevel Market
The sheer diversity of the senior living marketplace precludes one-size-fits-all thinking. While high-quality, high-cost communities move to incorporate restaurant-quality venues and services, the industry's much larger mid-section demands value-driven models and solutions.
Louisville, Ky.-based Atria Senior Living diversified its portfolio to position the company for growth in multiple levels of the marketplace. A marquee high-end example is the company's new luxury Coterie brand, a joint venture with New York-based real estate developer Related Companies. Its debut community, Coterie Cathedral Hill, opened this March in San Francisco, and a second is planned for New York's City's Hudson Yards. Featuring "world-class architecture and design," myriad integrated smart technologies, high-end amenities, concierge services and a multi-venue "Michelin-inspired" culinary program, Coterie includes independent and assisted living, as well as memory care.
The new brand joins the company's Atria Signature, Atria Senior Living, Atria Park and Atria Retirement brands, which offer progressively less luxury and greater price accessibility, as well as its mid-market Holiday banner. The latter is the product of Atria's 2021 acquisition of the management service group of Holiday Retirement. That purchase makes the company the second-largest senior living provider in North America and enables Atria to "continue on our path to create a thoughtful variety of choices as unprecedented numbers of people seek senior living options in the decade ahead," noted John Moore, chairman and CEO, in the acquisition announcement.
John Hetzel, vice president of culinary at Atria Senior Living, says that regardless of level or price point, foodservice programs are shifting (as resources allow) toward restaurant-style venues, menus and service styles. "Our challenge is to stay out in front of what our new residents, especially the Baby Boomers, expect," Hetzel says. "We're looking hard at what innovations are out there that can help us meet those very high expectations. We're also taking an increasingly holistic approach to resident care in our communities, one in which foodservice, wellness and lifestyle, and care teams all collaborate on programming and events."
Rich Valway, president and CEO of Culinary Services Group in Westminster, Md., a contract management firm specializing in the senior living segment, adds that his company serves all levels but is particularly targeting the market's burgeoning mid-range. Its strategy involves exploring initiatives that add value while lowering operational costs.
"For us, it's about taking care of the residents," Valway says. "It's tough to do that on limited budgets, and we understand the pain that many of our clients experience because most of their funding comes from Medicare and Medicaid. Their revenues are capped, so the future is going to be about figuring out how we can extract cost and still provide a consistent, quality, nutritious meal with a level of service that makes residents smile and feel good."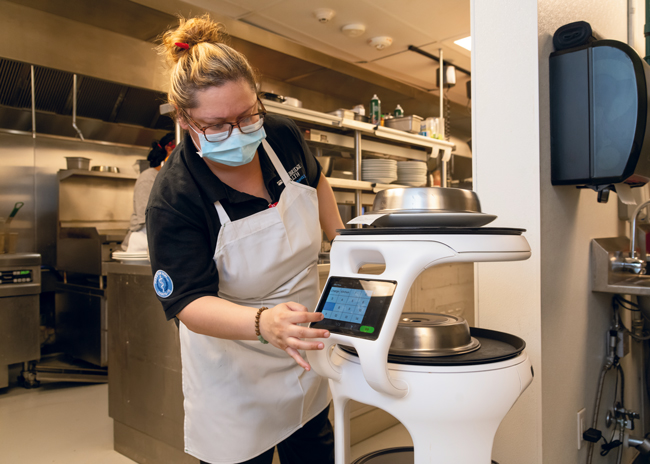 Culinary Services Group is testing a variety of new technologies in senior living communities, including robots that deliver trays to residents. Photo courtesy of Culinary Services Group
Achieving those goals during the ongoing labor crisis, Valway says, means sourcing more quality, finished food products for these B- and C-level market segments. It means doubling down on staff training and retention to ensure positive, caring interactions with residents. And it means relying more heavily on technology and automation.
As a segment, senior living has historically been slow to change, Valway adds, but the pandemic disruption forced new thinking. "COVID has taken a huge toll, but it's also forced operators to pivot and embrace change," he says. "Access to capital is always a challenge, but we've set our sights on how we can automate, how we can implement robotics and other technologies to make our teams more efficient. The disruption accelerated our ability to introduce change and get buy-in from clients and residents alike."
New technologies on CSG's radar target resident engagement, operational efficiency and labor reduction. They include a new online portal that enables residents, foodservice staff and family members to interact virtually and front-of-house robots that deliver trays to residents.
"Introducing bots raised some eyebrows," Valway admits. "We tried to make it fun and include the residents. As soon as they realized they still had servers, who could now be more attentive, in the dining room and that their meals were coming out quicker, they really embraced the idea. They even came up with names for the bots."
Systems to automate mundane tasks such as packaging and tray assembly are also on Valway's future tech wish list. "We need to be able to do more with less," he says. "If manufacturers can find better ways to automate and streamline some of these processes, they're going to have a huge market for them because for us and the companies we serve, it's very, very hard to find staff. There might be sexier segments out there, but we care for real people, and this market needs help and solutions too."