Shifting demographics, ingredient challenges and pricing impact fine-dining restaurants.
In the heat of the pandemic, fine-dining restaurants, like nearly all operators, found themselves dealing with labor shortages, an increase in costs for staple menu ingredients — particularly high-quality cuts of beef — and the nearly overnight pivot to takeout and delivery. While some fine-dining establishments easily adapted to the changing times, offering meal kits in packs of two and four, and becoming alt-lite grocery stores when general supplies were low, others struggled to make their way through the storm.
Future predictions for the segment show a bit of a long lead time for recovery in the fine-dining segment. Datassential predicts that after a decline of 44.5% in year-over-year real change in 2020, fine dining would end 2021 with a positive 19% change, 2022 at 11% and then level off in 2023 at .07% — which would mean the segment would still not have recovered from its 2020 pandemic-ridden drop. The look ahead was part of an August 2021 Datassential forecast.
While there are no real-time numbers in terms of fine-dining closures over the past two years, Rick Camac, dean of Restaurant & Hospitality Management at the Institute of Culinary Education, offers some insight as to how hard subsets of this segment have been hit. Camac says the number of fine-dining French establishments in New York City alone has dropped from 40-plus to "maybe four or five" as of mid-December.
J&G Steakhouse at The Phoenician in Scottsdale, Ariz.
"I think that since COVID, anything on the upswing for fine dining has gone higher and anything on the downswing has been exacerbated," Camac says. "People today have changed the way they dine, and we like to dine a little quicker than we have in the past. Even specific to delivery, fine-dining restaurants are moving toward delivery, something they previously never thought they would do. They're figuring out different revenue channels and how to make things work for them."
A lot of high-end fare is served in much more relaxed atmospheres today, says Camac. He cites New York City restaurants such as Crown Shy, SAGA and One White Street as locations that offer high-end food but with a less formal level of service than what used to be associated with fine dining. SAGA, for example, is more "experiential," he says, as diners are enveloped into the restaurant and its atmosphere, which includes a skyline view of the city. Meanwhile, the staff at One White Street are "experts at what they do," which involves a farm-to-table approach that includes the restaurant owners actually operating a farm to provide ingredients throughout the year. The restaurant bills itself as a "reimagined dining experience" and adds that it "doesn't take itself too seriously."
Experiential Shifts
Providing more experiential service represents one area where fine-dining establishments can find opportunities for growth. "Given the increased isolation experienced over the past two years, many [consumers] are yearning for connection, luxury and a bit of theatrics," says Leith Steel, senior strategist with San Francisco-based Carbonate Group, a brand communications and creative services agency. "The fine-dining sector is well positioned to transcend a meal into an experience, and with this, we've been seeing a rise in tableside presentations, and new restaurants that lean into opulence."
Restaurant owners continue to embrace experiential dining too. Eating out at fine-dining restaurants will be about enjoying the taste and texture of menu items in a variety of atmospheres, says Derek Simcik, director of culinary operations with Sage Restaurant Concepts. "Dining experiences as a whole will become more transformational — think restaurants that transition guests to new spaces throughout each part of the meal, differing music tempos to accompany each course and more."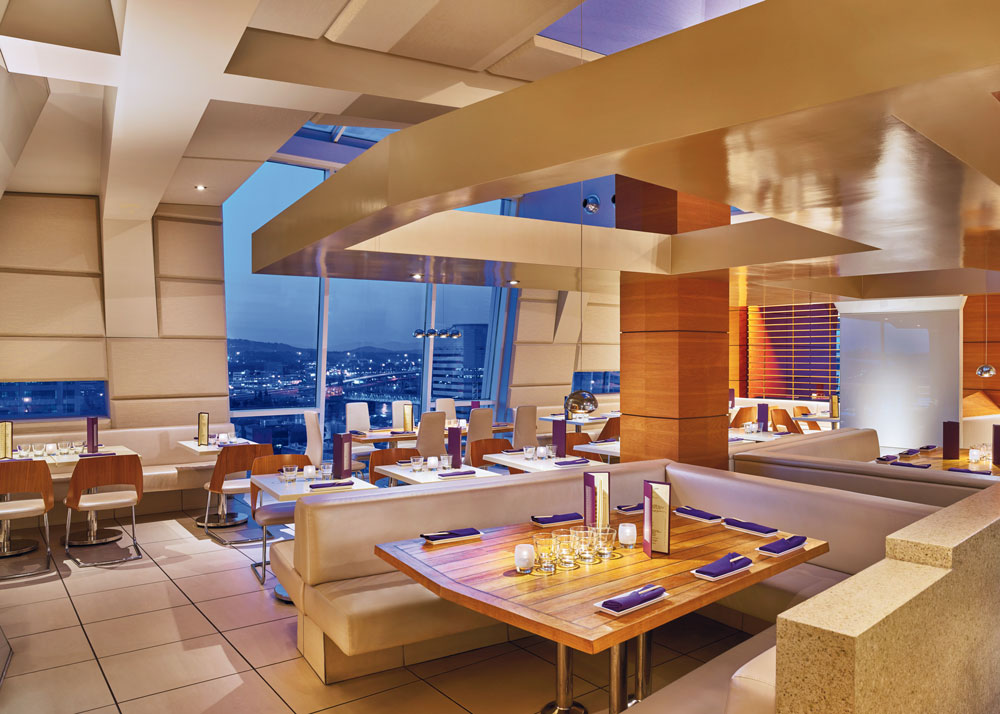 Sage Restaurant Group's Departure Portland restaurant blends high-end food with a relaxed yet refined atmosphere. The restaurant floats on top of the city's Meier and Frank Building and serves an array of seafood and meatless dishes.
Many fine-dining operators are looking ahead to reconnecting with customers. "Being open and offering a great experience now should pay off going forward. Overcoming our internal challenges to put on our 'best show' performance should put us ahead of the curve as things settle to whatever they will be in the future," says Patrick Norton, general manager at J&G Steakhouse at The Phoenician in Scottsdale, Ariz. "Fine dining has become important in people's lives. Instead of just a great meal, people are looking for the great experience to be shared with other people who are important in their lives."
For fine-dining establishments, that "show performance" includes giving restaurant diners a complete experience, tied to ambience, food and knowledgeable waitstaff. This can be seen in restaurant experiences such as tableside presentations, online or in-person culinary classes, enhanced training for waitstaff and elevated food experiences featuring different ingredients and presentations that tie the experience together.
Menu Prices to Drive Innovation
For restaurants, maintaining menu prices will likely continue to prove to be difficult. Labor, supply chain and other rising costs continue to put pressure on restaurant operators, who don't seem to know how best to handle the increases or how to pass them onto customers.
Izzy Kharasch, a restaurant industry consultant with 30-plus years of experience, says he's going through cost-cutting exercises with fine-dining clients across the country, in part because of the increase in cuts of beef typically purchased by fine-dining restaurants such as Ruth's Chris Steak House and others. "All restaurants are getting hit with food price increases, and it's going to take a higher toll on fine dining because it is the food you would typically order in a fine-dining restaurant," he says. Specifically, he notes cuts of steak and lamb.
This means the option now for chefs and operators is to rethink their menus and/or reduce the size of their cuts of meat. "Typically, when prices get this high, it's a battle," Kharasch says. "Operators have to come up with creative ways to make it look reasonable. They don't want to turn that once-a-month customer into someone who is cutting their visits in half. The challenge for fine-dining restaurants is to create a way to keep the prices as low as possible while still giving guests the experience they're looking for. That's a huge challenge given there are some cuts of meat that have gone up $8-$10 per pound in the last year."
While a majority of operators are carrying over those price increases onto the menu, more affordable cuts of meat are creating new areas of innovation. Restaurants such as Noma, for example, are using every part of the animal and every technique to make dishes that are flavorful and unique. The restaurant, based in Copenhagen, Denmark, is run by chef René Redzepi and has earned three Michelin stars.
"Certain chefs have always had this drive to work with different types of food," says Simcik. "Most of these chefs love to see that surprise on the guests' faces. Some chefs now are being pushed to go back to that way of thinking."
"The back of house is really influencing the menu trends; specifically, restaurants are paring down the length and complexity of menus to reflect a smaller kitchen staff and to reduce waste by cross-utilizing products," Steel says. "We also see fine-dining restaurants experimenting with how they treat ingredients, for example, dry-aging fish. This is an ancient practice in Japan only recently adopted by non-Japanese fine-dining restaurants. This process requires know-how and appropriate climate-controlled (and humidity-controlled) refrigeration."
J&G Steakhouse's spacious dining rooms, outdoor deck and dramatic views from its perch atop Camelback Mountain in Phoenix support the newer trends in fine dining, which center around a slightly more relaxed environment that creates a shared experience along with a premium menu.
Moving Forward
Overall, the biggest areas of opportunity for fine-dining restaurants involve the shift to takeout and delivery, pursuing additional service models, making investments in technology, and exploring courageous and bold flavors.
"The pandemic drove many fine-dining restaurants to seek out additional revenue streams they had yet to explore, from takeout/delivery to meal kits and virtual cooking classes," says Steel. "This provides not only new sources of income but more opportunities to build brand loyalty and feed guests' different needs.
"Current technology is much more accessible (and necessary!) for restaurants," Steel continues. "Fine-dining restaurants that can successfully harness new technology — either for BOH or ordering — will be able to provide their guests with a more bespoke experience that will help set them apart and build loyalty. It also allows restaurants to market more effectively to these customers, which can help drive revenue."
Equally promising, says Steel, is the growing spectrum of cuisines now being represented in the fine-dining segment. "Whereas fine-dining restaurants in this country used to be primarily French, Euro-centric, or Japanese, there is now a much more diverse landscape," she says. "Chefs have the freedom to create the foods closest to their hearts, and the fine-dining aspect comes from the service experience and the presentation of the dish — instead of from long-standing traditions about what constitutes 'fine dining.'"