Coffee and its offshoot drinks are a cultural staple. Americans drink 400 million cups of coffee per day, making the U.S. a leader in consumption of this beverage. New York-based IBISWorld reports there are 63,630 coffee and snack shops in the U.S. as of 2021, an increase of 2.6% from 2020.
Typically tasked with delivering high volume in limited space, coffee bar designs depend on efficient and intuitive layouts that maximize the square footage. "Similar to a regular bar serving alcohol, the efficiency of the barista comes from proper placement of the beverage-making equipment and all of the ancillary items needed to complete an order," says Brett Daniel, BIM manager and project manager, Camacho Associates, Atlanta. "The less steps baristas take, the more efficient they become, which helps the speed of service. This, in turn, trickles down to [increase] profits."
Although the number of stations behind the bar should correlate to the coffee bar's volume, the key is to minimize staff from crossing paths. "We look at reducing labor when designing these concepts," says Joseph Schumaker, president and CEO, FoodSpace, Eagle, Idaho. "Because it's difficult to have baristas also handle register transactions, we focus on [creating a space for them to be more] self-sufficient."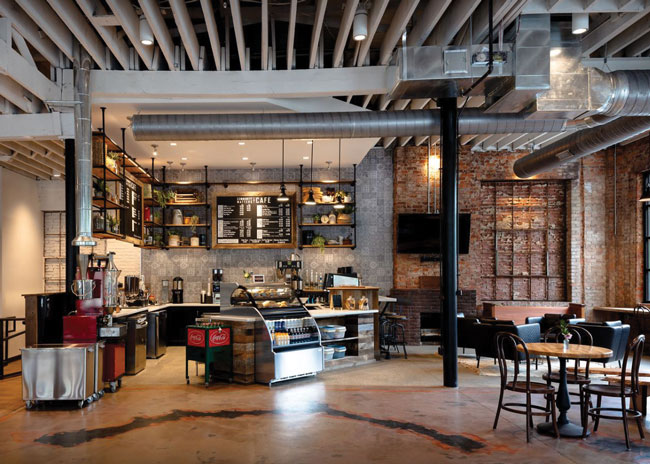 Extra space by the front counter at Community Matters Cafe allows plenty of space for customers to queue. Photo by Jennifer Murphy
Being Accommodating
A coffee bar menu drives its design, which also dictates the layout of equipment. "The first thing you need is an objective as to what type of coffee bar it will be and the main menu items," says Marcin Zmiejko, associate principal, Young Caruso, based in Denver. "Second is, how do you want to operate the coffee bar? Will there be one person serving as the order taker, barista and expediter, or will there be more than one person for each function? This not only impacts the layout but also the square footage needed."
The coffee bar design at Phoebe Berks, a retirement care facility in Pennsylvania, incorporates a variety of display features.It's about balancing the deployment and workload in terms of what's on the menu. "Coffee bars are typically busiest in the morning and before closing, so the goal is to operate them with the least amount of people as possible," says Juan Pablo Lopez, consulting director at Miami-based Profitality.
It can be a conundrum designing a back of house to handle peak and nonpeak periods efficiently. "There needs to be more staff on the floor to handle high volume, but having more space is less efficient when business is slow," says Juan Martinez, principal at Profitality. "Fully automated equipment helps quite a bit to balance things out. It's about deciding how to best use technology to drive efficiency without sacrificing quality."
The staff at Book & Brew at the University of Wisconsin-Parkside in Kenosha, Wis., have learned how to navigate through busy and slow periods. The facility's 500-square-foot front of the house includes a self-serve station with a fully automated, touch-screen-activated espresso machine, while the 150-square-foot back of the house accommodates a single employee.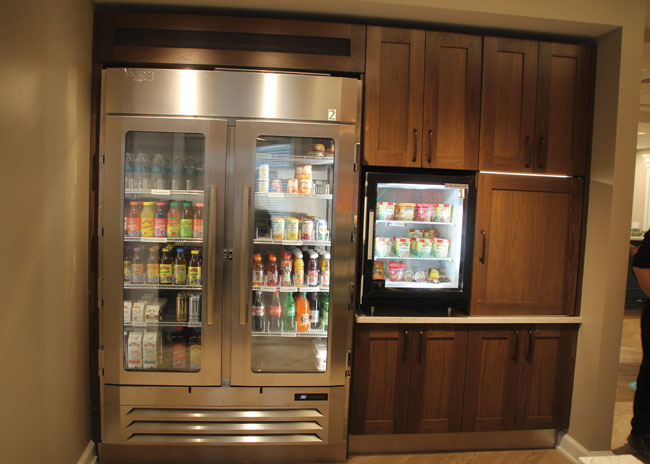 A reach-in refrigerator and mini freezer accommodate a range of refreshment options at Phoebe Berks."Although we didn't have input on the layout, we did handle setting up the self-serve coffee bar for students to help themselves," says John Nicholds, general manager for the UW-Parkside coffee bar, which is managed by Aladdin Campus Dining.
From the 4-foot-wide-by-8-foot-long self-serve island, students can use the espresso machine's touch screen to choose their coffee ingredients, which include six syrup flavors. Students can choose between two beverage sizes, each with a set price point that is the same regardless of how many shots of espresso or other ingredients their drink includes. This station also includes a coffee brewer, an ice machine for iced coffee, and two open-air coolers containing bottled beverages, fresh sushi, salad, fruit cups and sandwiches. Counter racks provide energy bars and bakery options.
On the other side of campus, the university's Encore concept operates as both a coffee bar and concession stand for the nearby movie theater. This 100-square-foot full-service operation sells Starbucks coffee and bottled beverages in addition to popcorn and candy.
The Equipment Lineup
Overall coffee equipment options vary and considerations often start with automation needs. For example, while some operators may prefer the minimally labor-intensive preground coffee bean route, others may decide to grind in-house manually or with a semiautomated or fully automated system. "Automation is a huge part of coffee concepts, and operators can take it as far as they want," Lopez says.
The small yet efficient design of the Book & Brew at the University of Wisconsin-Parkside incorporates seating around the front counter.Space-saving equipment, such as undercounter refrigerators for storing milk and countertop speed ovens for heating premade sandwiches, make the most of minimal square footage. "Because it can be difficult accessing a reach-in, we've begun incorporating drop-in wells, frost tops and other similar equipment at counter height for milk, whipped cream and back stock," Schumaker says.
Ice wells or undercounter ice machines are commonplace, as is a wash station setup similar to a cocktail bar's with brush jets that facilitate easier cleaning of items like milk steaming pots, mixer containers and pitchers.
The supporting cast of equipment typically includes blenders for mixed beverages and smoothies, a draft system for nitro brews, and knock boxes for dumping coffee grounds.
Along with efficiency, equipment should support product consistency. "The drip coffee needs to taste the same today and in three months," Zmiejko says. "This is why many multiunit coffee bars have moved toward automated machines."
This is also why many operators opt for water filtration systems, which should be tailored to the coffee bar. Water quality impacts not only beverage flavor but also the equipment's service life as this can be shortened by mineral and lime buildup.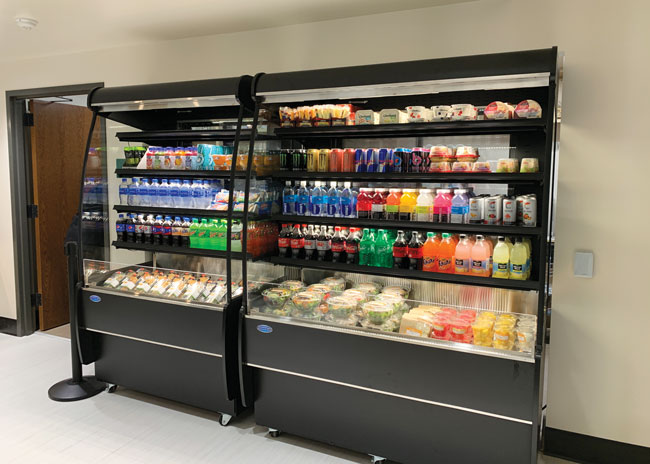 A grab-and-go case at Book & Brew helps with speed of service.Looking at volume in relation to equipment, operators should determine if they will brew coffee more frequently in smaller batches or in a large batch and hold it, the latter of which reduces the equipment's operating hours.
Operators can opt to keep condiments behind the counter for full service or in a self-serve station out front. For the latter, a trash receptacle should be close by as well as accessible refrigeration for milk, cream and other perishable ingredients.
Depending on the operation's volume and square footage, coffee bars may benefit from having duplicate equipment by drive-thru windows, like brewers and espresso machines, Zmiejko says. Operators should weigh other speed-of-service considerations, too. "Any equipment that requires heating, like brewers and espresso machines, needs to be specified to the highest voltage available," he adds. "This is because high-voltage equipment recovers faster." He recommends specifying at least 208 volts for any equipment that requires hot water.
Looking at Logistics
In terms of logistics, it bears repeating that a coffee bar design should make it easy to deliver items efficiently with minimal steps. That was especially important for Savannah Christian Preparatory School, a pre-K-12 private prep school located in Savannah, Ga., when it opened The Crossbones Café five years ago. This full-service coffee bar, which shares a kitchen with the school's dining hall, can feed up to 75 students at one time. Its rush periods are typically before school and during lunch hours.
The Crossbones Café includes two smoothie mixers, an espresso machine, an ice well and a bakery case all in close proximity behind the counter, while a refrigerated self-serve grab-and-go case is located out front.
"The Crossbones Café's beverage station is laid out in a line format," says Jessica Thomas, director of dining services for Savannah Christian Preparatory School's foodservice management company, Lexington Independents. "In addition to coffee, we have homemade hot chocolate, smoothies, muffins and pastries as well as seasonal items like pumpkin spice lattes."
The Omni Hotel in Frisco, Texas, utilizes a brewing system located beneath the counter.
Dual concepts tend to take a creative approach. The University of Wisconsin-Parkside's Encore has its coffee bar and concession equipment intermingled for dual use in a small space, Nicholds says, adding, "The library coffee shop design also is functional for its square footage. Near the self-serve island is an L-shaped front counter area with 10 seats and outlets for students to plug in laptops."
A typical coffee bar layout segregates equipment geared for quick-order items from units used for food and beverages that require more extensive production. "Behind the counter and by the register, there is typically iced coffee, hot drip coffee, pastries that don't need warming and grab-and-go items," Lopez says.
Designers prefer to locate items that require more production time, like espresso beverages and warm sandwiches, off to the side for customers to pick up in a separate, spacious area that can accommodate more people. "We design for peak periods, but 80% of the time, volume won't be at its peak," Lopez says. "For this reason, it's important to consider how the space will operate during different times of the day with various numbers of employees."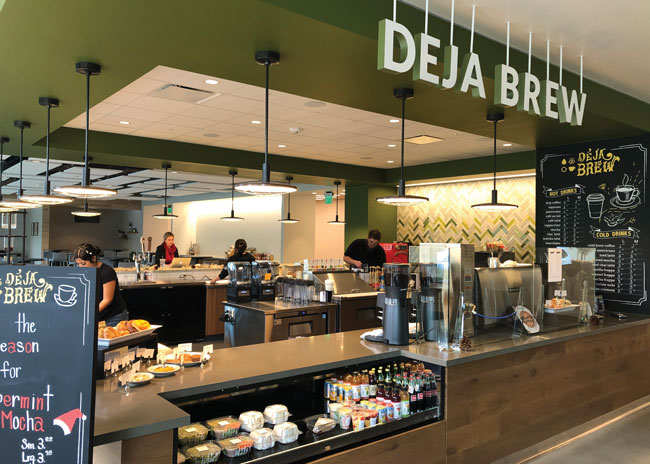 This office building space includes an extensive coffee concept for employees and visitors alike, emphasizing how coffee concepts have evolved in the business and industry space.Considering workstation capacities and adjacencies is key as they will directly impact speed of service. Proper space allocation with customer flow ensures people can stay out of each other's way when ordering and waiting for their beverages.
"Aside from the equipment and its layout, you have to consider how the patrons flow through the space. How will they queue? Where do they go after they place an in-person order? Where do they go for pickup after online ordering? Then, finally, where will they consume their beverage?" Daniel says. "One thing the larger chains do is constantly evolve their designs to be more efficient. That's one of the most important pieces of the process."
For these higher-volume coffee bars, it makes sense to duplicate stations on either side of the register. "Equipment placement is in order of prep unless there is a split station; then, the machine is the center anchor," Schumaker says. "Baristas normally work left to right, with the order coming in on the left and coffee going out on the right."
With the advent and increase of online ordering and delivery, coffee bars now require a dedicated area for picking up digital orders as well as for third-party pickup. "Coffee bars don't need as many register employees with online orders, so these staff members can handle other tasks," Lopez explains. "Instead of being a second or third register person, a staff member can serve as a runner to consolidate third-party delivery orders. This not only changes the production dynamic and the way people are deployed but also adjusts the store layout."
One of FoodSpace's newer setups relocates coffee-making equipment under the counter. "It almost looks like a beer tap coming out of the counter, with the boiler and steamer situated down below and a separate steam wand," Schumaker says. "Another newer setup is fully self-serve with an iPad on the counter, equipment beneath the counter and push-button operation for customers to make their drinks. Also, robotic solutions are coming to the table, which are hard to specify as these are very new."