A broader, more dynamic version of self-service is emerging.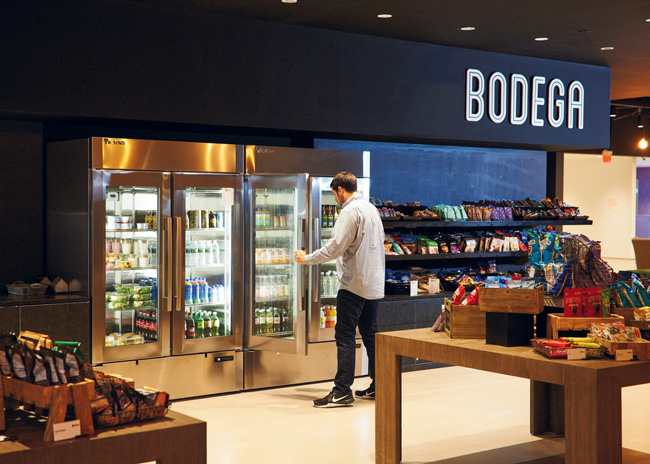 This Brooklyn, N.Y., office foodservice program has enhanced its grab-and-go offering.Self-service in commercial foodservice has undergone a metamorphosis. Although this has occurred out of necessity, it has resulted in added efficiencies and safety protocols that have enhanced functionality and customer comfort.
With today's state-of-the-art technology, the definition of self-serve has evolved. "It's all changing now," says Scott Gilkey, principal of The Gilkey Restaurant Consulting Group, Sammamish, Wash. "I'm not sure if you'd call ordering through kiosks or apps self-serve, but it feels like that is the revolution and definition."
Ed Doyle, president of RealFood Hospitality, Strategy & Design, Newton, Mass., agrees that the self-serve category has become more comprehensive. "People look at it from where they sit," he explains. "We're doing everything from on-premises institutional feeding including salad bars to air curtains with prepacked grab-and-go items, kiosk-based unattended areas, and c-store space and what that entails. It has broadened and is dynamic."
Yet, despite the industry's changing climate, self-serve buffets as well as beverage and condiment stations continue to come back online.
"The benefits of it are variety and self-choice from a customer standpoint and big labor savings from an operator perspective," says Robert J. Doland, principal at Jacobs Doland Beer, New York City.
Enhanced Functionality
With any type of self-service area, the layout and components make it not only functional but also successful. The most important traits include visibility and accessibility, which enhance the guest flow.
"With placement, it's important to make self-serve a separate area with no crossover so people can naturally flow into the station," says Jay Bandy, president of Goliath Consulting Group, Norcross, Ga.
Buffets typically have a different dynamic compared with beverage or condiment stations. "These are typically located for quick and easy restocking by the kitchen entrance, while also being accessible to customers," Bandy says.
Some office foodservice programs are using taps instead of bottled beverages to decrease the environmental impact. Offerings include iced tea, lemonade, sparkling beverages, kombucha and cold brew.Space allocation depends on what the operation offers in a specific self-serve area. Beverage stations can be a conundrum as selections have grown monumental in recent years. "Our biggest challenge is the proliferation of beverages. You don't want a 20-foot counter with a lot of solutions, but it's difficult to get anything less than 10 feet," Bandy says, adding that a 10- to 12-foot self-serve beverage station is preferable in fast-casual/QSR formats.
Determining how many people will go through a self-serve area at one time will impact the amount of space necessary. Anticipated traffic will give insight into both capacity and flow of self-serve areas. "Because throughput can be dramatically impacted by traffic, operators may want to duplicate cases of the same items in high-volume environments," Doyle says. "This minimizes backups as grab-and-go areas in particular are about speed."
In addition to allocating the appropriate amount of space in a convenient location, circulation and physical design represent critically important factors in self-service design. "You can't control the flow like with a curated station, and you don't want congestion points," Doland says. "Beyond that is the ergonomic design of how components are laid out.
"Not leaving enough space for self-serve areas becomes a hindrance," Doland says. "And not taking into account how food is backed up and stored as things run out and having proper backup in the right location and right amounts [can lead to problems]." He adds that people are surprised at how restrictive codes are in terms of access when food guards are installed.
Buffet layouts generally include a location for customers to access plates and utensils at the front of the line. From a design standpoint, Doland prefers consumers access condiments and beverages at the end of the buffet or grab-and-go section. "This prevents people from coming back through the circulation flow if they forget something," he explains. "The other thing is, beverages are tricky to manipulate through the food process [when grabbed first].
"There also has been movement away from paying at the end, with customers paying up front as they order or on their phone with an app," Doland adds.
Designers should also consider the appropriate holding temperature in food zones when designing a self-serve option. "[In buffets], holding temperature devices should lend to an attractive food display," Doland says. "While some food is great laid out on a flat, heated ceramic surface, whether this works depends on volume and capacity. Convertible equipment provides either hot or cold holding, so operators can maximize their self-serve footprint."
With customers helping themselves, the station flow needs to be easily understood and efficient. This is where signage becomes an invaluable tool. It's also preferable to minimize the amount of travel in a self-serve environment.
The goal is combining innovation and design to deliver an experience. "That's where the industry needs to go and not fall back on the predictable with foodservice design," Doyle says. "So much of the hospitality experience is through human engagement, so something else needs to fill the void in a [self-service] or grab-and-go environment; all the pieces need to line up."
As important as logistics and flow are to these areas, it also pays to consider the impulse-purchase potential. "There are impulse buys typically by the settlement point, whether this is a kiosk or cashier area," Doyle says. "These incremental areas are at the end of the journey and where you drive the check."
Incorporating new technology can help enhance self-serve stations while also expediting throughput. "What's trending on the beverage side is a huge demand for app-based beverage dispensing," Doland says. "Customers can order and dispense beverages from their smartphone."
Doyle sees more equipment manufacturers offering equipment with touchless delivery for self-serve beverages. "What's also popular are optical systems that scan food and ring it up automatically," he says. "In addition, there is technology where items are put on a surface to be scanned and rung up. This speeds up and changes the checkout process entirely."
Equipment and Supplies
In the self-serve space, equipment and supplies choices center on ease of use, durability, and maintaining food temperature and quality.
"We start with the guest experience and what we're trying to create," Doyle says. "Brand messaging, who the guests are and what we're trying to be as an operation are the starting points. If we can solve that, it allows us to dig deeper into equipment solutions."
Designers and operators can choose from a variety of equipment options, and what works best will depend upon the operation's logistics, budget, menu and volume. "This includes hot and cold holding and display units, whether shelves, wells, or display cabinets with doors," says Doland, who adds that plate and utensil storage can be incorporated into the cabinet design, on a counter or in a separate area entirely. "With exposed food, sneeze guards are very important. Items can be enhanced with light, and heat lamps can be built in."
With self-serve, beverage stations typically encompass a soft drink tower, a tea station with tea urns, and potentially a bubbler that follows the soda machines. "Otherwise, there is typically an ice dispenser to start, then straws and lids," Bandy says. "People have self-serve utensils and condiments back online; however, some may be packaged individually rather than with dispensers that were standard prior to 2020."
Sauce stations can attach to or operate separate from beverage stations, depending on the footprint and flow. Especially when designing these areas for high volume, such as in food halls or fast-casual operations, equipment capability needs to match the demand. "Operators should make sure the units can keep up with rush periods," Gilkey says.
Along with volume considerations, designing flexible self-serve platforms allows for menu and service changes down the line.
Altoona, Fla., retirement community Lakeview Terrace's efficient buffet setup features a streamlined self-service design.
Other design considerations come into play with prepackaged food items. "In a grab-and-go environment, engagement of the menu offering becomes more important," Doyle says. "With equipment, we need to think about what we are holding at what temperature as well as how we are presenting food and packaging."
With both fresh and packaged product, operational conversations prior to choosing equipment require looking at how food is presented and held. This has changed in recent months due to the pandemic. "We're looking at how we create the visual element of grab-and-go with packaged product or a safer environment with robots delivering the salad bar experience in a touchless environment," Doyle says.
Switching gears requires a different mindset. Moving from a buffet to packaged product involves finding a visually compelling method that also ensures product quality is retained.
Space allocation may also shift with this change. "When designing a hot buffet or salad bar, there is a certain amount of square feet designated to cold product, no matter what it is," Doyle says. "But when it's packaged product or full-serve grab-and-go, it's a different conversation." This would entail more open-air display cases or packaged product dispensed in cold wells. It could also encompass dispensed product in a touchless environment.
"What I'm seeing, particularly with food halls and college dining outlets, is action stations," Gilkey says. "This lets customers watch food being prepared before it's transferred into holding units like steam tables. Guests then select the items they want. It's an interesting addition to the self-serve foodservice situation that elevates the level of freshness. Customers see the food being cooked and know it hasn't been sitting there for hours."
A self-serve business model can help operators contend with staff shortages, which have become more prevalent. "[With self-serve], labor is loaded on the front end prior to the peak sales period to handle the influx of guests," Doyle says. "Labor also can be banked in a grab-and-go environment."
Because safety, like labor, remains top of mind, a proliferation of touch-free equipment has been launched in the last year, providing more options for operators.
Even with top-of-the-line technology, appearance and aesthetics remain important. "From an equipment standpoint, we have people going in two directions," Bandy says. "One is stainless-steel cabinets that are durable, easy to clean and fit in with many people's decor. These include upgraded doors with laminated panels that complement decor. We also see millwork cabinets with solid-surface tops."
Ease of Cleaning and Maintenance
Creating a self-serve design that is easier to clean and maintain helps minimize labor and ensures these areas look inviting to customers. "Cleaning is a challenge with any self-service area," Doland says. "Customers invariably make a mess, and there is a labor component in keeping things organized, not making messes or food transference."
For this reason, when the front and back of house are blended, specifying equipment with easily cleaned interiors and visible spaces makes sense. "Cleaning is big with grab-and-go areas as people relate that to food safety and quality," Doyle says. "We need to make sure to evaluate operational issues like cleaning, maintenance and how well equipment will perform. With more casework built in, and as we start wrapping cases, how do we make rough woodwork in a food-safe manner and meet food codes?"
Ease of cleaning impacts equipment design. Materials make a difference. Stainless-steel exteriors are durable and easier to wipe down.
"Some people prefer hard white laminate in condiment areas to match the design," Gilkey says. "But it's preferable to have a cleanable, nonporous surface that is easily sanitized."
From an equipment maintenance perspective, keep mechanical systems in cabinets and counters accessible and easy to maintain. Also consider proper clearance for dispelling heat with refrigeration units.
Accessibility goes hand in hand with organization. Having a well laid-out self-serve station goes a long way in keeping the area looking clean for longer periods. "It's about understanding the guest experience," Bandy says. "Look at cabinet depths, integrating trash deposits for straws and sugar packets, including a drip tray in beverage units, and mounting beverage dispensers on legs for easier cleaning."
"Condiment stations should have storage underneath the cabinetry," Gilkey says. "Items come in bulk, so we like to build cabinetry underneath service counters. This way, whoever is maintaining the area can easily grab what's needed to replenish."
While there can be a lot of challenges in self-serve design and execution, there are also many rewards. "There is a big opportunity to elevate quality and revenue by expanding the menu with self-serve," Doyle says. "It doesn't have to be a compromise if you're doing it right."