Built-in flexibility, from vendors to equipment, add to the resiliency of food halls.
Grange Hall features outdoor dining and a brewery, as well as eight restaurant concepts in a 13,000-square-foot space. Photo by Marc PiscottyFood halls continue to thrive in the U.S. "The food hall model turned out to be resilient during the pandemic," says Phil Colicchio. Colicchio serves as executive managing director of specialty food, beverage and entertainment consulting, Colicchio Consulting Group, Cushman & Wakefield, in Princeton, N.J. "We determined that fewer than 10% of the 248 U.S. food halls we track closed their doors completely during the pandemic and more than half of those are now fully operational. The halls that closed were either single-operator food halls or they were heavily dependent on urban office traffic."
Colicchio says this speaks to the nature of food halls as a place for a group of independent businesses — in this case, foodservice operators — to do what they do well, operating under one roof and sharing expenses for common areas, which often include seating, back-of-the-house storage and dishwashing.
Food hall development happens in a multitude of ways. For example, Joe Sorgent, director of sustainability with Cini•Little International's office in Los Angeles, identifies one type of food hall that extends from the farmer's market concept, featuring a mixture of individual business tenants with food servicing units and, usually, food retail units placed randomly within an area. In another type of food hall, restaurants are operated by the same owner or single operator on behalf of the building owner.
The differentiation between food halls and food courts remains flexible depending on the location. In some instances, it has to do with design. "For example, what is happening in some of the larger-staffed, contract foodservice companies operating at business and industry accounts that are transitioning from scramble servery workstations to food halls is enlarging the finishing workstations to be more independent, offering more menu items and menu concepting per station/unit and also spreading these workstations among the dining area," Sorgent says. "This is typically single operators, and the units are supported from a main kitchen."
In other instances, it has to do with the types of restaurants present. "Food courts typically have national chain restaurants or concepts developed by one operator that do not run financially independent from one another," says Phillip Landgraf, principal at Ricca Design Studios in Greenwood Village, Colo.
Price point can often serve as a differentiating feature between food courts and food halls. "Food courts are more value driven while food halls are more quality driven," says Gary Jacobs, principal at Jacobs Doland Beer in New York City.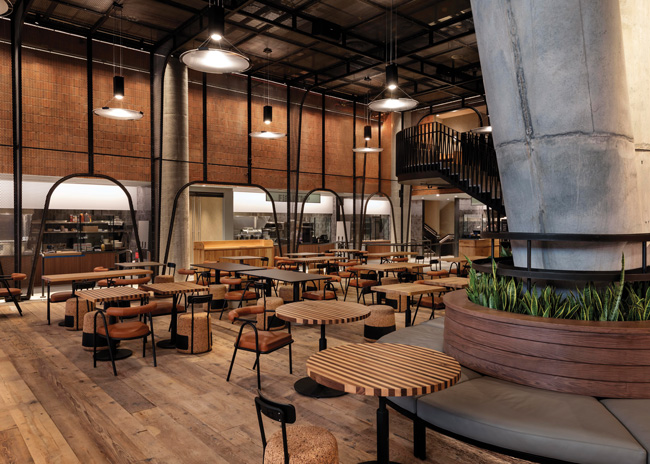 The dining room at the Jacx & Co. office development seats 215 customers.Local real estate markets may play a role in an owner's decision to add a food hall, too. "Food halls have evolved in great part as a solution for landlords' challenges of how to make their buildings more appealing to existing and potential tenants and fill non-office spaces with something that is attractive to the younger workforce that wants to work in hipper spaces," says Arlene Spiegel, FCSI, president of Arlene Spiegel & Associates, a New York City-based restaurant and hospitality consulting firm. For example, one of her projects at Brookfield Place in Battery Park in New York City was a reuse of a space that was accessible to tourists and residents. Another, The Pennsy, at Amtrak railroad station near Madison Square Garden in New York City, was built in a space that had been a bookstore. It closed in 2020 after a longer-than-expected run.
"Another type of food hall serves as an incubator space for independent specialty food, beverage and retail businesses," says Spiegel. Such is the case with The AMP, an artisan marketplace in the 16 Tech Innovation District in Indianapolis. The AMP features more than 20 spaces for food, drink, retail and entertainment. Of these, 56% are new concepts, and 65% are minority/women led or owned businesses. Vendors operate out of restaurant stalls and modular containers in addition to an open-air bar and full-service restaurant. Residents, visitors and 16 Tech employees can dine in or order food and beverages to go.
Developed with local merchants in mind, Sawmill Market in Albuquerque, N.M., also attracts up-and-coming restaurants. "Sawmill contains vendors' testing concepts — sometimes this is their first brick-and-mortar location — as well as owners of more established restaurants," says Landgraf, who helped design the market's foodservice areas. "These are small, 150- to 200-square-foot spaces with a very basic equipment package, giving startups a minimal initial investment."
A great deal of food halls' resiliency results from owners' flexibility to change vendors if they do not bring in enough traffic and generate an acceptable level of sales. Operators, on the other hand, can also leave a food hall if they aren't pleased with their financial results or if they determine that they have fulfilled their intention to get excellent exposure for their concepts without having to take on a full-build or solo-tenant investment.
Operators and Equipment
Most food hall developers decide what type of vendors and menu concepts they'd like to attract and build areas with standard equipment. "If a vendor fails, we must be able to transition to another vendor," Colicchio says.
A vaulted ceiling provides an airy, open space for interior seating at Grange Hall.The basic equipment package at a food hall varies. Flexibility is essential, although a few pieces of equipment are somewhat commonplace, says Spiegel. That list often includes upright and/or undercounter refrigerators, hot food holding units, a plug-and-play panini grill, a steam-jacketed kettle, a small rapid-speed oven and induction heating units. In addition, wells and countertops that can hold hot or cold items with the flip of a switch contribute to the flexible lineup. "If specialty equipment is required, the vendor pays that expense and takes the equipment with them if they leave," she says.
In terms of identifying basic equipment packages, Jacobs says, "We start with basic, generic equipment on the drawings and update them. Early in the process we need to put enough equipment in the drawings so mechanical engineers can put in what is basically needed. We can update when tenants take specific locations. But you don't want to have to change the mechanical engineering each time a vendor comes in. We try to design in some flexibility so if programs change, you have adequate opportunity to change out vendors without too much drama. This may mean putting in extra electrical and robust mechanical services and a large enough hood for a range of food programs." Substantial back-of-the-house storage space to support programs is helpful, as well, Jacobs adds.
In addition, Jacobs works with an eye toward waste management, thinking through the entire waste stream. "To the greatest extent possible, this should not be visible to guests," he says. The exception is the early stage of waste management, where Jacobs recommends putting in extra drop-off areas by seating areas for customers to place organic waste and recyclables. "If you give customers enough opportunity to use these areas, they'll do so," he says. Placing filtered water stations and hand wash sinks in a public space to make usage easy is also effective. "People are sensitive to sanitation today more than ever," he says.
Office Building Development with Food Hall
Touted as the largest new creative office development in New York City, Jacx & Co. is part of a mega-development by architect Tishman Speyer Inc. and Jacobs Doland Beer, the foodservice consultant.
The food hall's lineup includes Crif Dogs, an East Village staple with inventive hot dogs and burgers; Kissaki, a New York City restaurant serving omakase sushi and kaiseki dishes; Al Volo, an Italian concept; Beebe's, which features NYC thin-crust pizza and Italian dishes; Taïm, with Israeli-inspired Mediterranean street food; Fieldtrip, which offers bowls with a variety of global rice options; Ghaya, an all-day cafe; Lotus + Cleaver, a fast-casual Chinese restaurant; and Méxology, serving up Mexican food. A full-service bar offers local beer and wine, and a cocktail menu complements the various culinary concepts.
"We specified all the basic equipment for each area and made adjustments when the vendors committed," says Gary Jacobs, principal at Jacobs Doland Beer in New York City. Vendors share back-of-the-house space and the communal dining area seating 215 guests.
Jacx & Co, in Long Island City in New York, is touted as the largest new creative office development in New York City. Photos by Rachel Vanni
Food Hall Amidst Business Center
Residing in a 13,000-square-foot space in the heart of the Denver Tech Center, Grange Hall features nine food vendors and Little Dry Creek Brewery. Operated by Troy Guard, chef-owner and founder of TAG Restaurant Group, and partners Ken Himel and Kevin Hawkins, the food hall's vendors include a collective of artisan chefs and restaurant operators, some local concepts and others out-of-state, all hand-picked to include a balance of known and up-and-coming brands. The historic space features indoor dining and houses an outdoor patio with views of Pikes Peak and an event space.
Guard is betting these concepts will attract customers looking for out-of the-norm variety. In addition to the brewery, concepts include Uptown & Humboldt with Mediterranean-style food, the first brick-and-mortar location for the popular Denver food truck; The Crack Shack featuring fried chicken developed in Southern California; Rado Burgers, which features toppings ranging from foie gras to duck egg and from gorgonzola aioli to Funyuns; Crazy Love Pizza, which offers Sicilian-style pizza; Bubu, which specializes in build-your-own bowls; Honey Fish, which features temaki hand rolls and sushi; Eiskaffee, a cold brew coffee concept; and J. Dawgs a Utah-based hot dog restaurant.
A unique offering is a pop-up space that will be rented to restaurateurs and home chefs who want to try out their concepts for a limited time and for new concepts the food hall's owner might want to try.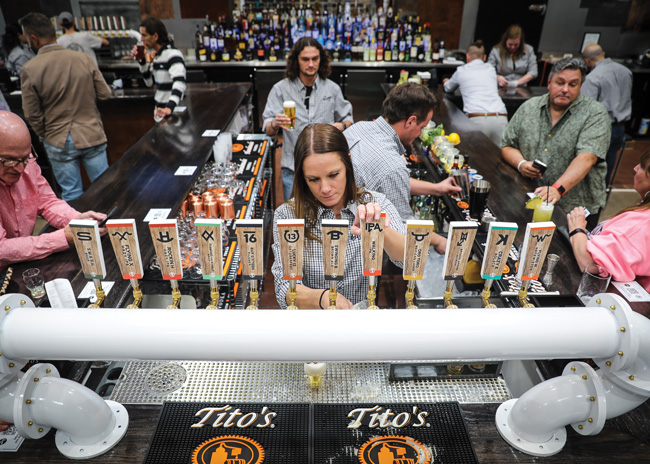 Customers come to Little Dry Creek Brewery for beer on tap and other beverages. Photo by Marc Piscotty
Hotel and Casino Food Hall
Cherokee Hotel & Casino in West Siloam Springs, Okla., is out to transform its buffet service into a food hall concept. Two firms are working together to conceptualize the reworking of the space and advise the hotel and casino about the project: Arlene Spiegel & Associates, a New York City-based restaurant and hospitality consulting firm, and Glen and Co., a New York City-based architectural and interior design firm.
The reworking of the space became necessary due to limitations of seating and serving resulting during the COVID-19 pandemic, says Arlene Spiegel FCSI, president of Arlene Spiegel & Associates.
The hall will feature seven proprietary concepts developed by the in-house culinary team with Spiegel's input. Concepts include barbecue, burgers and chicken, tacos, international sandwiches, flatbreads and greens, bakery/grab-and-go and a bar. All concepts will share a common seating area.
Equipment selection focused on providing a 90-second to 3-minute turnaround threshold to keep the flow moving. Most new equipment sits in the front of the house. "We captured all of the benefits of the old buffet's back-of-the-house to support various concepts," Spiegel says. "The bakery/grab-and-go and the burger and chicken concepts have their own back-of-the-house prep areas."
Equipment placement at Milepost Zero Food Hall allows cooks to produce a number of menu items at top speed.
Stadium-Adjacent, Mixed-Use Development with Food Hall
The debut of Milepost Zero in Denver was delayed by both the pandemic and supply chain issues, but it finally opened in the summer of 2021 across from Coors Field, the home of Major League Baseball's Colorado Rockies. Part of the McGregor Square development, the Rockies and a group of investors own the mixed-use property.
Different types of communal seating at Milepost Zero Food Hall allow customers to watch the cooking action.Milepost Zero's vendors, which are listed as food stalls, include Atomic Chicken, Buona Beef, Field Greens, Little Chingones, Pulpo Creamery, Tiny Giant Sushi, Wazee Coffee and Tora Poke + Noodle House. A bar offers craft cocktails, beer and wine.
Equipment packages changed as the vendor list shuffled prior to opening. "With the exception of the hood, we had to alter equipment packages each time a new vendor became interested," says Phillip Landgraf, principal, Ricca Design Studios. "We tried to customize for each vendor's needs as much as possible, but with some
limitations. For example, one vendor needed a charcoal grill system for its concept — but the building couldn't support that, so the vendor backed out. Another vendor came in with a similar concept using equipment the building could support. We at Ricca design food halls to be as flexible as they can be so future vendors can change easily."
The vendors share front-of-the-house space, including water stations and the dish return. McGregor Square vendors share a single walk-in cooler, with lockable fencing separating every vendor's space. This space-saving strategy can also be carried over into dry storage and sometimes warewashing. "At the time of design, Colorado permits sharing three-compartment sinks, but some states require each vendor to have a separate sink," says Landgraf.